Blogger Squad Holiday 2015 Giveaway
10:00 PM
**Nothing to disclose.**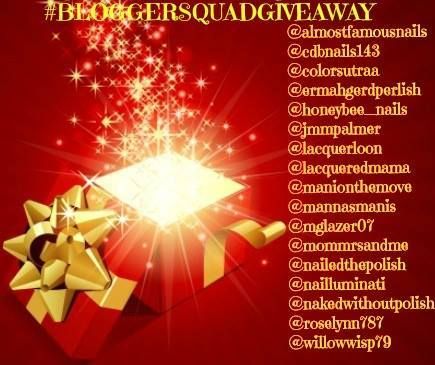 I've got some big news! I'm a part of a huge giveaway with 16 other bloggers/swatchers!
We have all sent in some of our favorite indie products (nail polish, top coats, base coats, hand/nail care, etc...) to giveaway one giant mystery box. Each of us donated 1-2 items, some even more, so you can only imagine how big this mystery box will be! That will be one lucky winner!!
The giveaway will run until December 18th, 2015 and is even open to all you international ladies!
a Rafflecopter giveaway
My information:
Blog -
http://nakedwithoutpolish.blogspot.com/
Facebook -
https://www.facebook.com/LacquerLoversUnite
Twitter -
https://twitter.com/NkdWthoutPolish
Pinterest -
http://pinterest.com/nkdwthoutpolish/
Instagram -
http://instagram.com/nakedwithoutpolish/
**Nothing to disclose.**
Happy Polishing!!
Becky :o)