Adovia Mineral Eye Gel Review
11:37 AM

**The product in this post was provided to me for my honest review. All opinions are my own. I was not compensated.**

Happy Monday, everyone!! After a week full of Cameo Colours Lacquers, I decided to start this week with a non-polish. I hope you are all ok with that.

Recently, I joined a website (www.tomoson.com) to help broaden my range of products to review. Try new things. Maybe some products I might have not known about otherwise. The first one I was approved for was Adovia Mineral Eye Gel. It is supposed to reduce eye puffiness, dark circles, wrinkles, and fine lines around the eye.




First impressions:

- The box is nice (even though mine was damaged). It's easy on the eyes. Simple. Classic. Not a "OMG LOOK AT ME YOU NEED ME" sort of packaging. I love it. It's a spa product, relaxation starts with the first visual.
- The tub is also simple. A mirrored cap on a frosted glass jar. It's the perfect size and it's hard to store.
- There isn't a lot of gel in the tub so don't expect it to be full (it is only 1.7 fl. oz. though). It smells divine! So fresh and clean, not overly perfumed.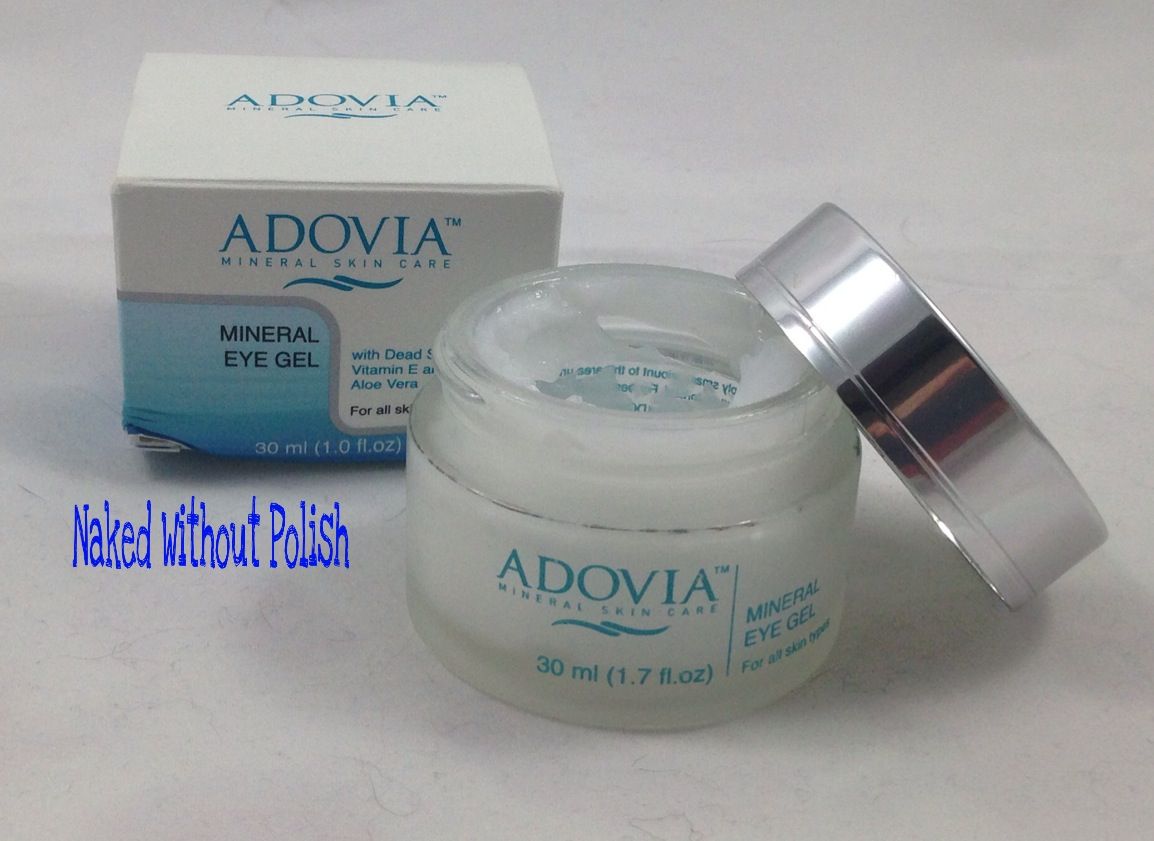 The directions are "Apply small amount to the area under and around the eyes until it's absorbed. For best results use daily." So, that's just what I did. I woke up, washed my face, and applied the eye gel as directed. I used the gel every day for 3 weeks. It's so soothing!! (I apologize for no before shot. Hubby cleaned out my camera and that photo got deleted by accident. Taking a before picture isn't really an option in this case.) Under my eyes is normally super dark. Constantly. Concealer doesn't even cover it much, but then I rarely wear make up. (Man-o-man does that need to change!!) I started seeing a difference! I was so excited too! I looked more awake, which, oddly enough, made me feel more vibrant than usual. I was pleased with the outcome. It may not look like much, but this is a big win for me!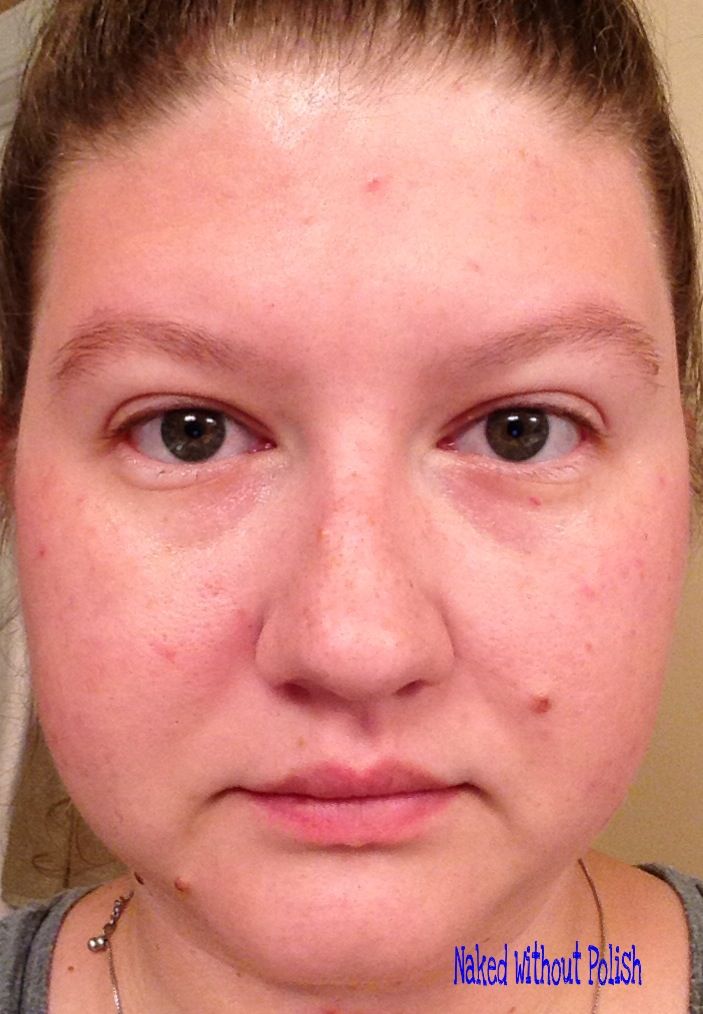 Then, I decided to stop using it to see how quickly it actually went back to how I originally was. It happened quicker than I thought. So, I went back to using it. So thankful you only have to use the tiniest bit daily, and I could quickly go back to using the Mineral Eye Gel. My face is much happier now!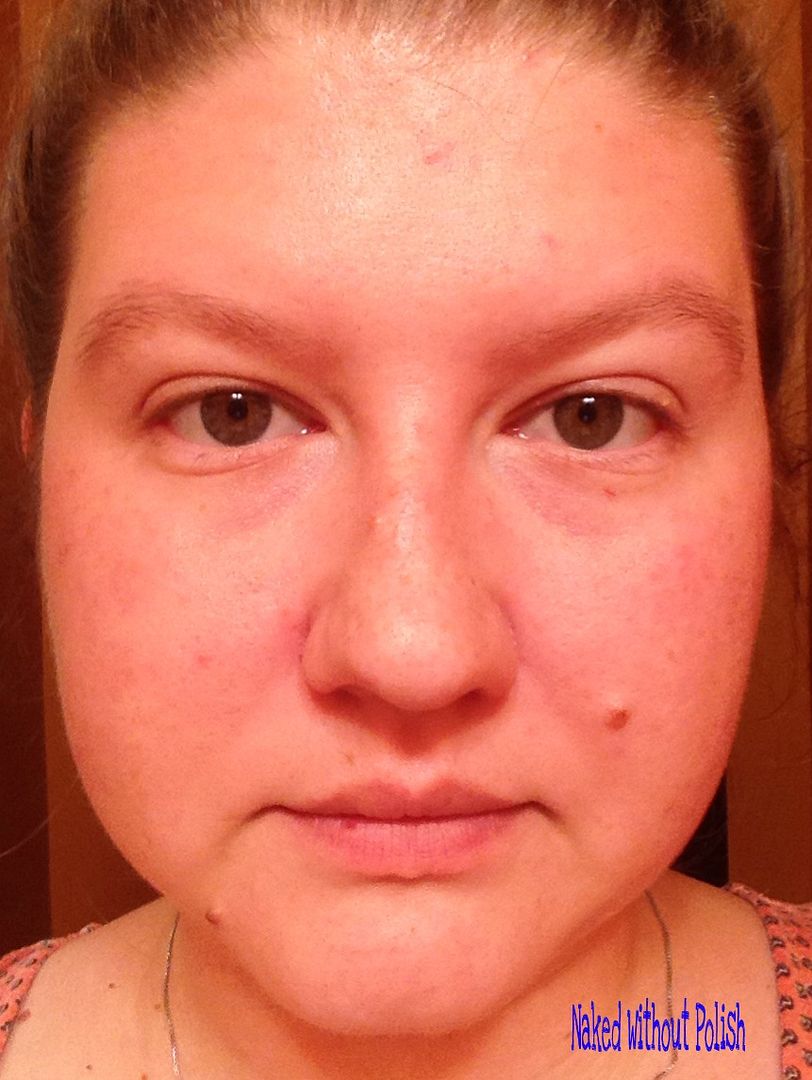 After I stopped using it for a couple days. The under-eye wrinkles and darkness is starting to come back. :o(

Want to try Adovia Mineral Eye Gel for yourself? You can buy it here for $36. Or on Amazon, here. Oh, did I mention that they promise to make your eyes look 10 years younger or you get your money back? Yup, they do! But trust me, you'll love the product!!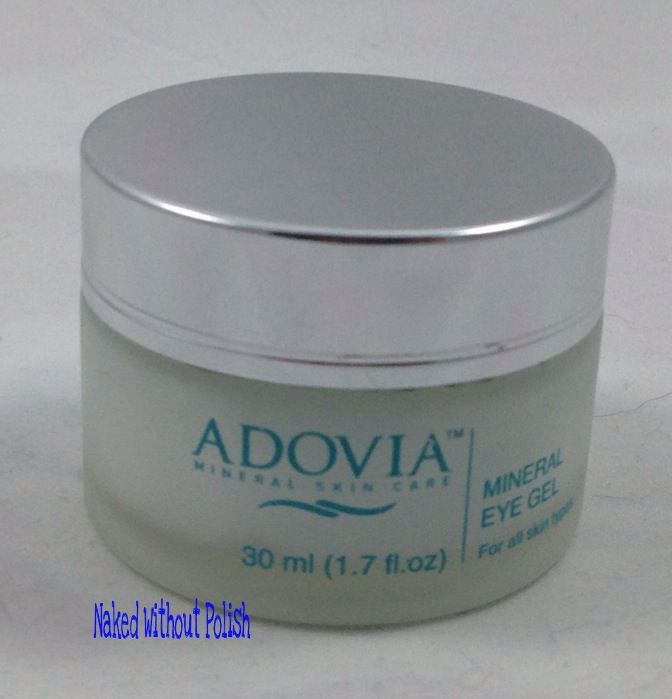 Ingredients:
Demineralised Water & Dead Sea Water, Stearic Acid, Propylene Glycol & Chamomile (Anthemis Nobilis) Extract & Algae Extract & Papaya (Carica Papaya) Extract & Aloe Vera (Barbadensis) Gel, Caprilyc/Capric Triglycerinde, Cetearyl Alcohol, Potassium Cetyl Phosphate, Sweet Almond (Prunus Amygdalus Dulcis) Oil, Clycerine, Carbomer, Olive (Olea Europaea) Oil, Geranium Maculatum Oil, Evening Primrose (Oenothera Biennis) Oil, Urea, Hydroxypropyltrimonium Hydrolyzed Keratin, Peach (Prunus Persica) Kernel Oil, Cornflower (Achinicea Pallida) Extract, Lactic Acid, Hydrolized Collagen, Benzoic Acid, Chlorphenesin, Dehydroacetic Acid, Benzalkonium Chloride, Propylparaben, Dead Sea Salt, Exotic Verbena (Litsea Citrata) Oil, Ginseng (Panax Ginseng) Extract, Soybean (Glycine Soja) Extract, Ascorbic Acid, Retinyl Palmiate.
Adovia information:
Website - http://www.adoviaspa.com/
Facebook - https://www.facebook.com/pages/Adovia/182802101744352
My information:
Blog -
http://nakedwithoutpolish.blogspot.com/
Facebook -
https://www.facebook.com/LacquerLoversUnite
Twitter -
https://twitter.com/NkdWthoutPolish
Pinterest -
http://pinterest.com/nkdwthoutpolish/
Instagram -
http://instagram.com/nakedwithoutpolish/

Happy Polishing!!

Becky :o)

I received one or more of the products mentioned above for free using Tomoson.com. Regardless, I only recommend products or services I use personally and believe will be good for my readers.