Hallowicked Movie Themed Nail Art Contest
10:37 AM
The lovely Cameo Colours Lacquers and I were talking and we decided on a fun little contest to start off the Halloween season. We thought a Halloween movie themed nail art contest would be a blast! I love movies, as long as they aren't too scary, but I can handle some awesome nail art!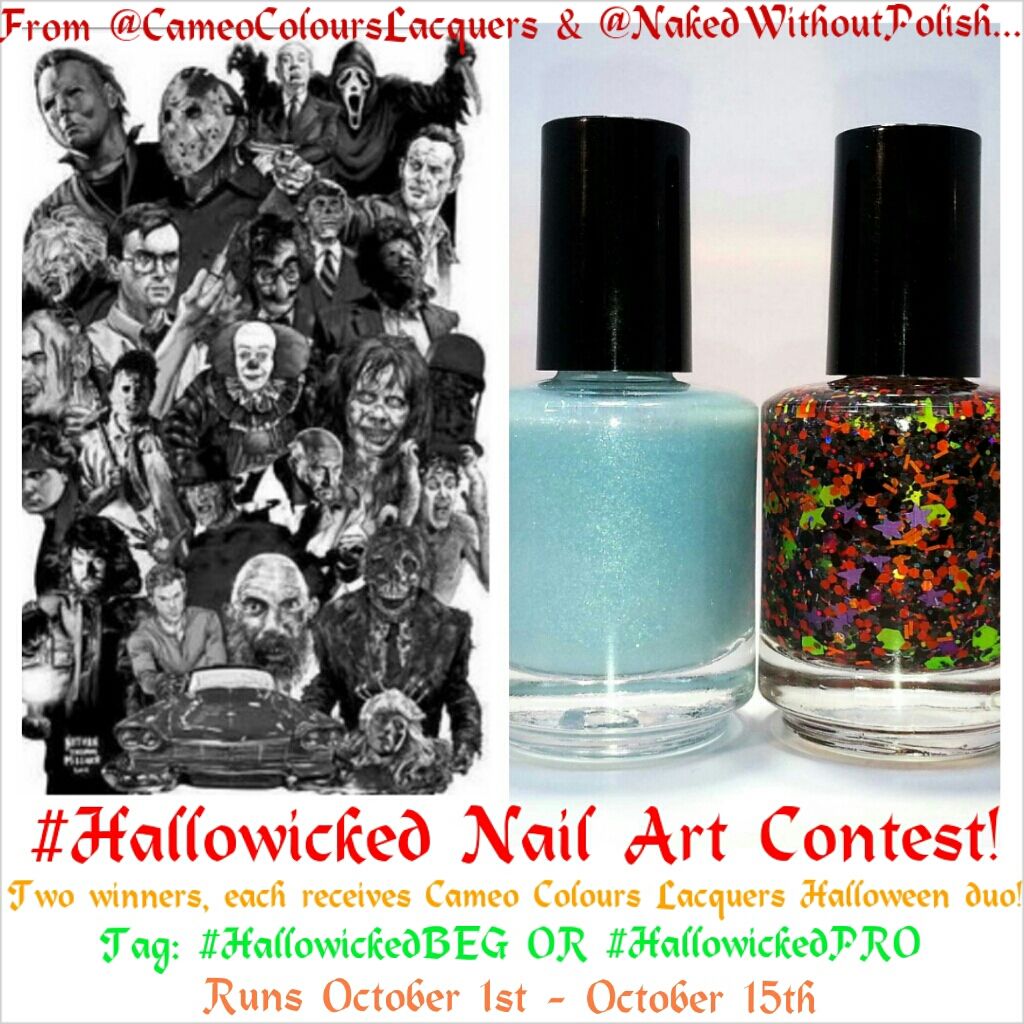 Let's jump right into the rules and information!
1. You must be 18 years of age or older (or have parents permission).
2. All entries must be created just for this contest. No reusing previous manis.
3. Contest will run from October 1, 2013 - October 15, 2013.
4. Nail art must represent or be inspired by a Halloween movie.
5. There will be two winners. One beginner and one professional.
6. All entries must be posted on Instagram. You must follow and tag @cameocolourslacquers and @nakedwithoutpolish.
7. Use the hashtag #hallowickedbeg if you're entering in the beginner category and #hallowickedpro if you are entering in the professional category. You can NOT enter both categories.
8. All nail art should be done on nails attached to your hand. You can have acrylics or gels, but no painting fake nails then putting them on your nails.
9. No acrylic paint. Nail polish only.
10. Between October 16, 2013 and October 18, 2013 our husbands will choose the winners. Cameo Colours Lacquers' husband will pick the beginner winner and my husband will pick the professional winner.
11. If chosen as a winner, you will be notified via Instagram to email one (or both of us to be safe) within 48 hours to claim the prize.
12. Each winner will receive a full sized Cameo Colours Lacquers Hallowicked Duo.
13. The contest is open internationally. However, if you are in fact not in the USA and you enter the contest, you are agreeing to pay the cost of shipping to you if you win.
The Hallowicked Duo will be available soon. I will also be showing them to you all later this week and will put the link here so you can see swatches of the prizes.
Please do not email entries, but feel free to email with any questions.
nakedwithoutpolish@gmail.com
cameocolours@gmail.com
Happy Polishing!!
Becky :o)