LynBDesigns All Holo's Eve and Giveaway - CLOSED
4:08 PM
**press sample**

**CLOSED**

Was finally able to steal my husband's computer for a bit to be able to get this posted! My phone is being temperamental when it comes to actually making posts. (I'm going to blame it on the phone, but really I'm completely confused!)

I've got a beautiful VERY limited edition beauty from LynBDesigns to show you all today. It wasn't originally going to be a limited edition polish, but she found out she can't get the pigment anymore. She's made 30 bottles and that's what's available, but I've got an extra bottle to give to one of you lucky people!!



LynBDesigns - All Holo's Eve
All Holo's Eve is a beautiful blue-ish purple linear holo with a subtle pink shimmer.
You can see subtle hints of the pink shimmer here. The polish is mysteriously beautiful and is perfect for the spooky holiday.
All Holo's Eve had a great formula and application. Fully opaque in two coats.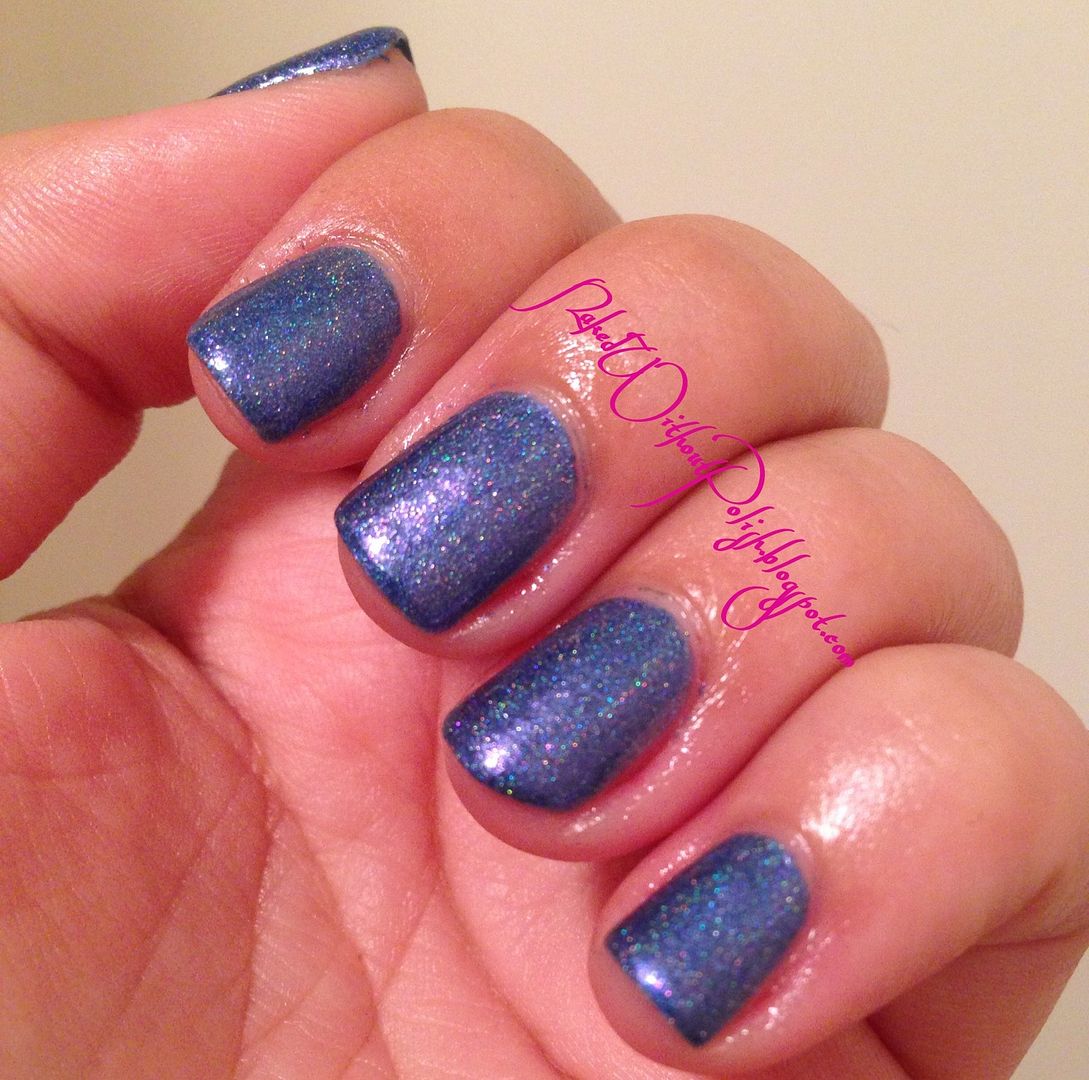 Macro shot. An absolutely stunning polish.
Jennalyn rarely disappoints me. This one definitely did not. In fact, it's probably now in my top 5 favorites from LynBDesigns. You really shouldn't miss out on the beauty that is All Holo's Eve. Snag it for $10 (full sized only, no minis available for this one) now, or take your chance on winning a bottle in my giveaway. If you're choosing to grab a bottle of your own, check out LynBDesign's Facebook page for any current sales she has going on!
Now for the giveaway! All the rules are listed in the Terms and Conditions on the rafflecopter. Please pay attention to them. This one is easy and straight forward, no bells or whistles. It IS US only though. Good luck, everyone!!! :o)
a Rafflecopter giveaway
Brand information:
Etsy shop - etsy.com/shop/lynbdesigns
Blog - lynbdesigns.com
Facebook - https://www.facebook.com/LynBDesigns
Twitter - https://twitter.com/JennalynMiller
Instagram - http://instagram.com/lynbdesigns
YouTube - http://www.youtube.com/lynbdesigns
My information:
Blog - http://nakedwithoutpolish.blogspot.com/
Facebook - https://www.facebook.com/LacquerLoversUnite
Twitter - https://twitter.com/NkdWthoutPolish
Pinterest - http://pinterest.com/nkdwthoutpolish/
Instagram - http://instagram.com/nakedwithoutpolish/
Google+ - https://plus.google.com/b/114788720640439091829/114788720640439091829/posts
**The product in this post was provided to me by the manufacturer for my honest review. All opinions are my own. I was not compensated.**
Happy Polishing!!
Becky :o)