A Girl Obsessed Custom
10:43 AM
**The featured product in this post was purchased by me with my own money. All opinions are my own. I was not compensated.**



Happy Thursday!!! I'm really excited for today's post! I was recently involved in a Secret Cupid swap in a group I am in. Once I found out who I got, I started stalking her blog, Facebook and Instagram trying to get a feel for who she was. I came across this gem on her Instagram and instantly knew I had to have a custom made for her inspired by the polish.
I immediately contacted Samantha from A Girl Obsessed and ran my idea by her. She loved it and came up with this beauty. Because of the picture inspiration I chose the name El Perro En Un Sombrero for the name. She loved the polish and gave me permission to post about it before she did. I was too excited to share it!

This is one coat of El Perro En Un Sombrero over two coats of A Girl Obsessed But He Loves Pie ($7.50). But He Loves Pie is the perfect nude creme. Trust me. You should own it! El Perro En Un Sombrero is a clear based glitter top coat filled with large gold holo dots and bars, different shapes and sizes of black glitter, a mix of brown and caramel glitters in different shapes and sizes and speckled with hints of micro iridescent glitter that shift from blue to green.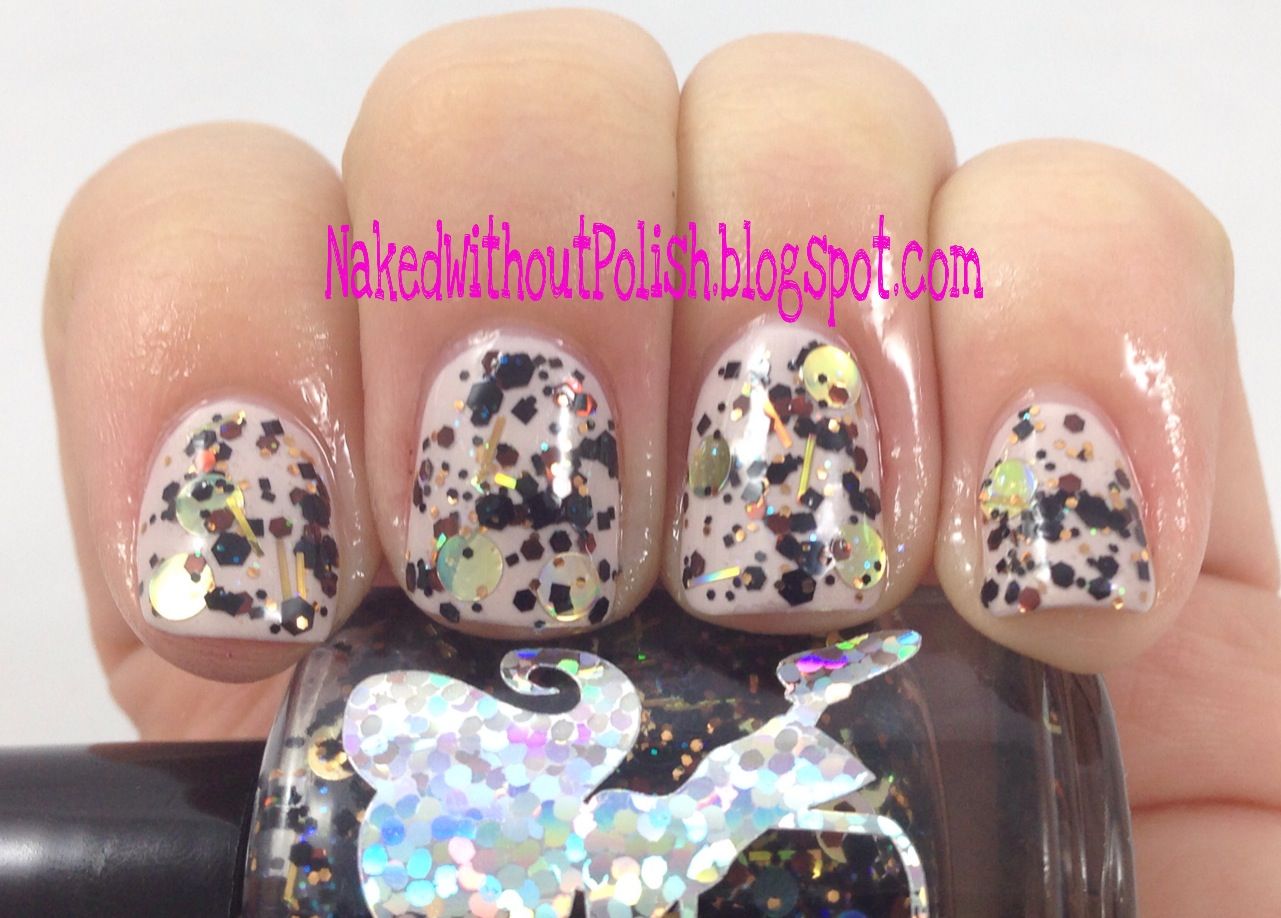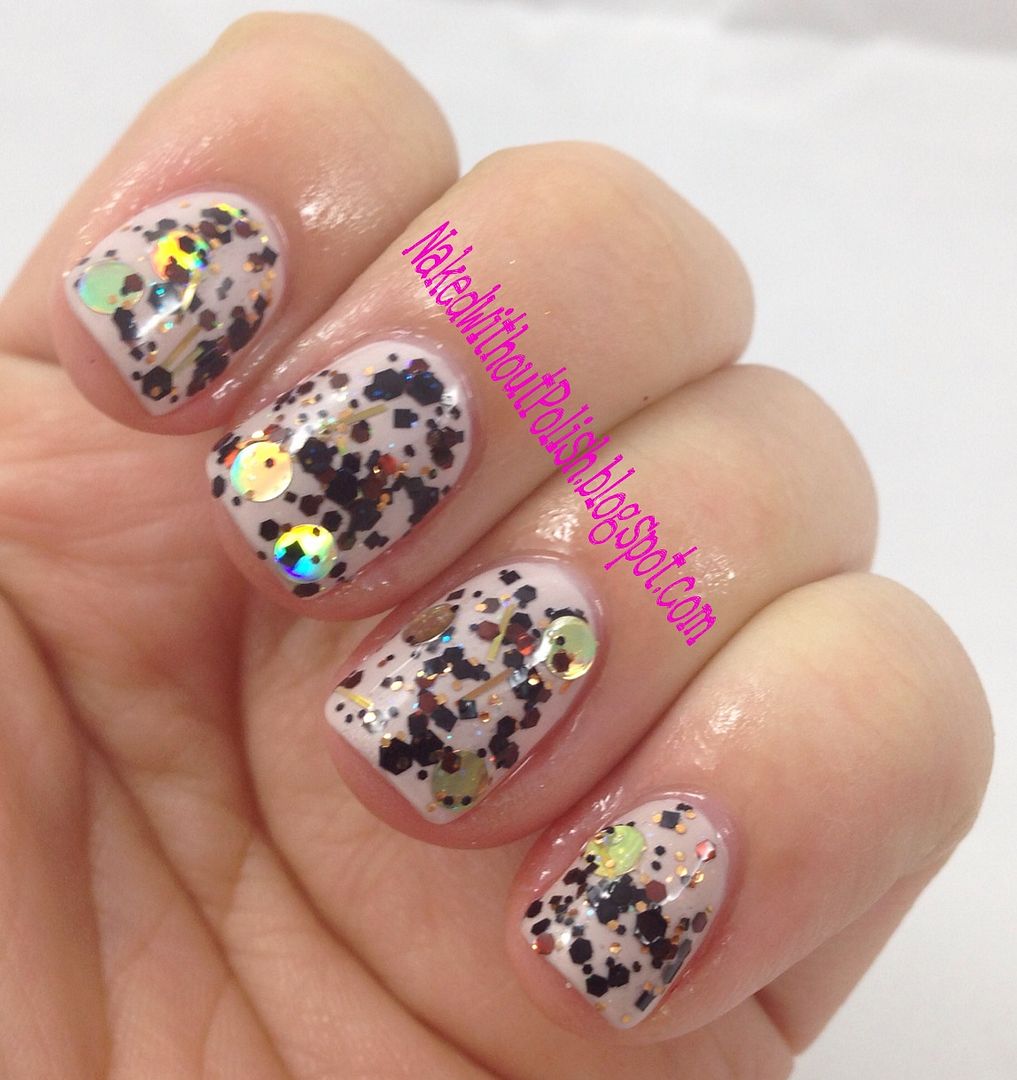 The bars and dots represent the pattern on the sombrero. The blacks, browns and caramels represent the beautiful colors in her pup's coat. And the iridescent specks represent the beautiful sheen of his coat. He's so freaking cute! I am so pleased with how this beauty ended up. So easy to apply and no fishing for glitter at all.
If you're looking for someone to make a custom for you, I highly recommend A Girl Obsessed! She's efficient and thorough and will help you get exactly what you're looking for. A custom polish from her runs about $9. That's pretty basic amongst indies now-a-days, so no worries about having to shop around for the best deal.
I'm pretty good with coming up with customs too. If you really want something special and need a little help, feel free to email me (nakedwithoutpolish@gmail.com) or message me on Facebook and ask. (Of course I'll probably fall in love with the idea and will expect a bottle of my own. *hint**hint*) haha
Check back tomorrow for a bunch of miscellaneous polishes from LynBDesigns.
This swatch was topped with Magpie Shine top coat ($7) and I used Sweet Nectar cuticle oil ($6) to hydrate. Both of these can also be purchased in A Girl Obsessed's shop.
A Girl Obsessed information:
Shop - http://www.etsy.com/shop/AGirlObsessed
Facebook - https://www.facebook.com/AGirlObsessed
Twitter -
https://twitter.com/joobilee23
Pinterest -
http://instagram.com/joobilee23
Instagram -
http://instagram.com/agirlobsessed
My information:
Blog -
http://nakedwithoutpolish.blogspot.com/
Facebook -
https://www.facebook.com/LacquerLoversUnite
Twitter -
https://twitter.com/NkdWthoutPolish
Pinterest -
http://pinterest.com/nkdwthoutpolish/
Instagram -
http://instagram.com/nakedwithoutpolish/
Google+ -
https://plus.google.com/b/114788720640439091829/114788720640439091829/posts
**The featured product in this post was purchased by me with my own money. All opinions are my own. I was not compensated.**
Happy Polishing!!
Becky :o)