A Few of My Favorite Cameo Colours Lacquers Giveaway
1:55 PM
**Purchased by me.**

One of my absolute favorite indies will be celebrating her three year anniversary 6/13/2015. I was talking with the lovely Cameo from Cameo Colours Lacquers the other day. She was telling me about a giveaway she was going to have to celebrate the occasion. I told her that I should buy bottles of my favorite polishes and do a "A Few of My Favorite Cameos" giveaway to help celebrate her shop. She loved the idea and even took the it to another one of her go to bloggers and she will be having a giveaway with her favorite Cameos.
I'm always torn...do I show off the prize first or bore you with the rules first?
Let's go with the prize!!
PRIZE

One winner will receive 6 full sized Cameo Colours Lacquers bottles. 5 bottles are some of my favorites (it was REALLY hard for me to narrow this down), and 1 bottle is her new LE Third Time's A Charm, that she created to celebrate the 3 years her shop has been open.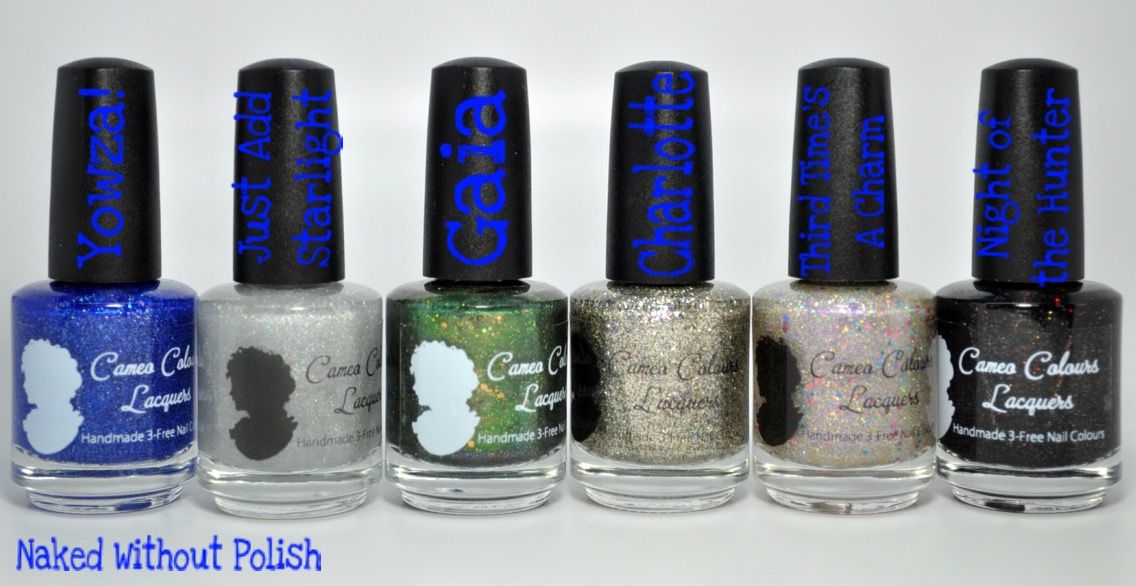 1 - Yowza! - an ultramarine blue jelly packed with blue, silver, turquoise, and pink holographic micro glitters and electric blue flakes.
1 - Just Add Starlight - a scattered bright silver holographic topper that is NOT glitter, it is a pigment that removes just as smoothly as normal polish. No soaking or it drinking up all your top coat.
1 - Gaia - an earthy mixture of shifting gold-green, caramel, evergreen holo, and iridescent glitter suspended in an ultrachromatic base that shifts silver, coppery, through green, blue and purple.
1 - Charlotte - a micro silver flake full coverage polish, with multichromatic flakies, and a hint of scattered holographic sparkle.
1 - Third Time's A Charm - tiny and micro gold and silver holo, small and medium blue, light pink and violet holo glitter in a violet shimmer base with a slight gold shift.
1 - Night of the Hunter - a mixture of holographic and red glitter in a black base.
Yes, all of these beauties will go to one lucky winner! I really hope you will love these as much as I do!
Now for the rules...
RULES:

1. There will be one (1) winner. Rafflecopter will choose the winner at random. I will verify entries.
2. You must be 18 years of age or older.
3. You must be a resident of the United States or Canada. (If you are a Canadian resident, you will be required to help out with shipping.)
4. You must enter honestly. Any fraudulent entries will be deleted and the entrant will be disqualified.
5. The giveaway will run from 6/12/2015 until 6/30/2015 at 11:59 pm EST.
6. The winner will be informed via email and will have 48 hours to respond and claim the prize. A new winner will be chosen if the first winner fails to comply.
7. The winner will be provided with a tracking number once the prize has been shipped. The prize will be packed well, but once it is in the mail, we are not responsible for lost, stolen, or damaged goods.
8. This giveaway is not affiliated with Rafflecopter, Facebook, Instagram or Twitter.
Enter away! Have fun! Feel free to email me (nakedwithoutpolish@gmail.com) with any questions.
**Purchased by me.**
Happy Polishing!!
Becky :o)