SuperChic Lacquer Bring It On Base Coat Review
11:48 AM
**Press Sample**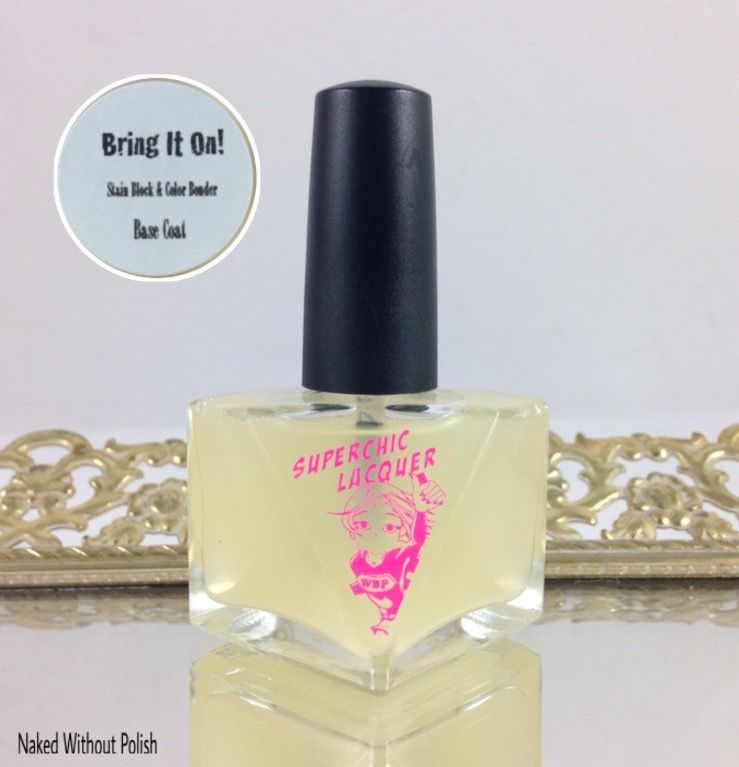 Over the past year or so I've been raving about the amazing Marvel Liquid Macro top coat from SuperChic Lacquer. Now, I get to show you all a new base coat from her. This base coat is something special. When I was first reading about Bring It On, I thought it was too good to be true. I mean a base coat that color blocks, color bonds, AND chip resists? No way!
I'm here to tell you that it's true!!
I grabbed the worst stainer in my collection, OPI Amazon...AmazOFF. I have had this polish on for 10 minutes before and it stained my nails almost immediately. It's such a gorgeous color though. I was happy for a chance to test a polish I have a love/hate relationship with, for a possibility of there being no more hate. I found myself saying "Bring it on!" and then I realized why she gave it the name Bring It On. DUH! It was like a slap in the face.
Now, the test! I put two coats of Bring It On on all my fingers on my right hand. After that I did my normal base coat routine over Bring It On on two of my fingers. My normal base coat routine is: a coat of NailMedic CC Cream, two coats of OPI Nail Envy, and a coat of LynBDesigns B-Sticky. It sounds like a lot, but it's really not. The CC Cream actually helps whiten your nails. It's really nice that you can whiten your nails and wear polish at the same time. No soaking. Nail Envy is necessary because I have thing nails that break at the drop of a hat. Even while wearing it. But it's even worse when I don't use it. And B-Sticky is great for a chipless mani. None of these layers are super thick. My nails are still nice and thin by the time I'm ready to actually put the polish on. I then added 2 coats of Amazon...AmazOFF to each nail. Topped it off with Marvel Liquid Macro top coat and was ready to go.
I left that on for 5 days. No tip wear, no chipping. It looked great, but was time to see if any damage was done. Took off the polish to find no staining on my nails. The fingers that had the CC Cream were a bit whiter than those that only had Bring It On, but no staining on any nail. However, the skin on my fingers all around the nail were stained like crazy.
Highly recommend Bring It On! This stuff is incredible. It is available now at http://www.superchiclacquer.com/ for $6.50. Get 10% off with my code SUPERCHICFAN0415NWP. That code is good for anything in her store. Check out Marvel Liquid Macro top coat too!
SuperChic Lacquer Information:
Etsy Shop - http://www.etsy.com/shop/wonderbeautyproducts
Facebook - https://www.facebook.com/WonderBeautyProducts
Twitter - https://twitter.com/WonderJenProd
Pinterest - http://pinterest.com/wonderbeautypro/
Instagram - http://instagram.com/wonderbeautyproducts
YouTube -
https://www.youtube.com/user/wonderjenproducts

My information:
Blog - http://nakedwithoutpolish.blogspot.com/
Facebook - https://www.facebook.com/LacquerLoversUnite
Twitter - https://twitter.com/NkdWthoutPolish
Pinterest - http://pinterest.com/nkdwthoutpolish/
Instagram - http://instagram.com/nakedwithoutpolish/
**The product in this post was provided to me by the manufacturer for my honest review. All opinions are my own. I was not compensated.**
Happy Polishing!!
Becky :o)