Cameo Colours Lacquers Gilded 4 Glory Swatch and Review
9:59 AM
**Press Sample**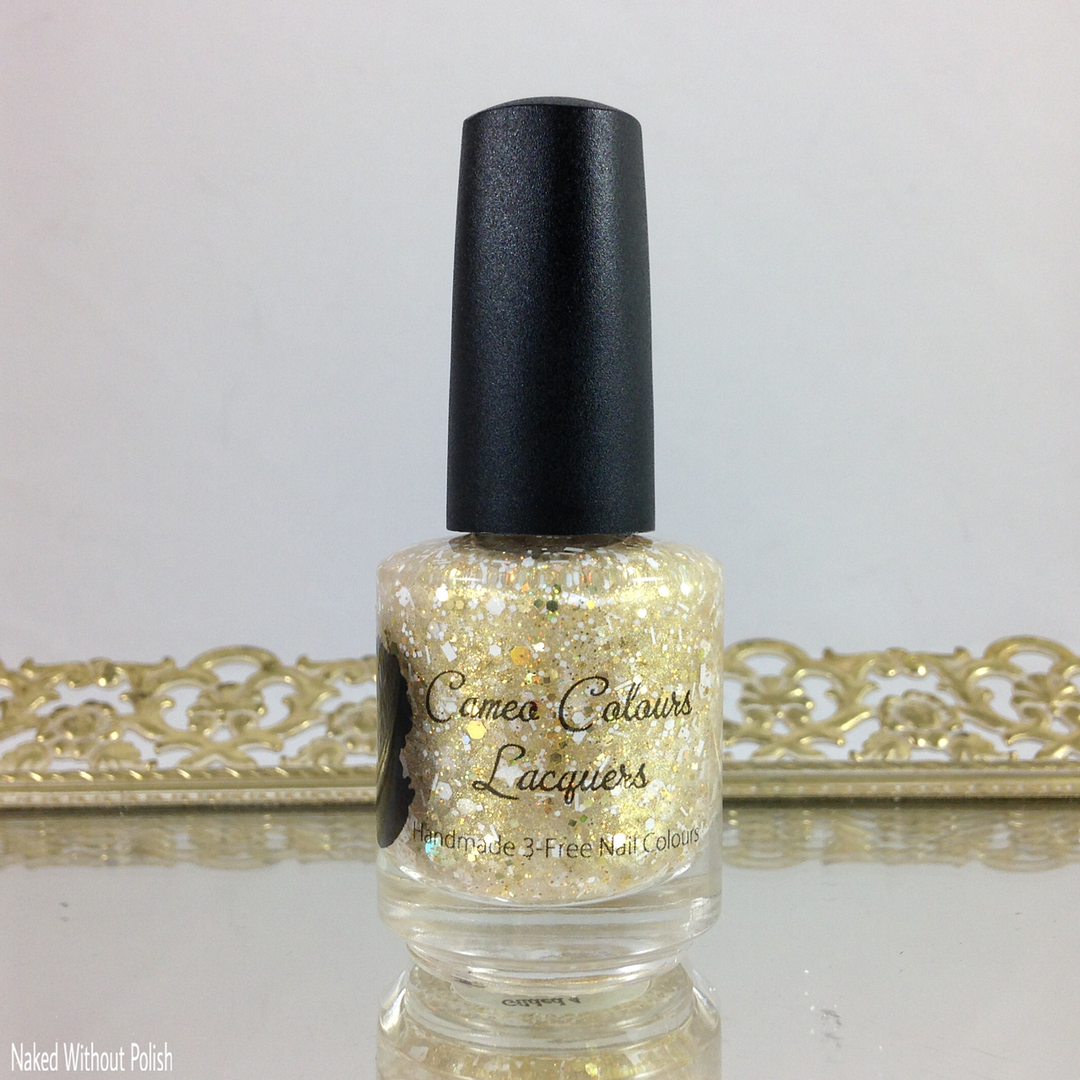 You guys...Cameo Colours Lacquers is turning 4!!! Cameo always creates a beautiful limited edition polish to celebrate. This year's beauty is aptly named Gilded 4 Glory. I have had the wonderful pleasure of working with Cameo for the better part of her four years. I have to say it has been an absolute joy watching her brand blossom and grow. That said...here is the beauty she has created to celebrate her 4 years of growth and sparkle.
Gilded 4 Glory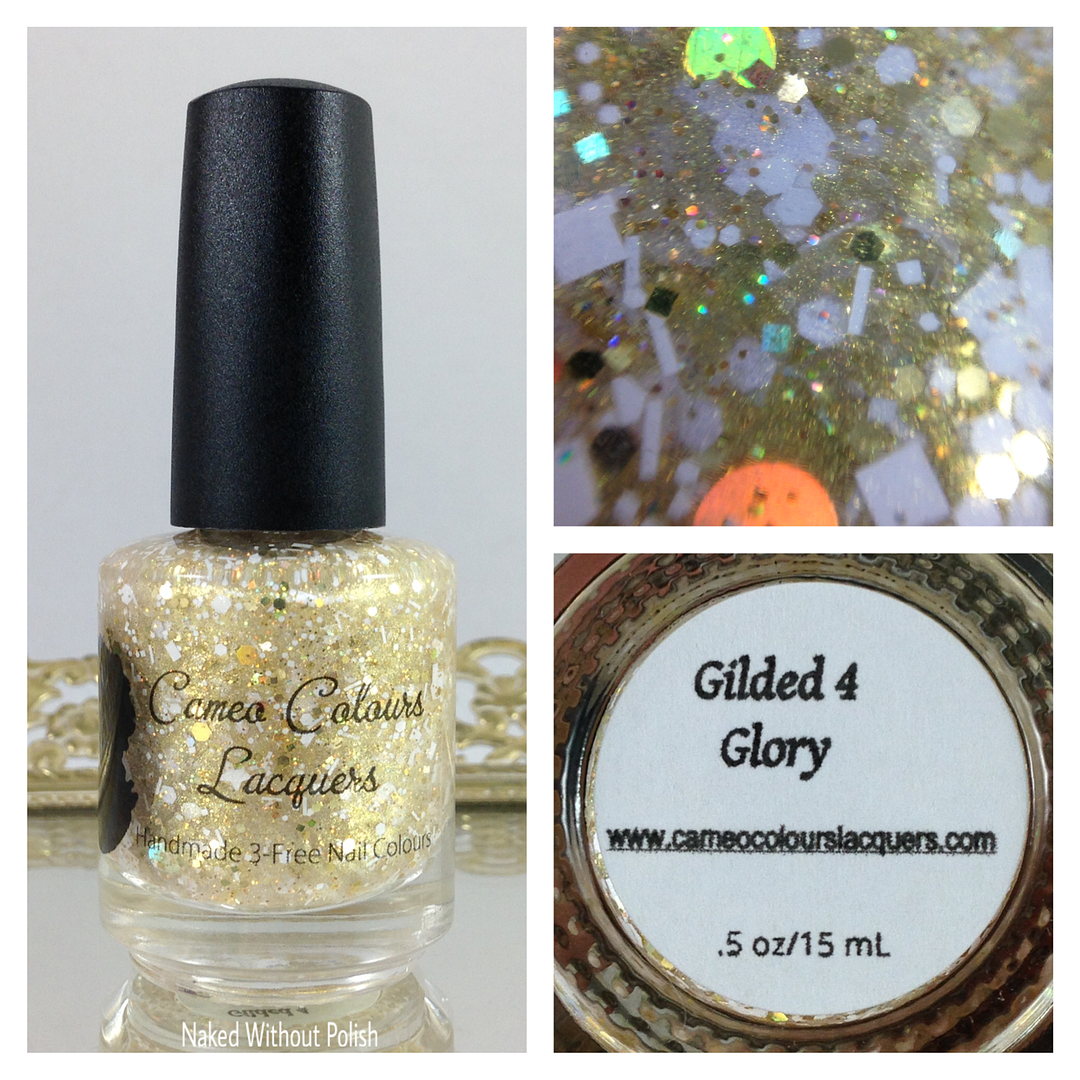 Gilded 4 Glory is described as "a clear based glitter bomb full of various matte white glitter, various gold holographic glitters, and a strong gold shimmer".
Shown is three coats of Gilded 4 Glory with top coat.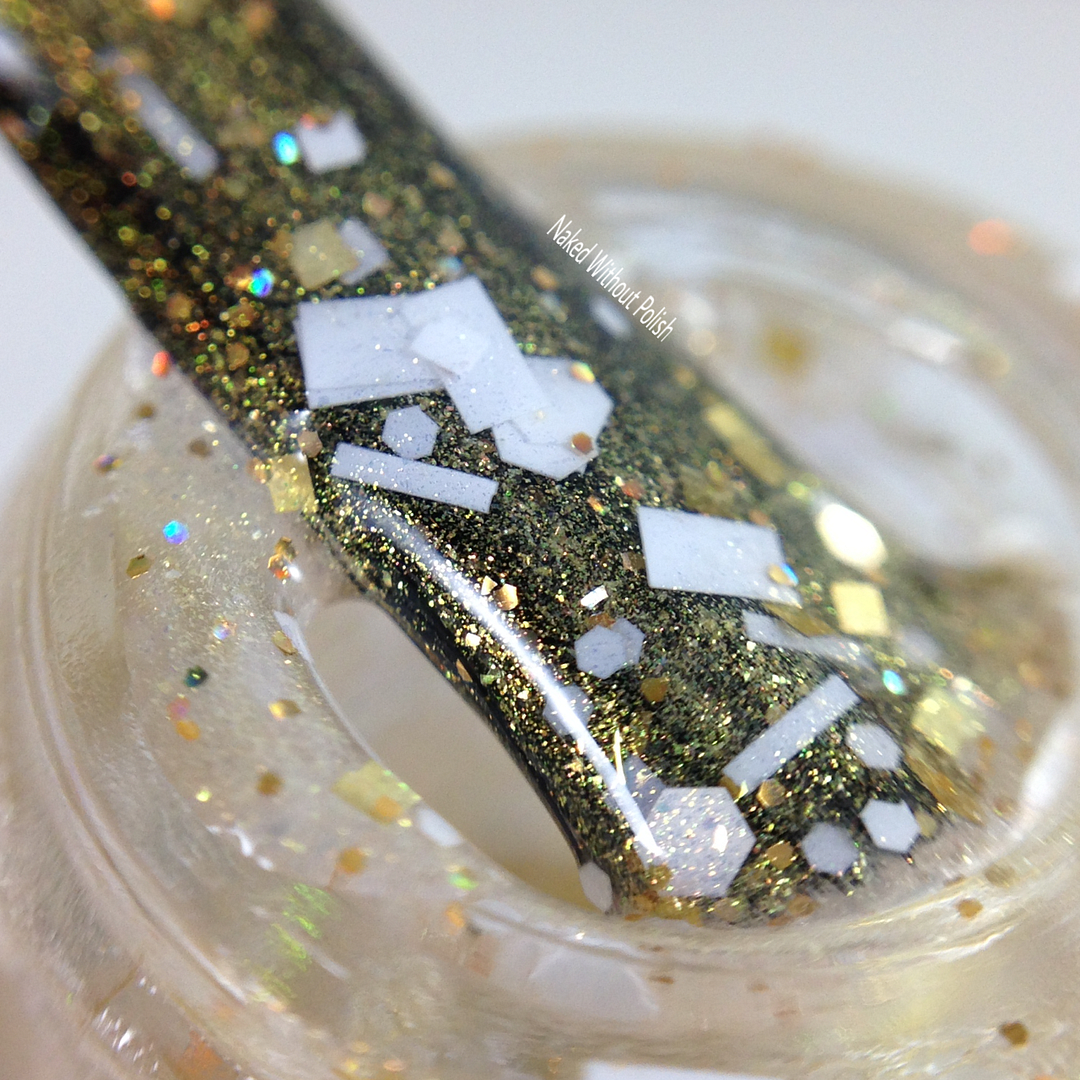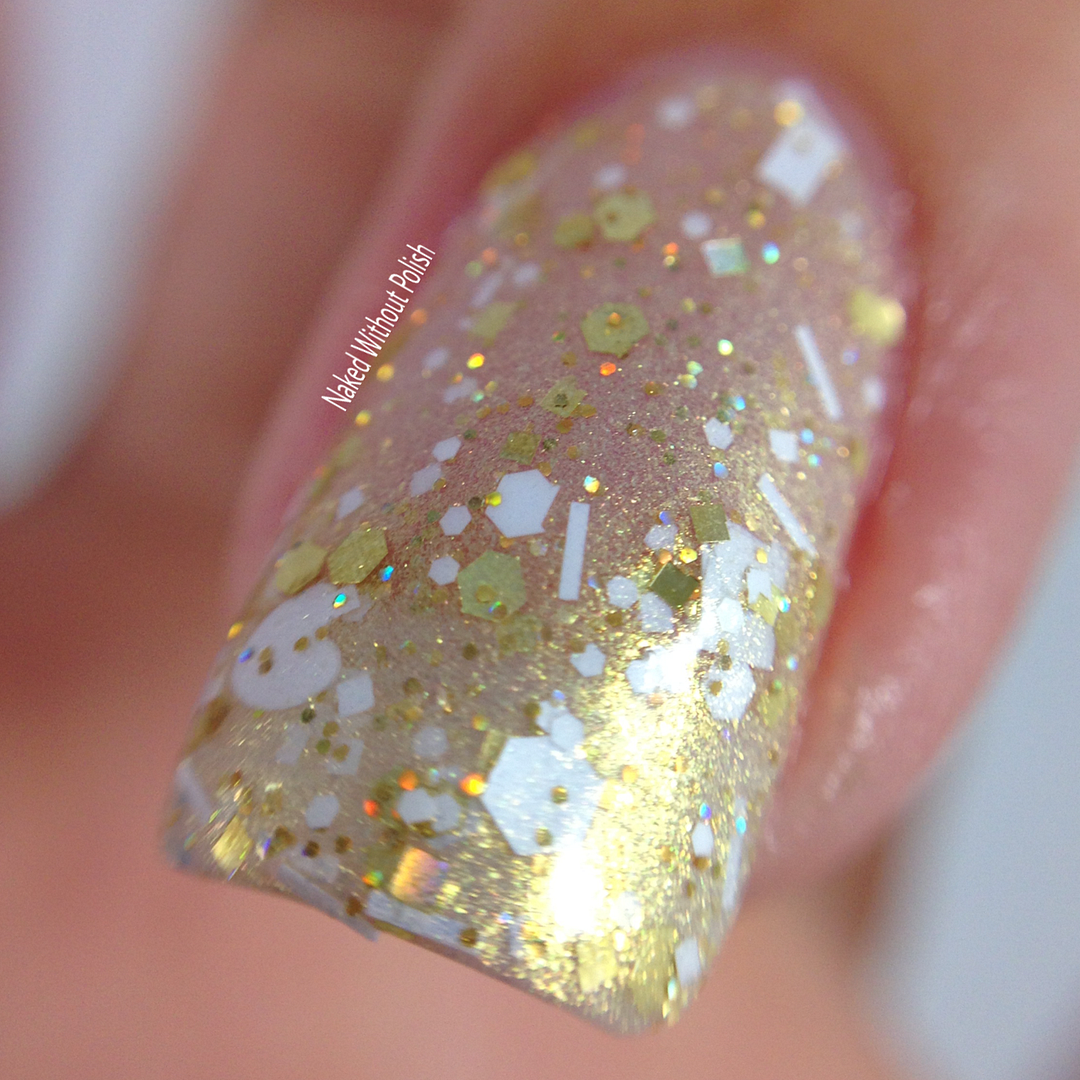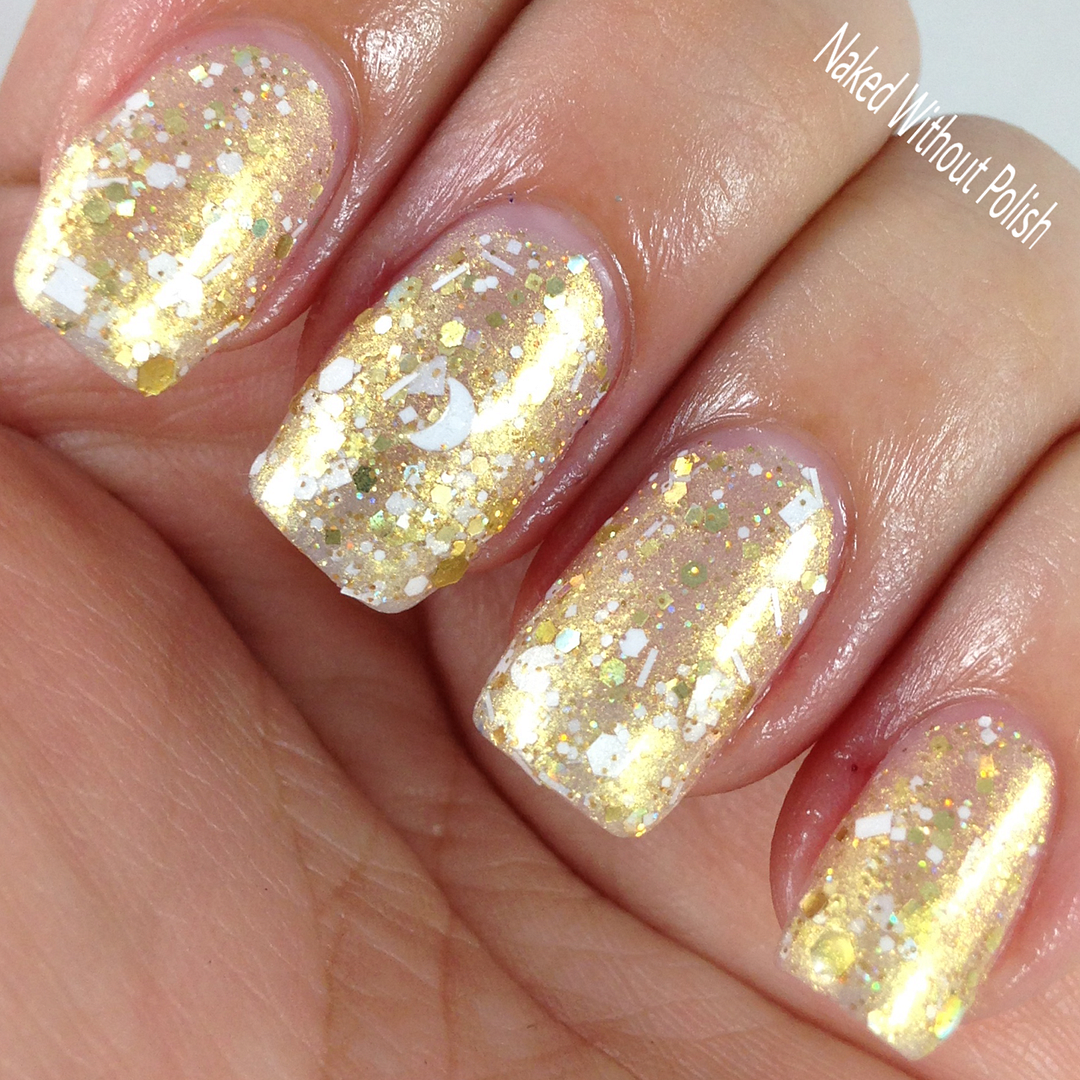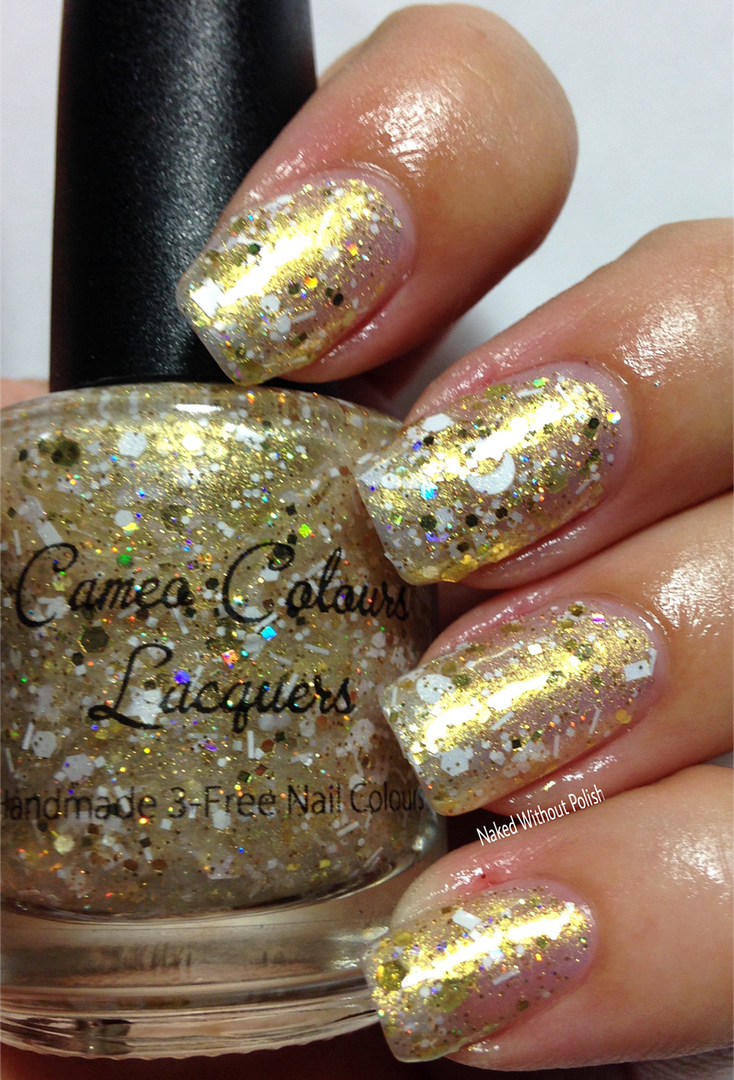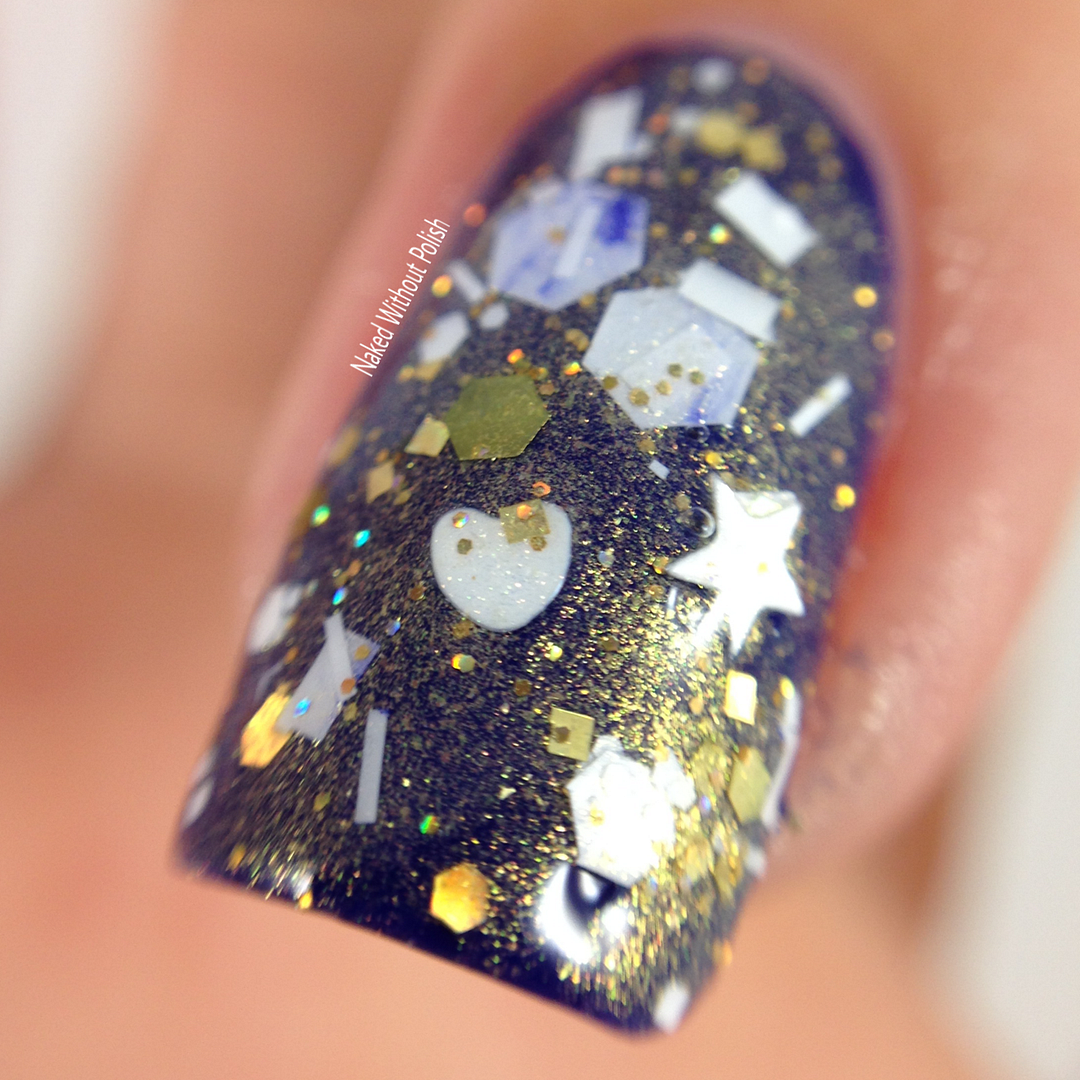 1 coat of Gilded 4 Glory over OPI Eurso Euro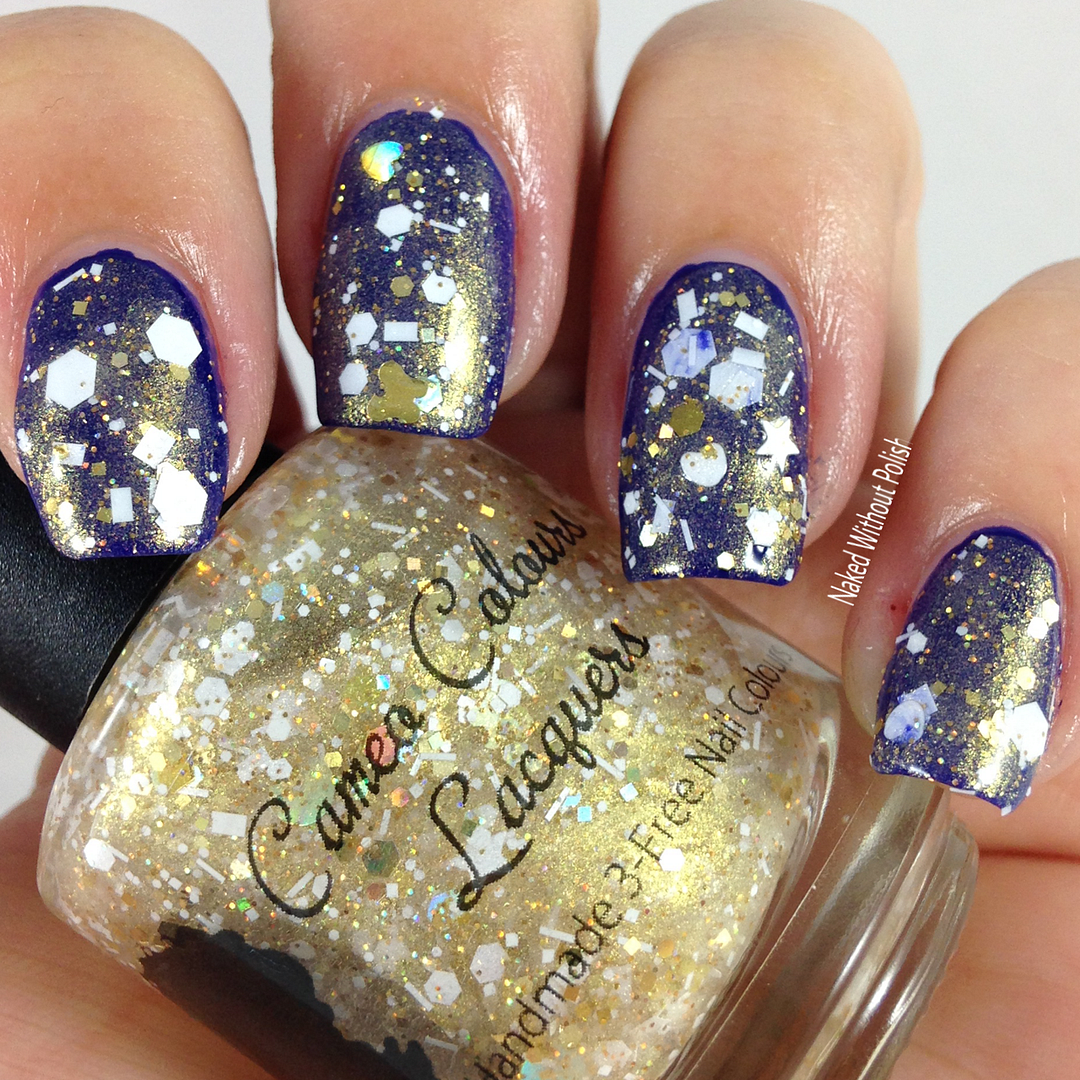 1 coat of Gilded 4 Glory over OPI Eurso Euro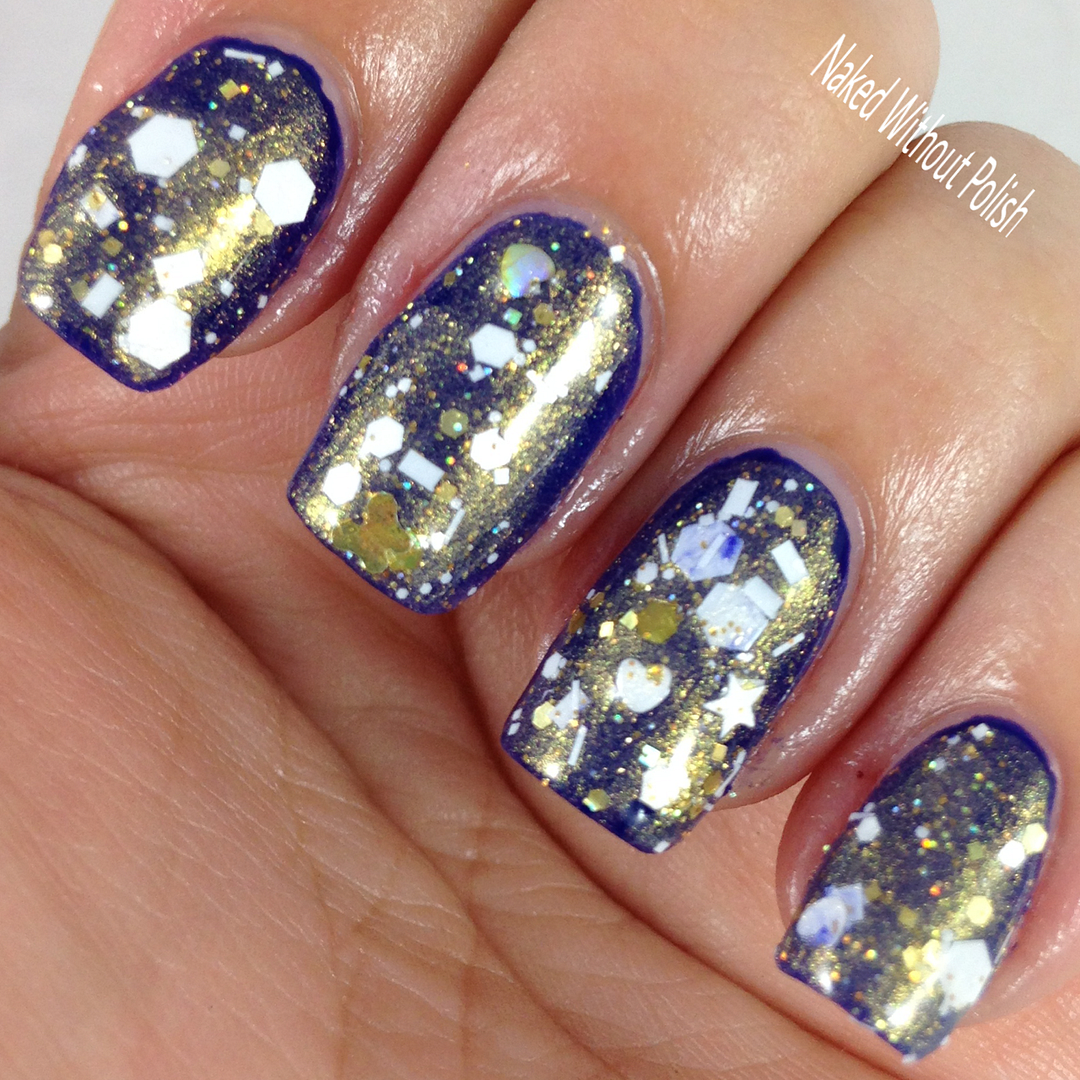 1 coat of Gilded 4 Glory over OPI Eurso Euro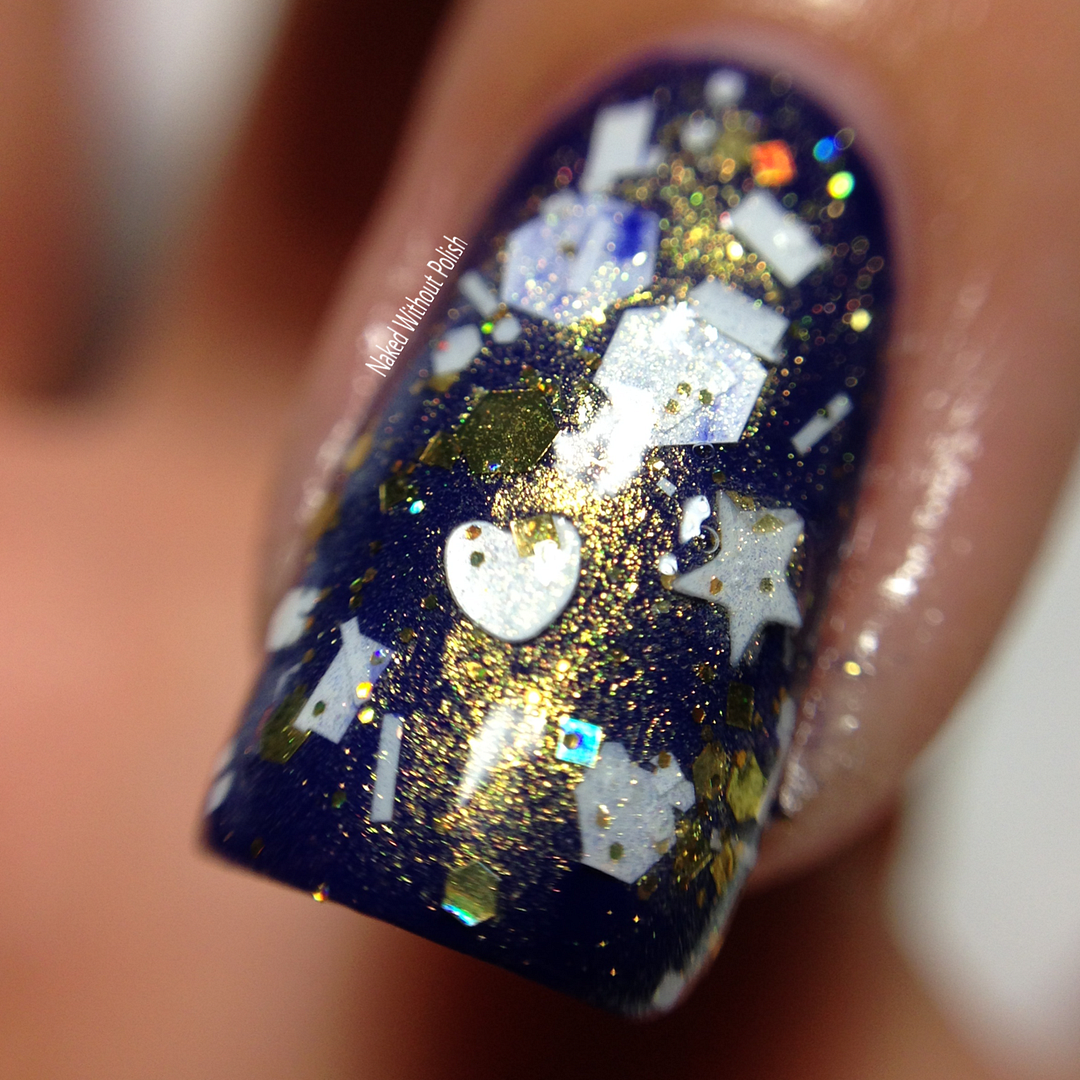 1 coat of Gilded 4 Glory over OPI Eurso Euro in direct light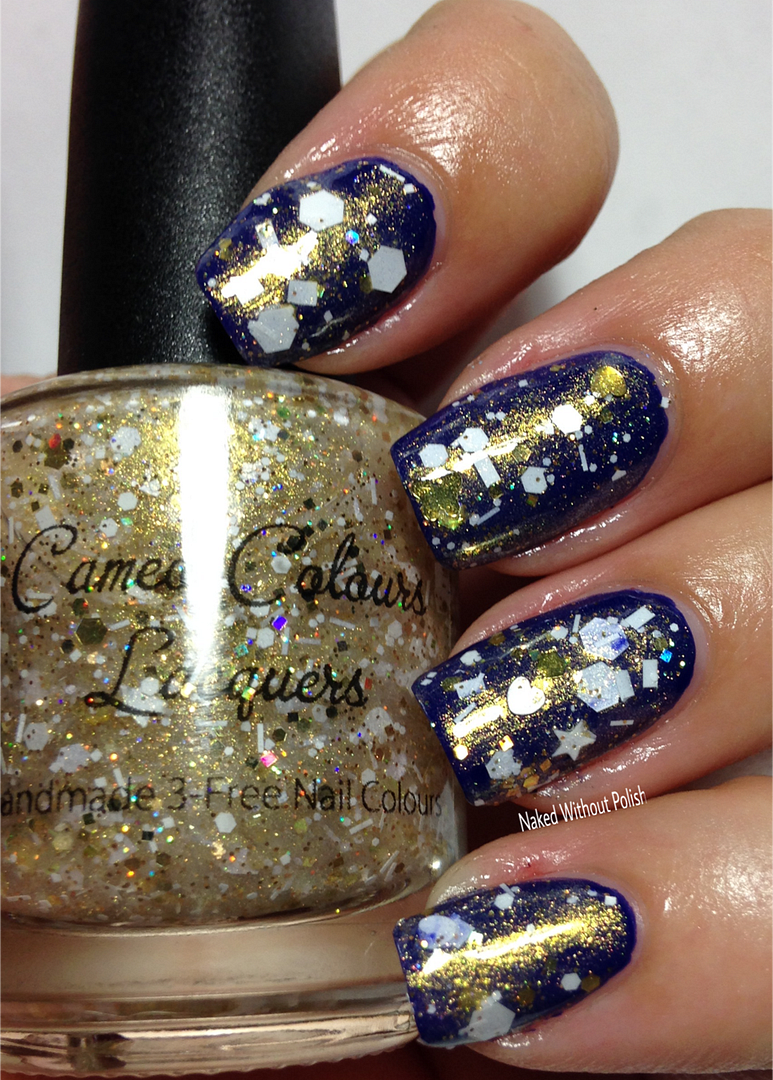 1 coat of Gilded 4 Glory over OPI Eurso Euro in direct light
Before you glitter haters start in...Cameo knows me and my hatred for funky shaped/larger glitter. However, I trust her. She showed this to me before she sent it, and she KNEW what my reaction to be. Then I received my bottle to review. I was wary. I think you all realize that now. When she showed me her dirty swatches, I knew I wanted to pair it over a darker blue. I tried it on its own first. I actually really like it on its own. Gilded 4 Glory has such a strong gold shimmer, your nail looks fully opaque at some angles and kind of bare in other angles. I had a lot of fun playing around with it before taking pictures. It applied well, despite the amount of glitter in there. I tired to make my coats as thin as possible. Once I put it over blue, I opted for a slightly thicker coat. Never had to fish for glitter once. Personally and surprisingly, I like this one better on its own. The glitters didn't bother me as much when Gilded 4 Glory is on its own.
Gilded 4 Glory will be available today, Monday, June 13th at 12 pm EST at www.cameocolourslacquers.com. It will be available for $9. It is a limited edition, but she hasn't announced exactly how limited. Sometimes she makes one batch and done, sometimes she lets it go through the summer. I have a feeling, if you were going to be getting the newest Polish for Pit Bulls Duo on Friday, you could easily wait and add this one to your cart as well. Cameo made a wonderful celebratory polish that makes her beyond happy and she is ready to share her happiness and thankfulness with everyone! Make sure you are following Cameo Colours Lacquers on all of her social media platforms (links below) to stay updated on news, releases, and sales. Speaking of sales...now through Thursday, June 16th use the code CCL4YEARS to get 25% off all orders.
What are your thoughts on this? Do you have a favorite polish from the past 4 years of Cameo Colours Lacquers?
Cameo Colours Lacquers information:
Shop -
http://www.cameocolourslacquers.com/
Facebook -
facebook.com/CameoColoursLacquers
Fan Group -
https://www.facebook.com/groups/CameosColouristas/
Twitter -
Twitter.com/CameoColoursLac
Instagram -
instagram.com/CameoColoursLacquers
My information:
Blog -
www.nakedwithoutpolish.com
Facebook -
https://www.facebook.com/LacquerLoversUnite
Twitter -
https://twitter.com/NkdWthoutPolish
Pinterest -
http://pinterest.com/nkdwthoutpolish/
Instagram -
http://instagram.com/nakedwithoutpolish/
Ello -
https://ello.co/nakedwithoutpolish
**The product in this post was provided to me by the manufacturer for photography and my honest review. All opinions are my own. I was not compensated.**
Happy Polishing!!
Becky :o)