Christmas swap with Taneja's Bride
12:57 PM
**The featured product in this post were gifted to me. All opinions are my own. I was not compensated.**

Around the holidays, the lovely Shipra, from Taneja's Bride, and I decided to do a swap (see what I sent her here). I couldn't wait to swatch my package from her. She sent me several brands I hadn't yet tried. She really spoiled me!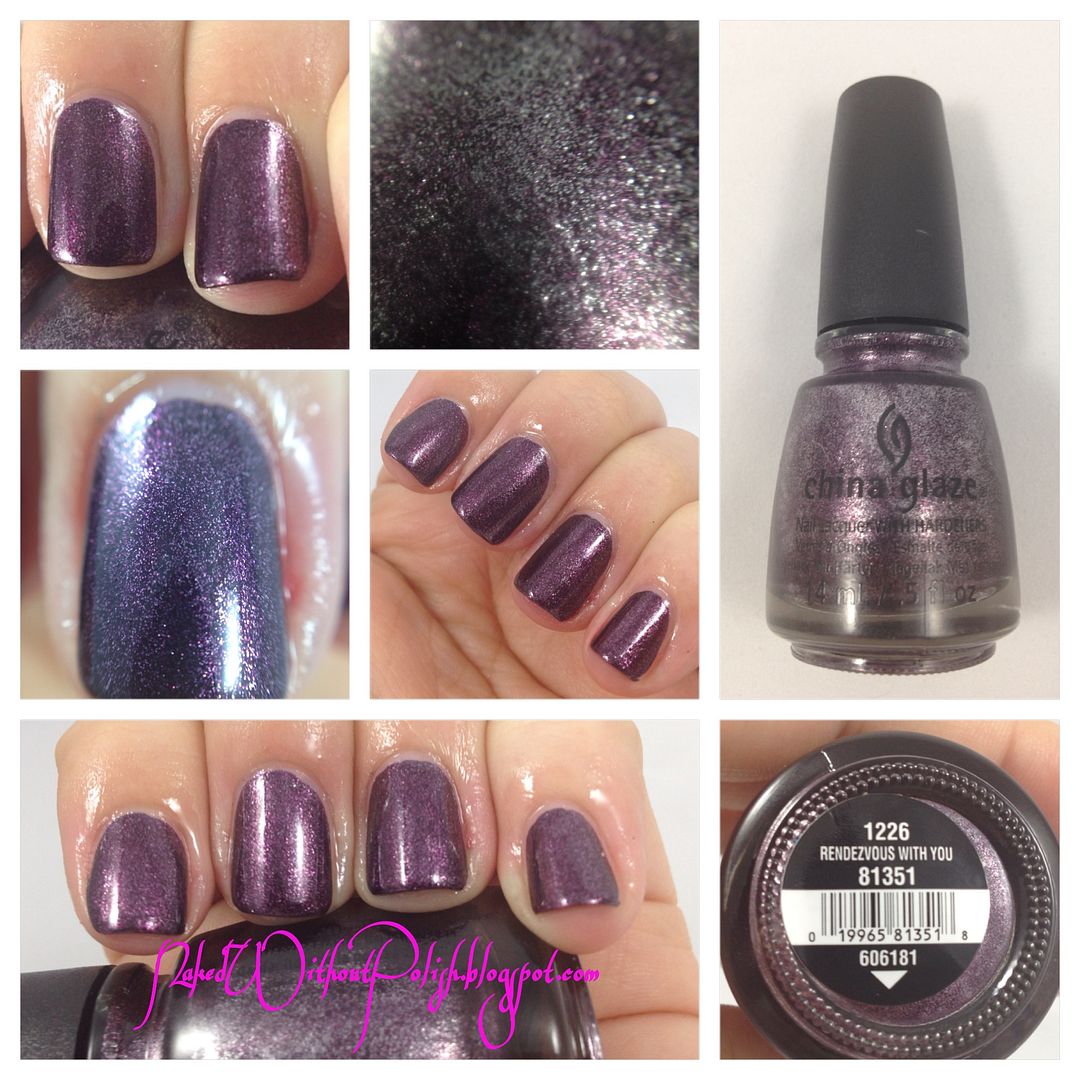 China Glaze Rendezvous With You is a beautiful, grape purple shimmer. This is two coats to be safe, but it was pretty opaque after one coat. Very impressive polish! No, China Glaze isn't a new to me brand, but I didn't yet have this color and it was stunning, so I'm showing it off to you all!
Salon Perfect - Glam Glitter is a clear based, glitter top coat filled with medium sized red hexes, small green glitter in mulitple shapes and gold micro glitter. Shown above is one coat of Glam Glitter over three coats of A Girl Obsessed But He Loves me. This was the perfect pairing for a Christmas mani. Great application and not difficult to remove. I might be looking into getting more polishes from Salon Perfect.
Lacquer Convention - Elphaba is a dark, forest green jelly with multiple sizes of green glitter and scattered with gold micro glitter. Inspired by a character in Wicked, this beauty applied like a dream. Two coats had minimal VNL, but I think 3 coats would have been a bit much for me.

It looks like her shop is closed, but I can't find anywhere to confirm that at the moment. I messaged her to see if she could give me information so we will see what she says.
Jindie Nails - Princess Breath is a "medium mint green crelly base and has large magenta dots, medium magenta dots, lime green and teal holographic hex gltter, deep purple metallic glitter, satin matte teal glitters in several sizes of hex". This is two coats of Princess Breath. Personally, I found it a little difficult to work with, I know people love this polish and I'll probably hear a lot of crap for saying that, but it's the truth for me. The base was thin and it was full of huge glitter that took over my nail. In the end, it is a really pretty polish.
Emily de Molly - Cosmic Forces is a "deep purple jelly base filled with lavender holo hex and dots and pink dot glitter". Cosmic Forces was a huge lemming of mine. I was beyond excited to see this in the package because she had no idea how badly I wanted this polish. This is an absolutely beautiful polish on the nail and in the bottle. But it was a pain in my behind to work with. The formula on the jelly was a bit sticky. I don't think my nails were meant to wear large glitter. Which is very disappointing because I love large glitter! This is two coats of Cosmic Forces. There is still some VNL, but I think the color and amount of glitter is perfect. I wouldn't do any more than 2 coats. I will still be wearing this beauty again, I was just a little disappointed in the formula.
WingDust - Total Pink Bomb is a magenta/fuchsia pink shimmer filled with small iridescent holo glitter. This is two coats of Total Pink Bomb (I probably could have done 3). The color of this is absolutely beautiful and the formula was incredibly smooth! I can't wait to get my hands on more WingDust beauties!
KBShimmer - Turbulence is a "satin matte finish slate gray polish inspired by storm clouds. Silver flakies are surrounded by micro blue and fuchsia sparks inspired by lightning and rain". This is two coats of Turbulence. It ended up being my favorite of all the polishes she sent me. In some light you get olive tints and in others you get a more blue tinted gray. Perfect formula and application. A flawless polish! I need more KBShimmer in my life for sure!
Also in my swap from her were two Sally Hansen magnetic polishes. I didn't swatch them, because I have used those before and I was so focused on these beauties I really kinda forgot. She sent some fun stuff for my daughter and some candy and candles for me. It was a wonderful swap and I have a feeling she and I will plan one again in the future!
All the above polishes were topped with A Girl Obsessed's Magpie Shine top coat and her Sweet Nectar Cuticle Oil was also used (if you are thinking of ordering her cuticl

e oil, keep the natural scent, it's my favorite!).
My information:
Blog - http://nakedwithoutpolish.blogspot.com/
Facebook - https://www.facebook.com/LacquerLoversUnite
Twitter - https://twitter.com/NkdWthoutPolish
Pinterest - http://pinterest.com/nkdwthoutpolish/
Instagram - http://instagram.com/nakedwithoutpolish/
Google+ - https://plus.google.com/b/114788720640439091829/114788720640439091829/posts
**The featured product in this post were gifted to me. All opinions are my own. I was not compensated.**
Happy Polishing!!
Becky :o)