Secret Santa Swap Box
2:36 PM
**The majority of products in this post were gifted to me. All opinions are my own.**

Happy Wednesday everyone! Today, I'm going to show you some of the goodies I got in a Secret Santa Swap I participated in. I got some fun polishes in my box, but, to be honest, I was more excited for my person to get her box than I was to get mine. Then my box arrived, and it turns out the girl I got had gotten me. I have to say, we gave each other some pretty awesome goodies!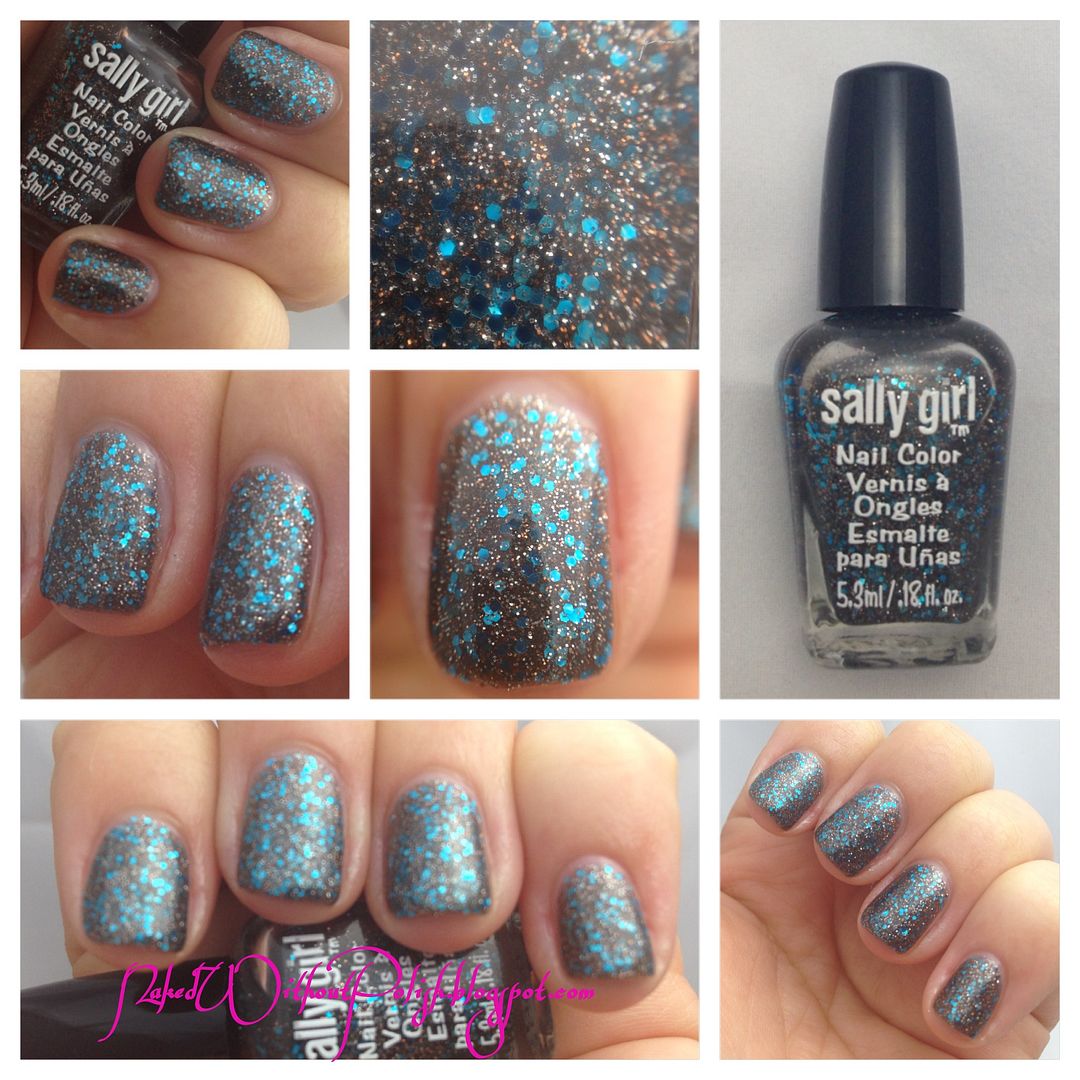 Sally Girl - Butta is the first I swatched. I thought Maggie would have grabbed this one, said "MINE!" and ran off, but she didn't. She thinks the Sally Girl polishes are made just for her. I'm so glad she didn't sneak this one away from me. In the bottle I thought it was black, but at first stroke, I realized it was brown and was in love. This is three coats of Butta and it had great application.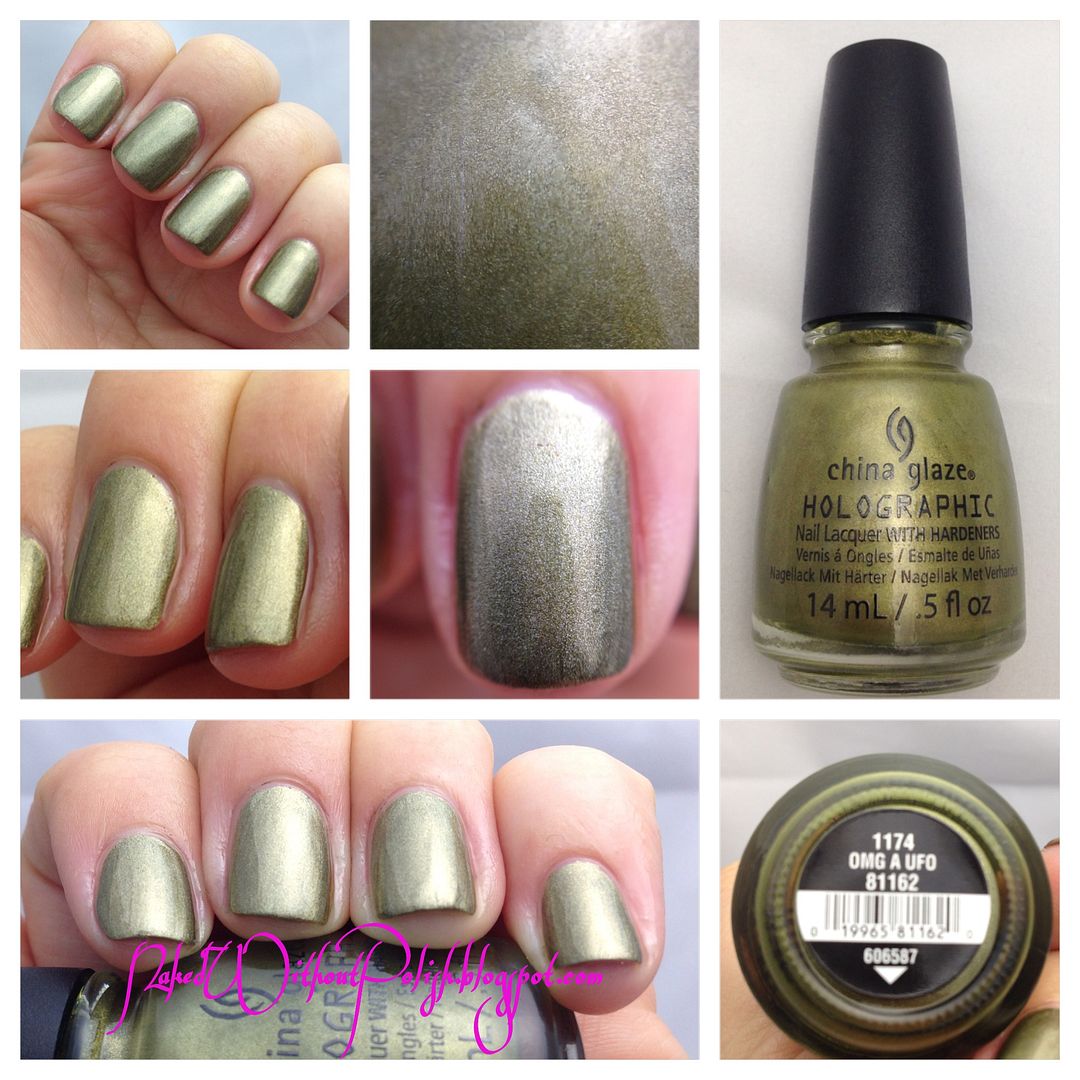 China Glaze - OMG A UFO was the next polish I swatched. It's an olive green holo from the 2013 Hologlam collection. I love that khaki green/olive shade so I was really excited to see this one in my box, even if these holos weren't as good as the original holos from China Glaze. This is three coats of OMG A UFO. The first two coats applied strangely, streaking and pulling like I was trying to apply it after putting cuticle oil on or something. The third coat was perfect and evened everything out.
As you can see, I didn't get a picture of any holographic parts in my light tent. I was so disappointed, then I pulled my hand out. And magic happened...
Look at that! It decided to come out and play after all. BEAUTIFUL!! Definitely a wonderful surprise.
The next two are customs that she had CoCo Lacquer make for her to give away as gifts for the holidays. I was a lucky recipient of one of the sets.
The first one is a beautiful, unnamed, aqua teal shimmer that is very reminiscent of the waters in the Caribbean. Stunning shade and beautiful application, this is two coats.
The second is a fun and simple glitter top coat of different sizes and shapes of red glitter. The first polish I thought of to pair with this was Zoya's Rue. This pairing makes the perfect Valentine's Day mani. I used two coats of Rue and topped with one coat of the unnamed red glitter topper. I can't wait for CoCo Lacquer to open her stores again so I can look into her stuff.
On all the swatches, I used the Beauty Secrets base coat she sent me as well as my new favorite

Magpie Shine

top coat from

A Girl Obsessed. I also received a matte top coat from Sally Girl, but I already had a bottle and use it so I didn't swatch it here. It's a matte top coat, us matte lovers can't get too many of those!! I loved everything I got and I can't thank my partner in this enough! I love it all!!
My info
rmation:
Blog -
http://nakedwithoutpolish.blogspot.com/
Facebook -
https://www.facebook.com/LacquerLoversUnite
Twitter -
https://twitter.com/NkdWthoutPolish
Pinterest -
http://pinterest.com/nkdwthoutpolish/
Instagram -
http://instagram.com/nakedwithoutpolish/
Google+ -
https://plus.google.com/b/114788720640439091829/114788720640439091829/posts
**The majority of products in this post were gifted to me. All opinions are my own.**
Happy Polishing!!
Becky :o)