Thomas Scott Salon & Spa
8:46 AM
**The following service was provided to me in exchange for a review and I received a discount on the secondary service.**

I was recently contacted by Nicole, a nail tech at Thomas Scott Salon & Spa. She asked if I would want to come in for a free service and write a blog about it. How could I pass that up? I love trying new salons, and the fact that she contacted me was awesome! Being able to connect with other locals who love nail polish as much as I do made me really happy! I jumped on the chance.

I was getting ready to go on vacation and was going to need a pedicure so I asked if that happened to be the service that she was offering. She said no that she wanted me to review Minx. But said that she would give me a discount on the pedicure. I got really excited then! To me, there is absolutely NOTHING better than a really good pedicure.

I started poking around the website and thought, I should go all out. I need to get my hair done before the trip. It's been WAY too long since I've really had my hair done. It needed some life brought back into it. I let her know what I was looking for and she made the hair appointment for me.

My nail appointment was on Friday evening and my hair appointment was on Monday afternoon. That helped so I wasn't just hanging around the salon all day. In all honesty, I wouldn't mind doing that one bit.

Walking into the salon, there are two desks. One is check in and the other is check out. And the waiting room. I checked in and she took me off to the left to the nail area. The hair salon is off to the right with the waiting room in the middle. I really liked this because it kept the different smells in their own area. The two smells shouldn't mix in my opinion.

Passing the wall of OPI, there is another waiting area for nails and they offered me water. My daughter was with me and they let her sit next to me since they weren't busy and they offered her water as well. She is very talkative and friendly, and they were very warm and welcoming with her. I always love when businesses welcome her. There have been moments where she hasn't been welcomed and it's really soured my drive to want to go back.

Pedicure was up first. This was hands down, the best pedicure I had ever gotten. I'm a huge fan of the paraffin dips and I didn't even get that. I didn't even miss it. *gasp* Such care and attention was taken into everything. The massage was perfect as was the care to notice pressure points. I was so relaxed I almost fell asleep after my husband picked our kid. I brought in my own polish, A Girl Obsessed What's the Tealio? and my Glisten & Glow HK Girl top coat, and she applied them without question...other than "What is this polish? It's so pretty!" See pic below for final result.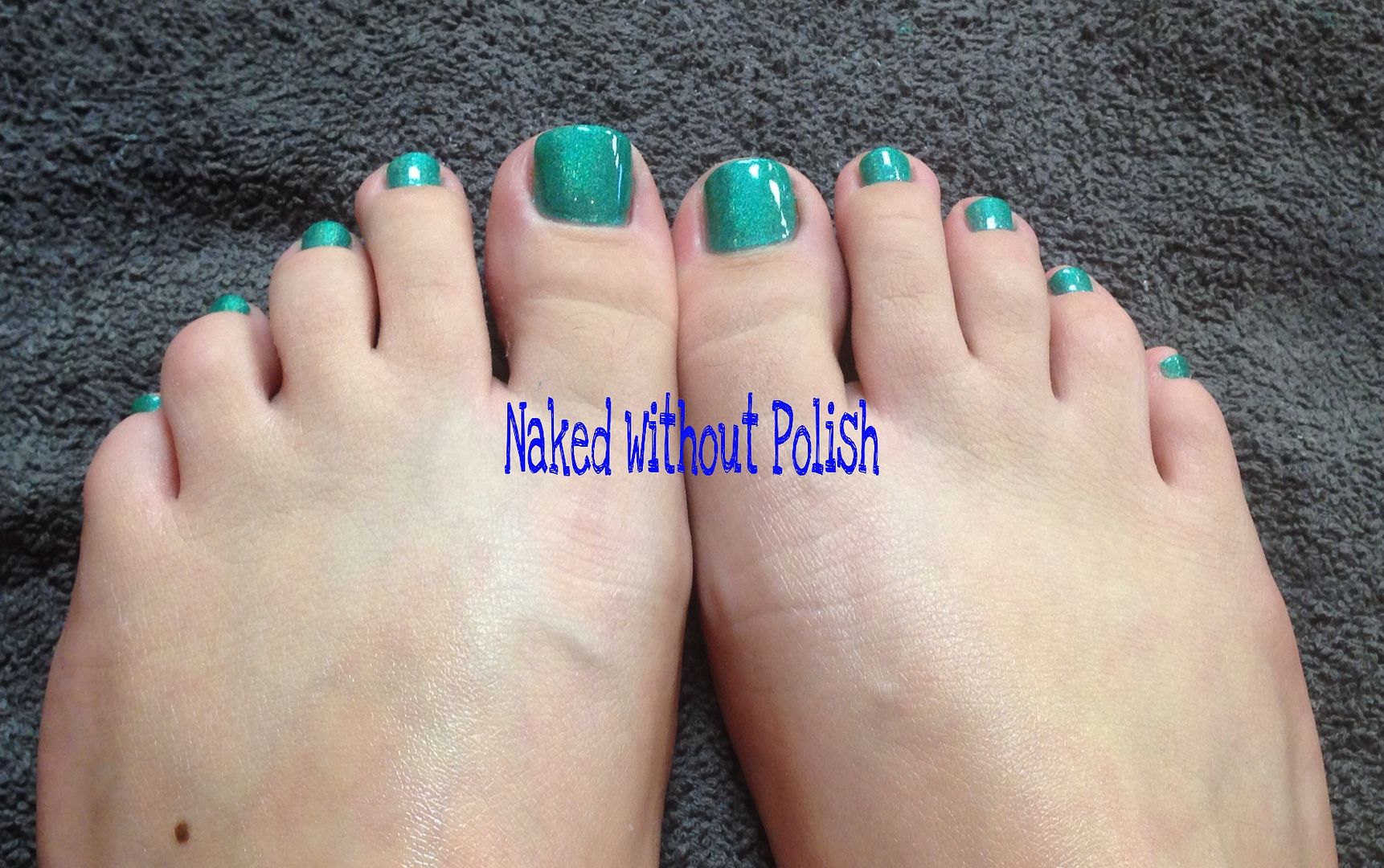 Pedicures range from $42 to $70.
Depending on what services you are wanting and what level your technician is.
Then, Nicole lead me to her station. She took off my polish, taking care with a broken nail and used the foil method on it to avoid more breakage. That was very appreciative. She ended up adding a hard gel overlay on the broken nail to allow me to swatch more and let the break grow out. Hopefully without more breakage. After that, she proceeded to give my hands a wonderful massage adding the pressure points, once again. Extremely relaxed!
Then came the time for her to add the Minx. They are on sheets of plastic, and laying underneath a heat lamp. They have to be really hot to even remove from the plastic. She used a large wooden stick to peel them off and apply to my nails. She had already picked out what she was going to use on my nail, but I still got to peek at all the different patterns when she was done. Once on the nail she used the flat pointed end (kind of looks like an extra large cuticle pusher) and made sure there were no air bubbles. Once all the nails had the Minx wraps on, she took off the extras and filed the ends of my nails flat. See pics below for the end results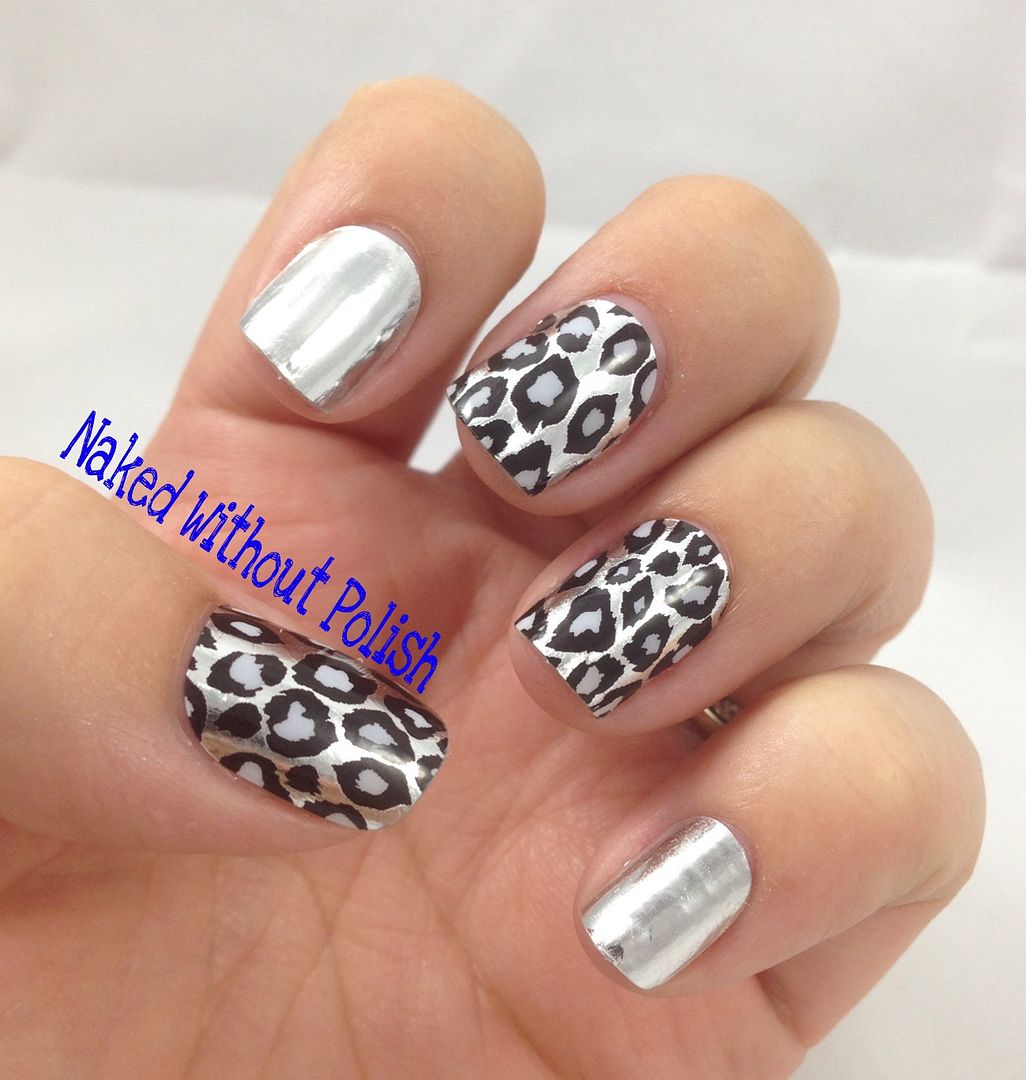 On my pinky and pointer finger is Silver Lightning, a metallic silver chrome wrap.
On my ring, middle and thumb is Snow Leopard, a white and black cheetah print on top of a silver metallic chrome back ground.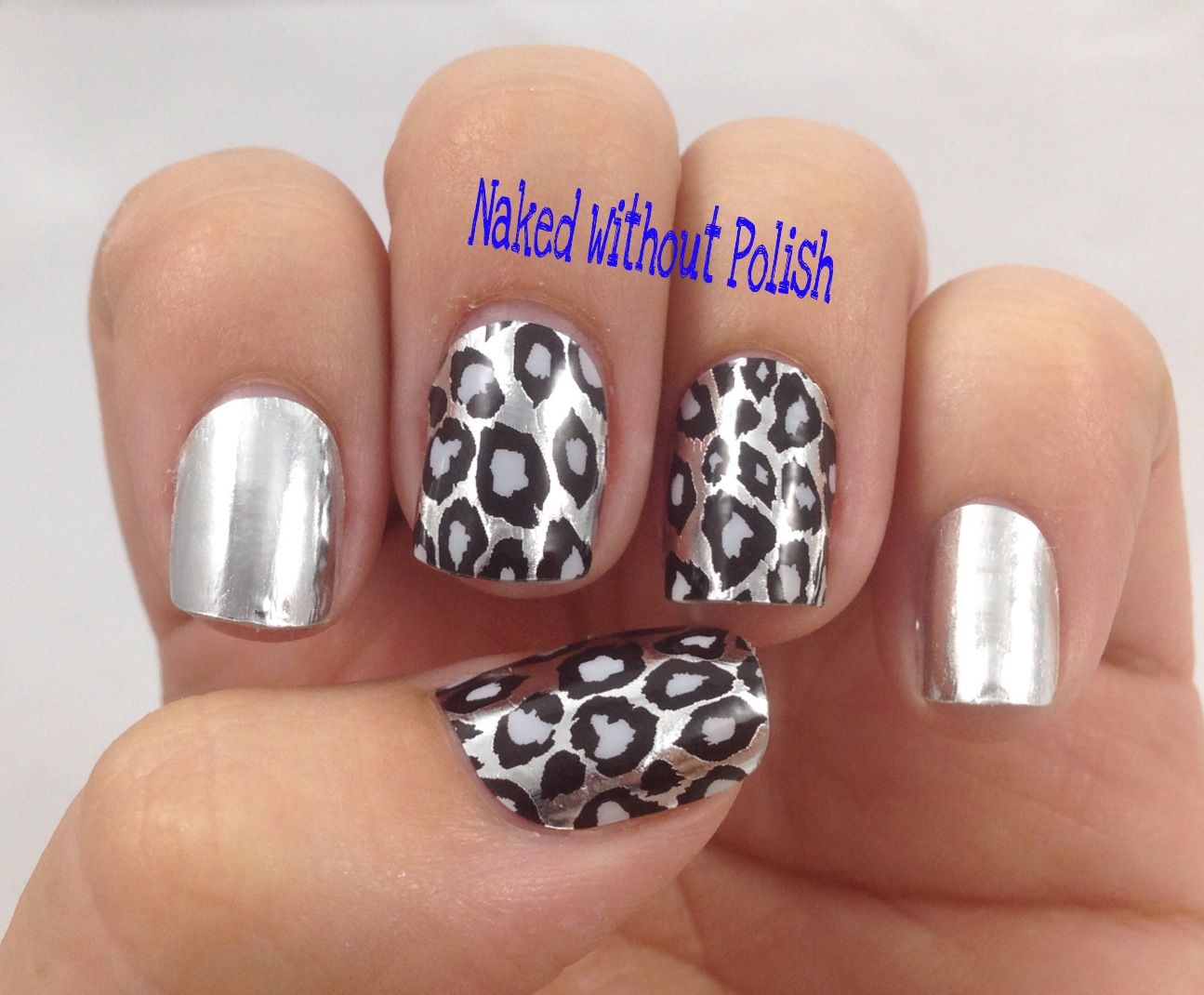 Minx wraps are supposed to last 7-10 days. Mine started to gently peel later that night. I left them on to see how it played out. By the following afternoon I was completely annoyed with the amount it had peeled away. I removed them by soaking my hands in warm water then peeling them off. They come off just like a sticker. No damage to the nail whatsoever. I had a little sticky left over on a couple nails and I just used acetone to get it off. I really like the idea of these, it just didn't work for me.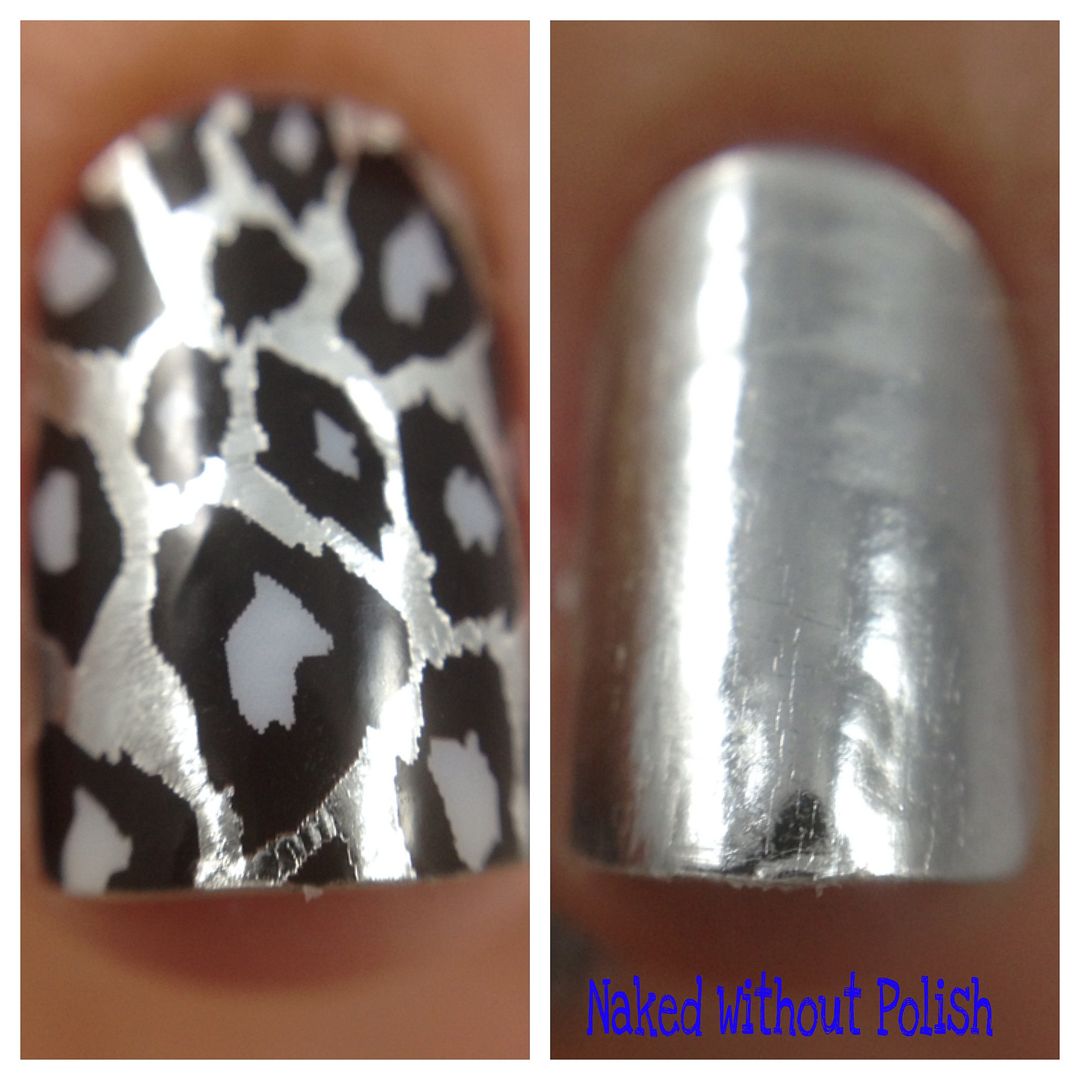 This service runs about $90.
Only two technicians at this location do Minx. It's not something everyone does.
Manicures range from $21 to $88.
Once again, depending on what types of services you require and what level your technician is.
On Monday, I met with Tiffany to get my hair done. I knew I wanted a cut and color, but wasn't 100% on the color. I explained that I wanted my hair to rest right at the top of my arm pits when dry and I didn't want layers, but I wanted the ends feathered a bit to give the illusion of layers. Then came the difficulty of picking the color. My husband so badly wanted me to be a red head, but it was too drastic for me. I wanted a more natural looking brown. A little darker than my normal, sometimes strawberry looking, blonde hair. We talked about a couple different shades I texted pictures to a friend and hubby and we all agreed on one. It was a medium brown in the mahogany level of browns, and we decided that a glaze would be better for me. Cheaper upkeep and a better way of easing me into playing with my hair again. Tiffany was super patient with me and took all my concerns and was very honest with me. See below for before pic (was taken on Friday before leaving to get my nails done).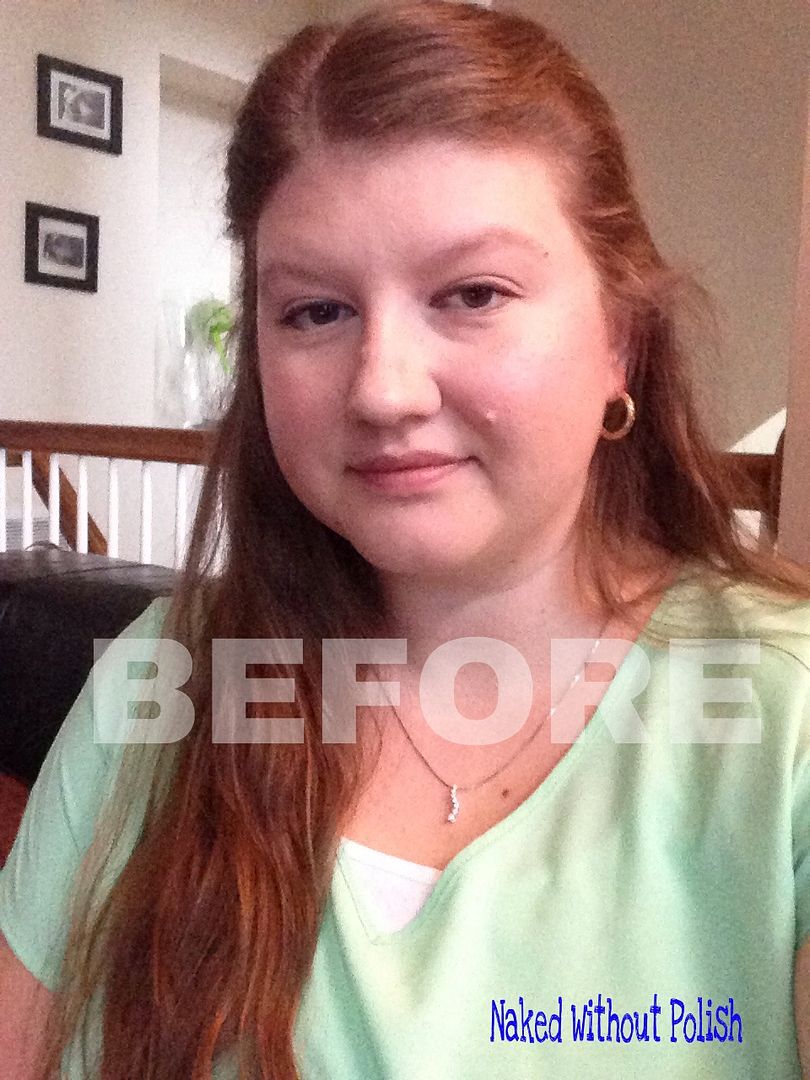 In that light, my hair looks a bit more red than it actually is. It's a very dirty blonde there. But it's long and bland. It being down is rare for me. I'm the queen of the bun and the quick pony flip. I love having it off my neck and face, but since Maggie is older now, I'd like to get back into actually fixing it and finding more me time during the day.
She applied two bottles of glaze and let me sit at the sink while it set, due to it being messy. I relaxed with a cup of water and my phone. A young lady came and rinsed, shampoo'd and conditioned my hair while Tiffany was touching up another client. This young lady had the most amazing hands. I'm surprised I didn't end up snoring. The best scalp massage while getting a shampoo ever! AND SHE'S STILL IN SCHOOL!!! I'd probably go back and pay her JUST to do that. And I hate that I didn't get your name, but you were wonderful!!
Once that practically orgasmic sequence of events was over, Tiffany took me to the chair and the chopping began! We started with 3" coming off but it was still a bit long. So I had her take off another 1". She did a wonderful job making it all even, and doing simple feathering and even did a bit of shaping around the face. All the while making sure to leave enough room for my beloved ponytail/bun if needed. She dried and used the most simple methods, in hopes of me being able to attempt and recreate this. (HA!) By the end, it was the perfect length and a wonderful beginner color.
Price range for cut is $22 to $56.
Depending on man, woman or child, how long your hair is and the level your stylist is.
Price range for color is $29 to $151.
Depending on the level your stylist is and exactly what you are wanting done to your hair.
All-in-all, 4 stars!! Nicole did an amazing job with my pedicure and my manicure, not her fault the Minx didn't like me. I think for me that was more product and not technician. Not my cup of tea, but I know there are ladies that love that sort of thing! The strong selling point on them for me was the fact that they don't damage your nail like gel or shellac can. It was practically a heat wrapping sticker for your nail. The pedicure was a bit more than I usually like to pay, but for a splurge you will most DEFINITELY be spoiled. Nichole was fantastic and I recommend her. She books up quickly so always make an appointment. Walk-ins aren't really easy at this salon.
I couldn't be more happy with the wonderful job Tiffany did on my hair! Reasonably priced and super friendly! She did a great job with juggling her clients as well. Not a beat was skipped. She seems like she would book easily so definitely call ahead to see her. I will probably be making another appointment for my touch up when I get back from vacation.
You can visit the website for Thomas Scott Salon & Spa and check out all their other services. Their hours and phone number is at the top right corner of the site. You can also see a list of the stylists and technicians and get a feel for each of their backgrounds. A wonderful salon, I don't see myself going anywhere else now.
If you are a nail lover in the area, or you've been to this salon before, let me know! I'm always wanting to hear about locals who share the same passions I do!
My information:
Blog -
http://nakedwithoutpolish.blogspot.com/
Facebook -
https://www.facebook.com/LacquerLoversUnite
Twitter -
https://twitter.com/NkdWthoutPolish
Pinterest -
http://pinterest.com/nkdwthoutpolish/
Instagram -
http://instagram.com/nakedwithoutpolish/
**The following service was provided to me in exchange for a review and I received a discount on the secondary service.**
Happy Polishing!!
Becky :o)