Touch of Elegance Hair and Nail Salon Review
10:50 AM
**All opinions are my own. I was not compensated.**

I recently babysat for a friend, and as a thank you, she set it up for me to get a pedicure from her favorite salon/technician. I was in dire need for one and was extremely grateful! I was so pleased, I decided to do a review, so beware, there's a photo of my toes.


The salon is Touch of Elegance and it is a nail and hair salon. It's a shame they don't have an internet presence or else I'd link them so you could get a better feel for the salon. It's a small place, kinda hidden, but boy is it a gem! I'm actually surprised I haven't noticed it before because it's right across from one of my favorite restaurants, Family Meal.

The lady who my appointment was with was Alyssa (pronounced Uh-lish-uh). It turns out she's the owner too. The salon has so many OPI polishes to choose from, but I brought LynBDesigns and SuperChic Lacquer with me. The chair was super comfy and I was able to get a nice massage. I relaxed and helped Maggie get settled in with a snack and some books while she was filling the bowl. I was so pleased to see that each customer gets a new bowl liner and there are no jets!! No hiding places for germs at Touch of Elegance. That alone bumped them up to the top of my list, even before the pedicure started.

Alyssa was so nice. Maggie tended to dominate the conversation so I didn't get to talk much. The whole pedicure was perfect. She was gentle and thorough, even with a toddler distraction. She didn't have issues using my polishes. There were only two chairs, and two tables. It's not overwhelming and they aren't rushing to get several people done at once. They really take care to focus on their customers. Quality not quantity.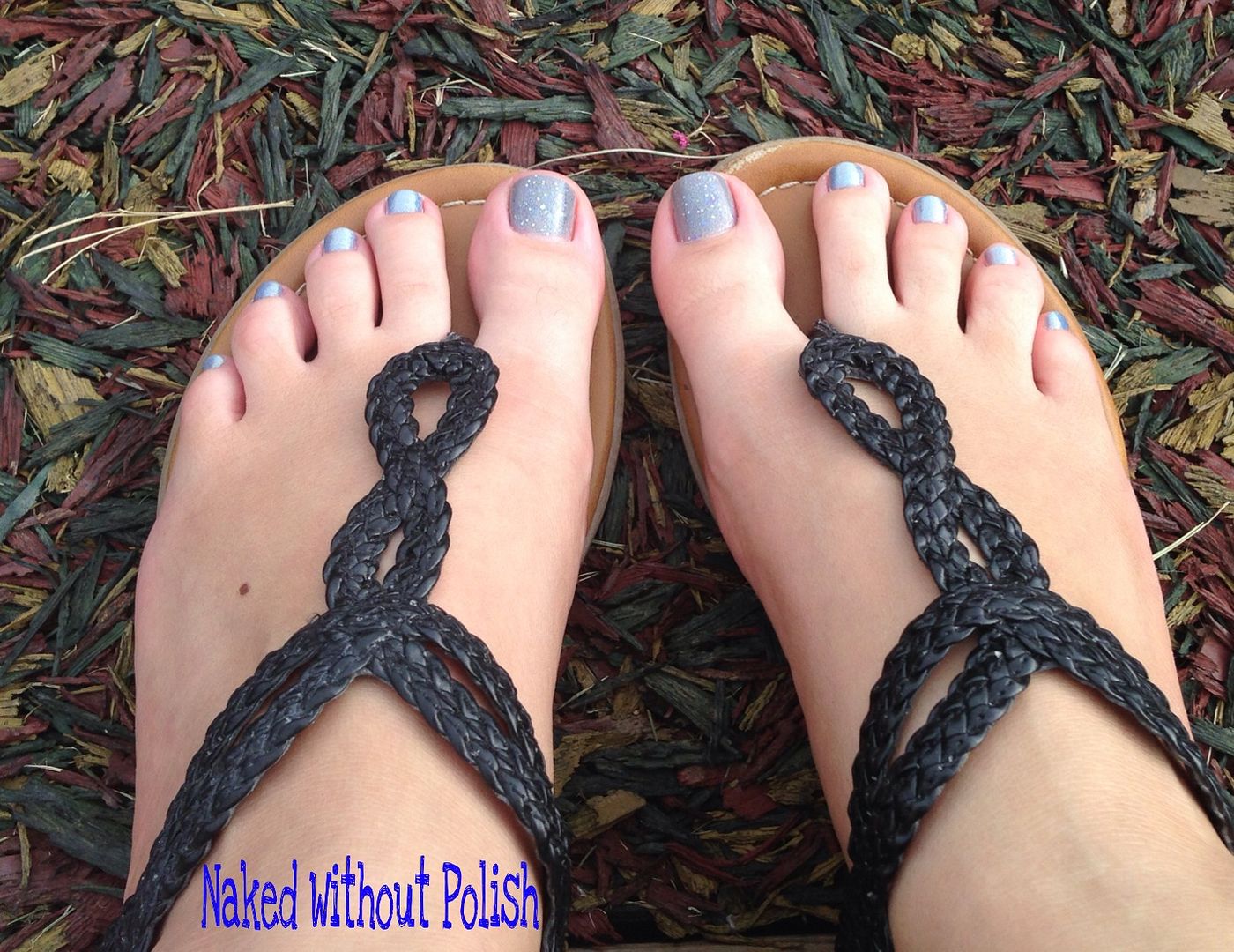 I couldn't recommend Alyssa Atallah and Touch of Elegance more. Great work and for only $40!! If you live in the area or are visiting someone in the area, make an appointment with Alyssa [(301) 662-4041] and let her know Becky at Naked Without Polish sent you! She works Tuesdays and Thursdays from 12 - 8. You won't be disappointed!!
If I get my hands or my hair done at the salon, I will make sure to post about those too so you can see all of their services!
Touch of Elegance information:
No social media info.
Address: 303 E. 9th Street, Frederick, MD 21701
Phone number: (301) 662-4041
My information:
Blog -
http://nakedwithoutpolish.blogspot.com/
Facebook -
https://www.facebook.com/LacquerLoversUnite
Twitter -
https://twitter.com/NkdWthoutPolish
Pinterest -
http://pinterest.com/nkdwthoutpolish/
Instagram -
http://instagram.com/nakedwithoutpolish/
**All opinions are my own. I was not compensated.**
Happy Polishing!!
Becky :o)