Anchor & Heart Lacquer January and February Message in a Bottle Swatch and Review
9:51 AM
**Press Samples**

Today's post is really special. Taryn, the beautiful soul behind Anchor & Heart Lacquer, was trying to figure out what to do for the new year. Last year, each month had a special duo that was only available for the month. It had a great response, but she wanted to change it up this year. Every time she tried to talk about this current year's monthly special I could sense some frustration. She wasn't 100% happy with anything. I asked her if I could give her a suggestion. When I said that, I honestly had no idea what I was going to tell her, but she needed something. Maybe some back and forth banter would push her to the right idea. Then, it hit me! I mentioned maybe calling them Messages in a Bottle, and having each one named for a mantra or just something that might brighten someone's day. Lately, a lot of us need that extra bit of kind words or show of support. Hearing what we need to hear could be as easy as looking at the bottom of a bottle of nail polish. As I was telling her, my eyes were welling up with tears. When she told me it was exactly what she was looking for, she was crying. It was perfect! It was just what she needed to hear. Now that I've started crying just typing all that out, let's get to the polishes. I hope you like them as much as we do!
**WARNING PICTURE HEAVY**
You've Got This!
January 2017's Message in a Bottle polish is You've Got This!
You've Got This! is described as "a pink-toned, nude polish with orange/lilac/blue shifting shimmer, pink holo micro glitter, and violet/pink/gold shifting UCC flakies".
Shown is three coats of You've Got This! with top coat.
You've Got This! is a little sheer, but after three thin coats it is beautifully opaque. Not only is it opaque, but you get a lot of dimension from the layered flakes and shimmer. The nude is a great fresh way to start the year off.
You Are Enough
February 2017's Message in a Bottle polish is You Are Enough.
You Are Enough is described as "a dark pink jelly based holo with shimmering pink/orange glass flecks, and UCC flakies that shift green/blue/purple".
Shown is two coats of You Are Enough with top coat.
You Are Enough had a flawless formula and application. I thought it was going to be sheer and need three coats, but I was pleasantly surprised to see it only took two coats. You get the wonderfully squishiness of the jelly filled with the beautiful flakies and shimmer.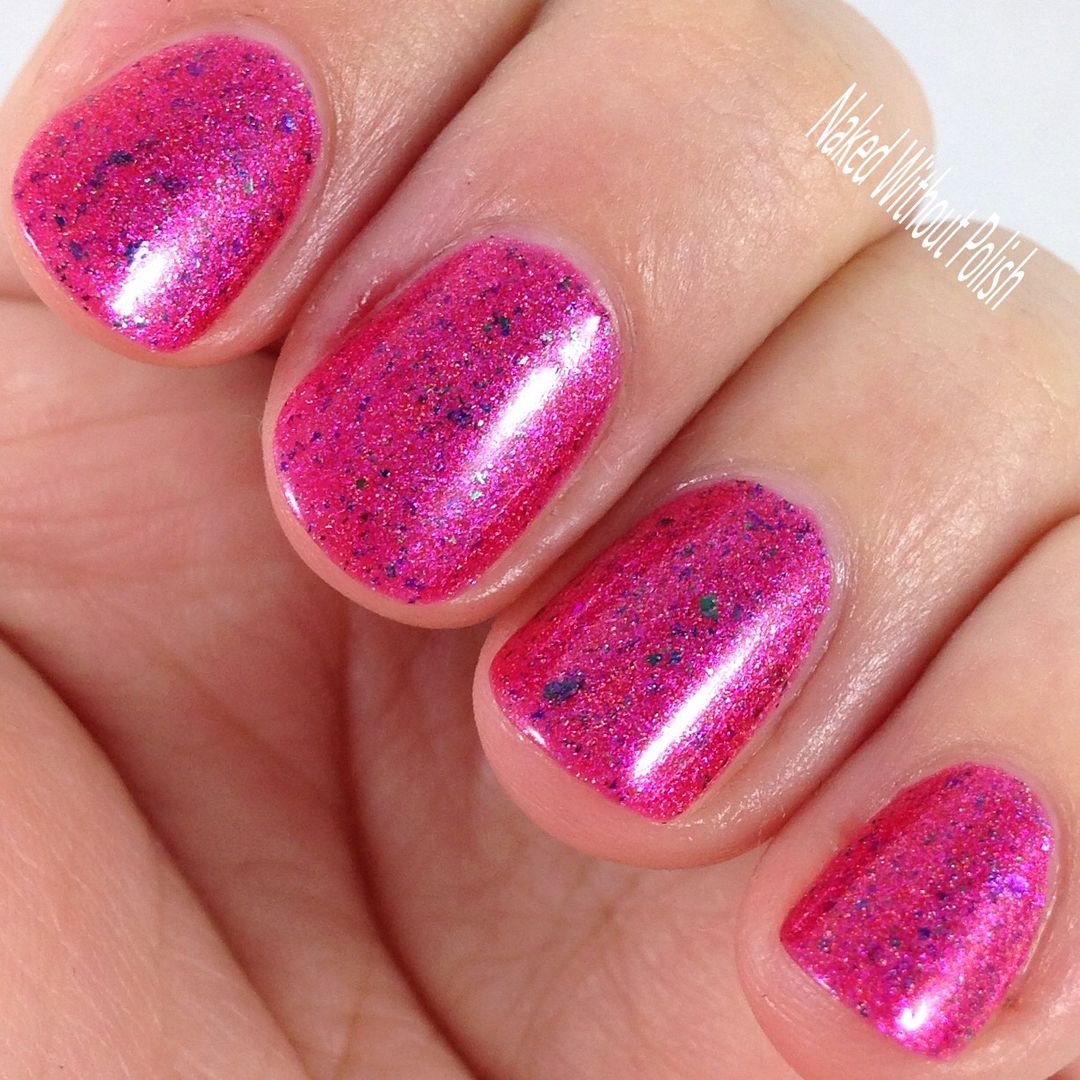 Both of these will be available to pre-order on January 27th at 9 pm EST at www.etsy.com/shop/AnchorHeartLacquer. They will be $11 each. They won't just be available for the month, you will be able to get these year round. They'll give you a little pick me up every time you see the names. Each month the polish will have another uplifting message. Feel free to purchase these as gifts, to send to people who may need a kind word. I can't wait to see what the other messages are. Make sure you are following Anchor & Heart Lacquer on all of her social media platforms to stay updated on news, releases, restocks, and sales.
What do you all think about this idea for a polish of the month thing? My heart is full hoping that other ladies are touched by the words these polishes are named after. I really hope you all love these as much as Taryn and I do!
Anchor & Heart Lacquer information:
Shop -
www.anchorandheartlacquer.com
Facebook -
https://www.facebook.com/anchorheartlacquer
Fan Group -
https://www.facebook.com/groups/1759128234308059/
Pinterest -
https://www.pinterest.com/tarynjshaw/
Instagram -
https://www.instagram.com/anchorheartlacquer/
My information:
Blog -
www.nakedwithoutpolish.com
Facebook -
https://www.facebook.com/LacquerLoversUnite
Twitter -
https://twitter.com/NkdWthoutPolish
Pinterest -
http://pinterest.com/nkdwthoutpolish/
Instagram -
http://instagram.com/nakedwithoutpolish/
**The products in this post were provided to me by the manufacturer for photography and my honest review. All opinions are my own. I was not compensated.**
Happy Polishing!!
Becky :o)