**Products in this post were purchased by me and gifted from a friend. All opinions are my own.**
I haven't posted a NOTD in quite sometime, so I figured I would show you a fun one I did yesterday. Recently a friend sent me a few
Cult Nails
beauties that I was missing from my stash (only 11 left to get except 2 are discontinued...not including the new collection). I was so excited to see Feelin' Froggy in that package from her, I knew I had to use it as soon as possible!! When
LynBDesigns
had a 50% off sale, I had to jump on the chance to snag her Land Before Time collection! In going through my untrieds I got a glimpse of Feelin' Froggy next to Spike. What do you know?! These two were MEANT to be together!!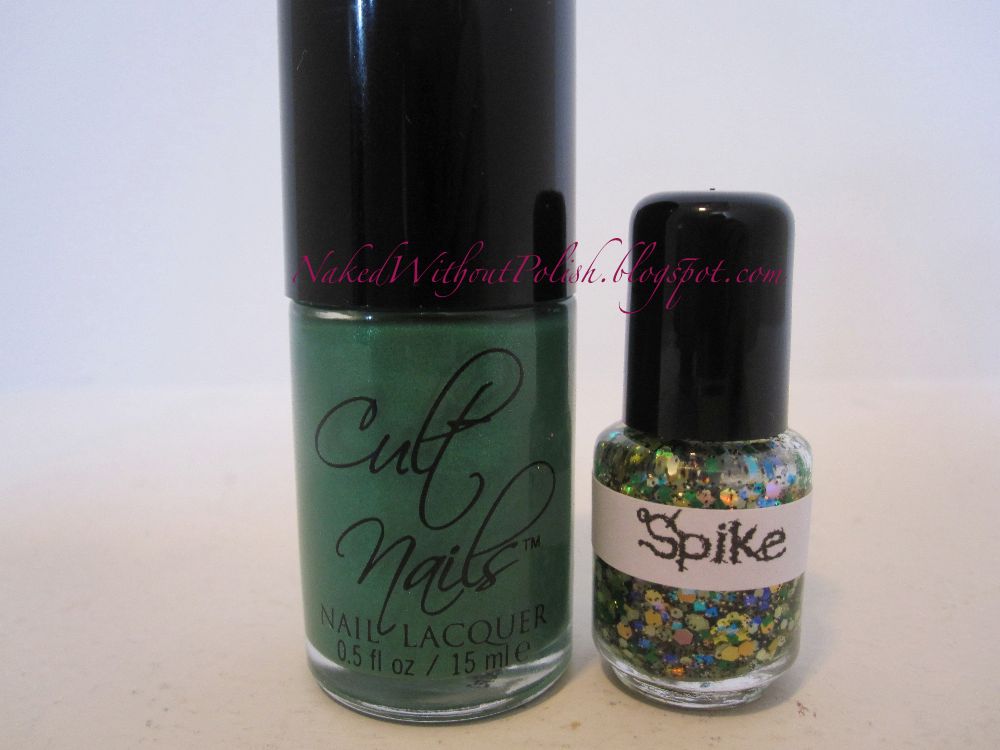 Cult Nails
- Feelin' Froggy and
LynBDesigns
- Spike
Feelin' Froggy is described as a "muted kelly green creme with a bright green shimmer", but it is more of a crelly. Their jellies are very squishy and their cremes are very solid. Feelin' Froggy still had a bit of sheerness to it. I wanted full coverage so I did three coats to eliminate any VNL (visible nail line).
Spike is described as a "
glitter bomb. A little like the character it is named after, it is messy and sloppy, but adorable. There are iridescent squares, gold flowers, gold holo hexes, and so many more colors.
" You have no issues getting glitter out of this bottle. Jenna at
LynBDesigns
has the BEST clear base in her glitter top coats. I don't know what it is about it, but it is fantastic! I wanted a heavy presence of glitter which is why I did two coats. You get a good amount of glitter with one coat, but two is perfection here.
This is three coats of
Cult Nails
- Feelin' Froggy and two coats of
LynBDesigns
- Spike on two accent nails.
It looks like a lot of glitter, but if you look at it from this angle it's really not. You still see a good amount of Feelin' Froggy under Spike.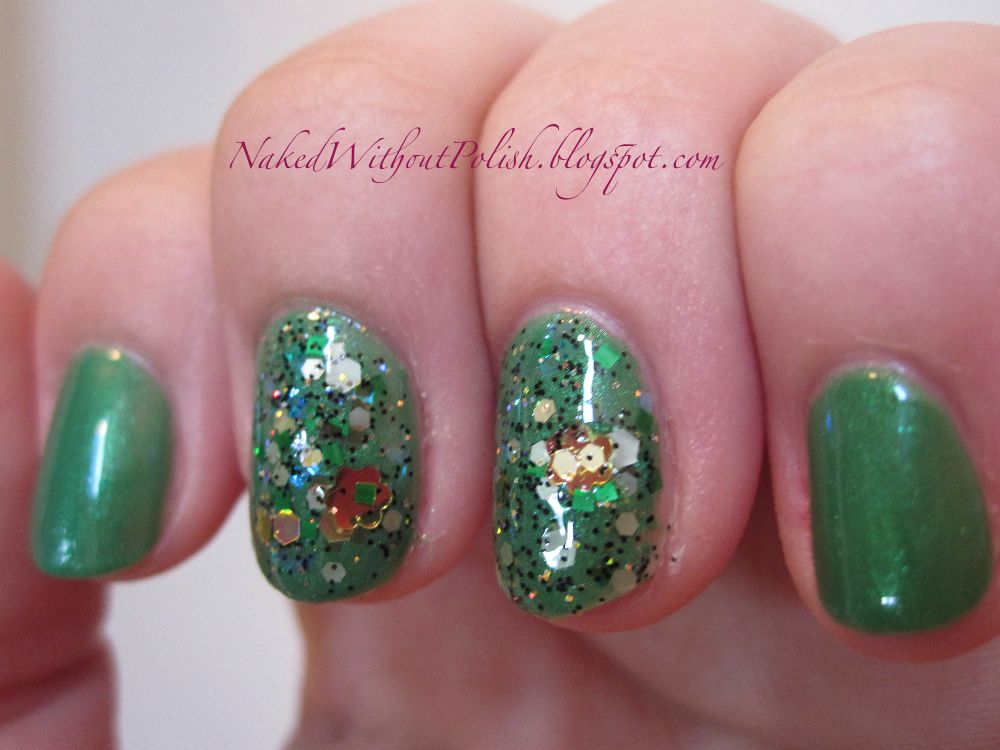 Look at the beautiful glitter!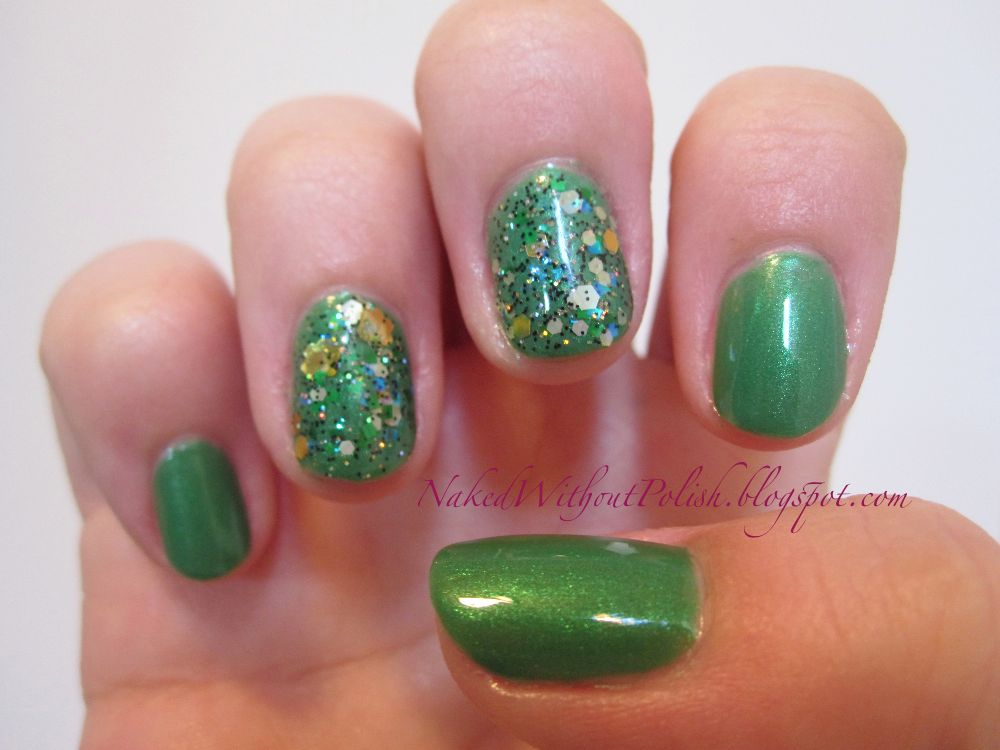 Absolutely love this combination. There is a reason why these are two of my favorite companies. Amazing quality products, fantastic customer service and they make my nails look great! Feelin' Froggy is a limited edition, so if you love a great green, don't pass this one up! You can snag it, while it's still available, for $12. Spike was released not all that long ago, but after a while Jenna discontinues polishes to make room for new ones. So grab that one while it is still available for $8.
My next post is going to be a few polishes from
A Girl Obsessed
so keep an eye open!!
Cult Nails information:
Facebook -
https://www.facebook.com/CultNailsLacquer
Website -
http://www.cultnails.com/
Blog -
http://www.cultnailsblog.com/
Twitter -
https://twitter.com/CultNails
LynBDesigns information:
Shop -
http://www.etsy.com/shop/lynbdesigns
Facebook -
https://www.facebook.com/LynBDesigns
Blog -
http://www.lynbdesigns.com/
Twitter -
https://twitter.com/JennalynMiller
YouTube -
http://www.youtube.com/user/lynbdesigns
**Products in this post were purchased by me and gifted from a friend. All opinions are my own.**
Happy Polishing!!
Becky :o)