Cameo Colours Lacquers Getting Through the Holidays collection and LE
9:30 AM
**Press sample**



Hold onto your wallets everyone!!! Today I've got the upcoming Getting Through the Holidays collection from Cameo Colours Lacquers and her limited edition holiday polish to show you all. They are being released tonight at 6 pm EST, but I'll get into those details later. Let's get into the good stuff...the nail porn...the swatches!!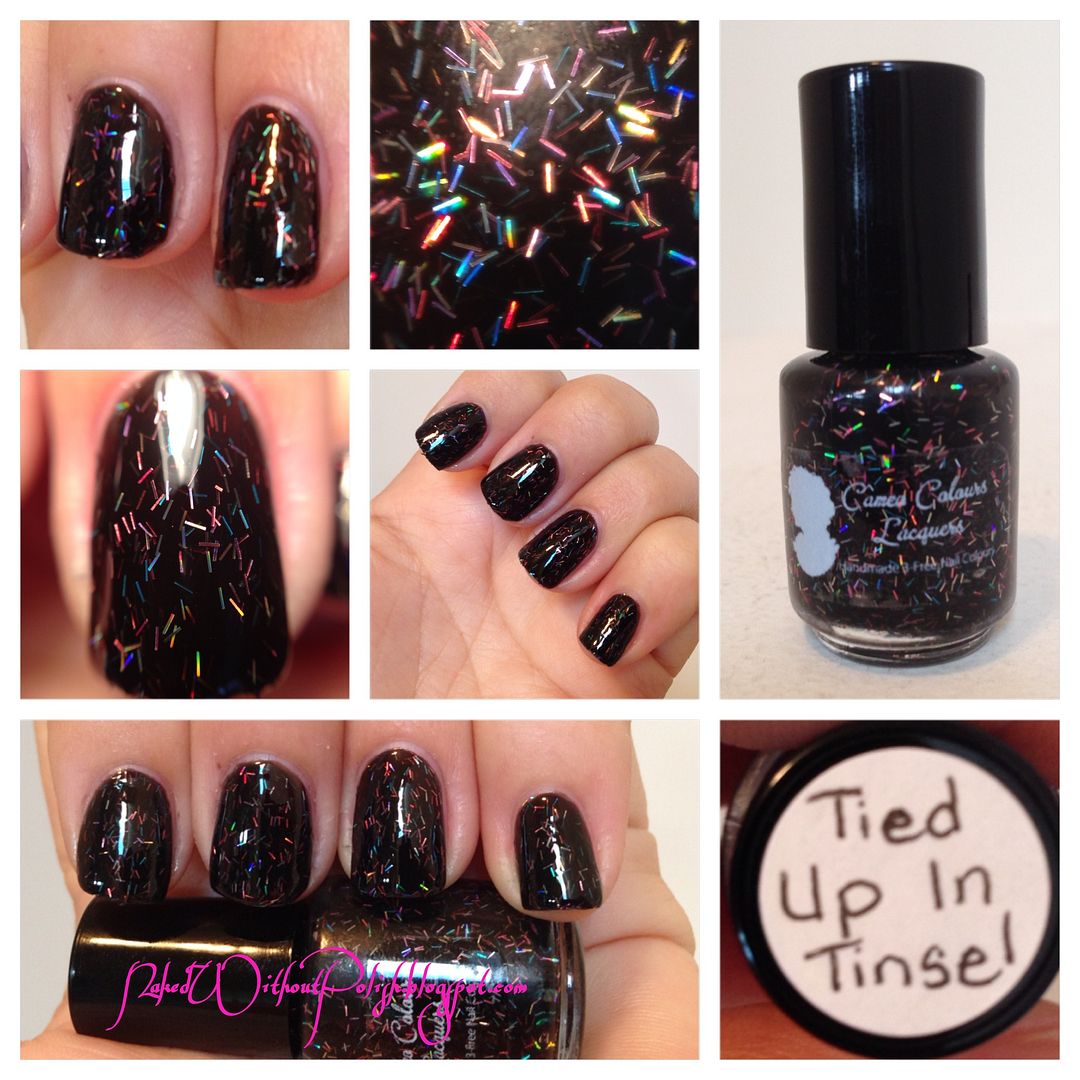 First up is Tied Up in Tinsel. It's a glossy black jelly filled with multi colored, holographic, small bar glitter. This is three thin coats for full opacity. Perfect application! The only thing I had to fix was the little straggling bars that stuck off the tip of my nail, but that was easily done when wrapping the tip.
Tied Up in Tinsel is a silent beauty. It's one of those polishes that you love in the bottle, then you start to put it on you start to feel a smile forming on your lips. Then after the second coat, you get really giddy and can't wait for it to dry so you can toss on that last coat so you can revel in it's glory. You could do one coat over a black creme base, but you wouldn't get the depth and dimension that it really needs with the multiple coats.
Tied Up in Tinsel will be available for $8.
Mistletoe Make-Out Session is a clear base jam packed with fine green and gold glitter scattered with small green and gold hexes and scattered with random holo glitter. It took three coats to reach full opacity. Smooth application for a glitter. No stragglers and easy to clean up.
I'm a huge lover of all things green and sparkly, Mistletoe Make-Out Session just skyrocketed to the top of my list! The color is stunning and not obnoxious. It's enough to get you in the holiday spirit with out painting trees on your nails (but if you wanted to add some rhinestones as ornaments, I wouldn't blame you...I fully expect to do it to my nails at some point this holiday season!)
Mistletoe Make-Out Session will be available for $8.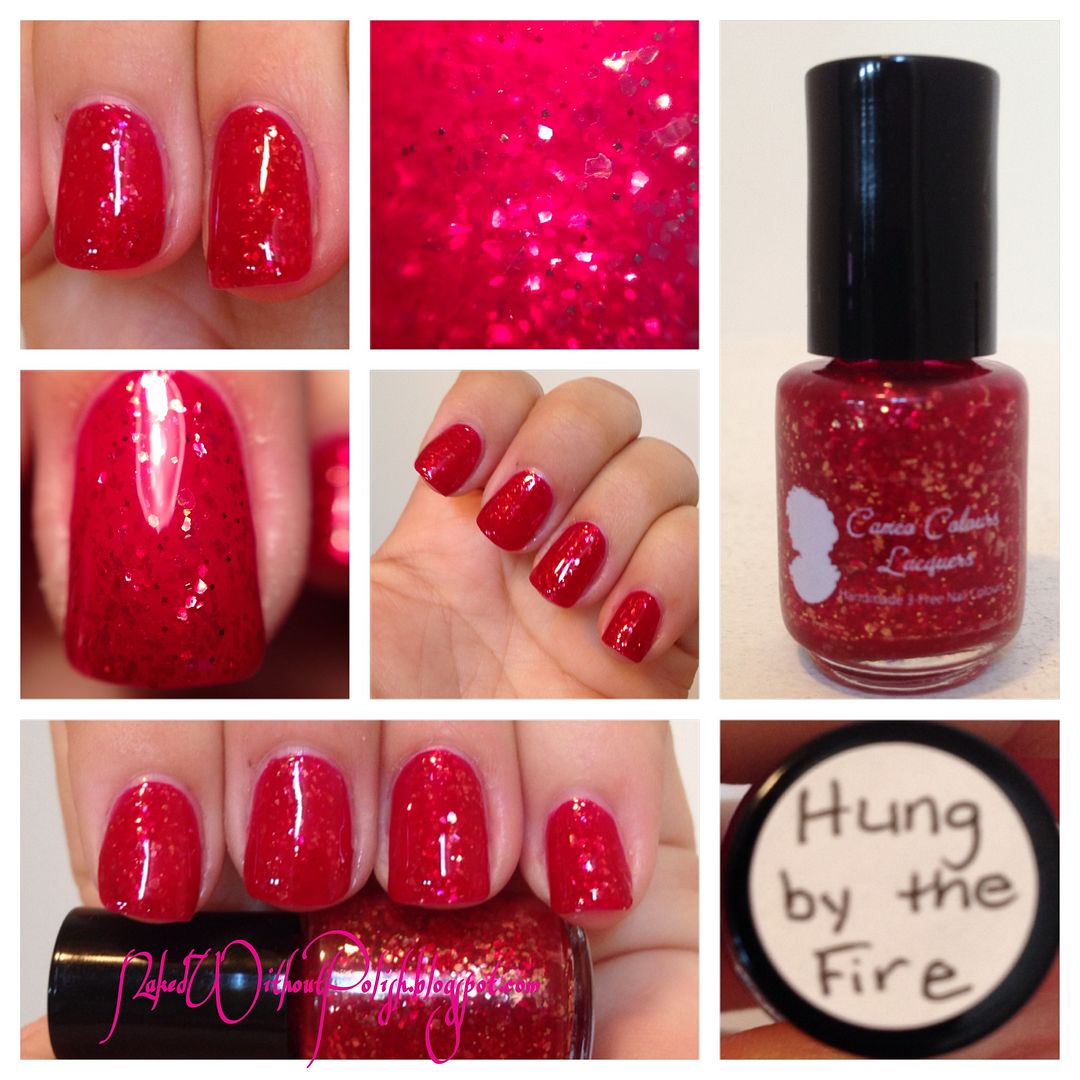 Hung by the Fire is a deep red (almost berry colored) jelly base filled with gold flakes. This is three juicy coats. Almost to full opacity, but there is still a little VNL showing. Hung by the Fire has more of a squishy consistency than Tied Up in Tinsel, but it still has the same fantastic formula.
Hung by the Fire is probably my favorite in the Getting Through the Holidays collection. The color is that perfect shade of red that will let you have no problems being able to wear it to a strict office setting, but the gold flakes add the perfect amount of pizzazz to it.
Hung by the Fire will be available for $8.
Who Blue Frosty? is a stunning blurple (blueish purple) linear holo polish. This is two perfect coats. I didn't even have to clean up.
Who Blue Frosty? loves to play with the fact that it is a blurple polish. Different lighting brings out the different colors. It's fun trying to guess which is going to pop next. Then you toss in the fact that it's a holo polish and you'll probably spend your day walking into things because you're too busy staring at your nails. At least you'll look fabulous doing it!
Who Blue Frosty? will be available for $9.
Frozen Snow Job is a clear base filled with a shimmery iridescence as well as flecks and glitters of multiple shapes and sizes with the same iridescence. There are also white hearts and multiple sizes of white hexes. In certain lights (and depending on what you have on as undies), it will flash blue or even pink. This is one coat of Frozen Snow job over two coats of OPI Maine-iac Mauve (a black label polish). I wasn't able to get any of the white glitter out of the bottle and onto my nails, but that doesn't stop this from being a stunning top coat.
Frozen Snow Job is the perfect top coat to round off the beautiful Getting Through the Holidays collection. It's beautifully feminine and versatile. You can transform any boring mani with this beauty.
Frozen Snow Job will be available for $8
Baubles and Bells is Cameo Colours Lacquers' limited edition polish for the holiday season. It's a clear base filled with a glass flecked holo, macro glitter in red, green and gold, small round glitter in green and gold, medium round glitter in red and silver holo, large round glitter in red, gold, green and silver holo and green bell shaped glitter. This is two coats of Baubles and Bells over two coats of Orly Snowcone.
I did have to do a little manipulating and fishing to get the larger glitters out, but it was well worth it! Baubles and Bells is the first polish I have with bell shaped polish. It's darling and so different. I love the simplicity of it. Yes, some of the glitters are larger and I know they can be overwhelming on some people's nails, but these are scattered and don't apply in multiples. Baubles and Bells is wonderful!
Baubles and Bells will be available for $8.
The Getting Through the Holidays collection and the LE Baubles & Bells will be available at 6 pm EST at http://www.cameocolourslacquers.com/. The other polish that will be released tonight is her wax effect top coat called The WaxWorks that will be available for $5. This top coat is the one I used when I reviewed her Beauti-Fall collection. It's fantastic and I highly recommend it!
If you're looking for a beautiful (not so kitschy) collection to get for the holidays, Getting Through the Holidays is the collection for you! Perfectly priced in the $8-$9 range and a simple size of 5 (six if you count the LE). You can't go wrong with this well rounded collection from a wonderful indie maker who puts so much time and effort into perfecting each polish. Cameo Colours Lacquers is one of my top 5 favorite indies and doesn't get nearly the publicity she deserves. Please check her out and let her know I sent you!
Brand information:
Shop -http://www.cameocolourslacquers.com/
Facebook - facebook.com/CameoColoursLacquers
Twitter - Twitter.com/CameoColoursLac
Instagram - instagram.com/CameoColoursLacquers

My information:
Blog - http://nakedwithoutpolish.blogspot.com/
Facebook - https://www.facebook.com/LacquerLoversUnite
Twitter - https://twitter.com/NkdWthoutPolish
Pinterest - http://pinterest.com/nkdwthoutpolish/
Instagram - http://instagram.com/nakedwithoutpolish/
Google+ - https://plus.google.com/b/114788720640439091829/114788720640439091829/posts
**The featured product in this post was provided to me by the manufacturer for my honest review. All opinions are my own. I was not compensated.**
Happy Polishing!!
Becky :o)