LynBDesigns They're Better in Books additions
11:48 AM
**Press sample**

A while back, I showed you guys a few solids from LynBDesigns called They're Better in Books collection. A glossy black creme named Quoth the Raven, a bright red jelly named The Little Red Polish, a deep blue-ish purple jelly named Sacre Blurple and a soft pink creme named Pinkmalion are the four that started this collection inspired by books. This is a collection that is going to constantly be growing. Adding new colors here and there. It's only made up of solid colors (no glitter) all are jellies or cremes.



Faerie Green was added to the collection on it's own in between the release of the original four and the addition of the new five. It is a "medium to deep green crelly polish". This is three coats to get full opacity. I don't know why it took me so long to buy this beauty. I LOVE green polishes and Faerie Green is unlike anything I have in my huge stash. Such an original color!
It's The New Black is a "light orange creme". It's a light orange that's on the verge of being a neon. This is three coats. It was opaque at two coats, but a third was needed to smooth things out. With all the true bright oranges that come out around the holidays, this is a breath of fresh air with it's "off" shade of orange.
I'm Your Huckleberry is a lovely red based purple crelly. This was actually inspired by a line from the movie Tombstone and not a book. I guess if we really wanted to we could say it was inspired by Mark Twain's The Adventures of Huckleberry Finn, but that would just be a lie. Who cares if this doesn't fully fit because it's inspired by a movie, it's a gorgeous color. (And that's all that really matters...right?) This is three coats for full opacity.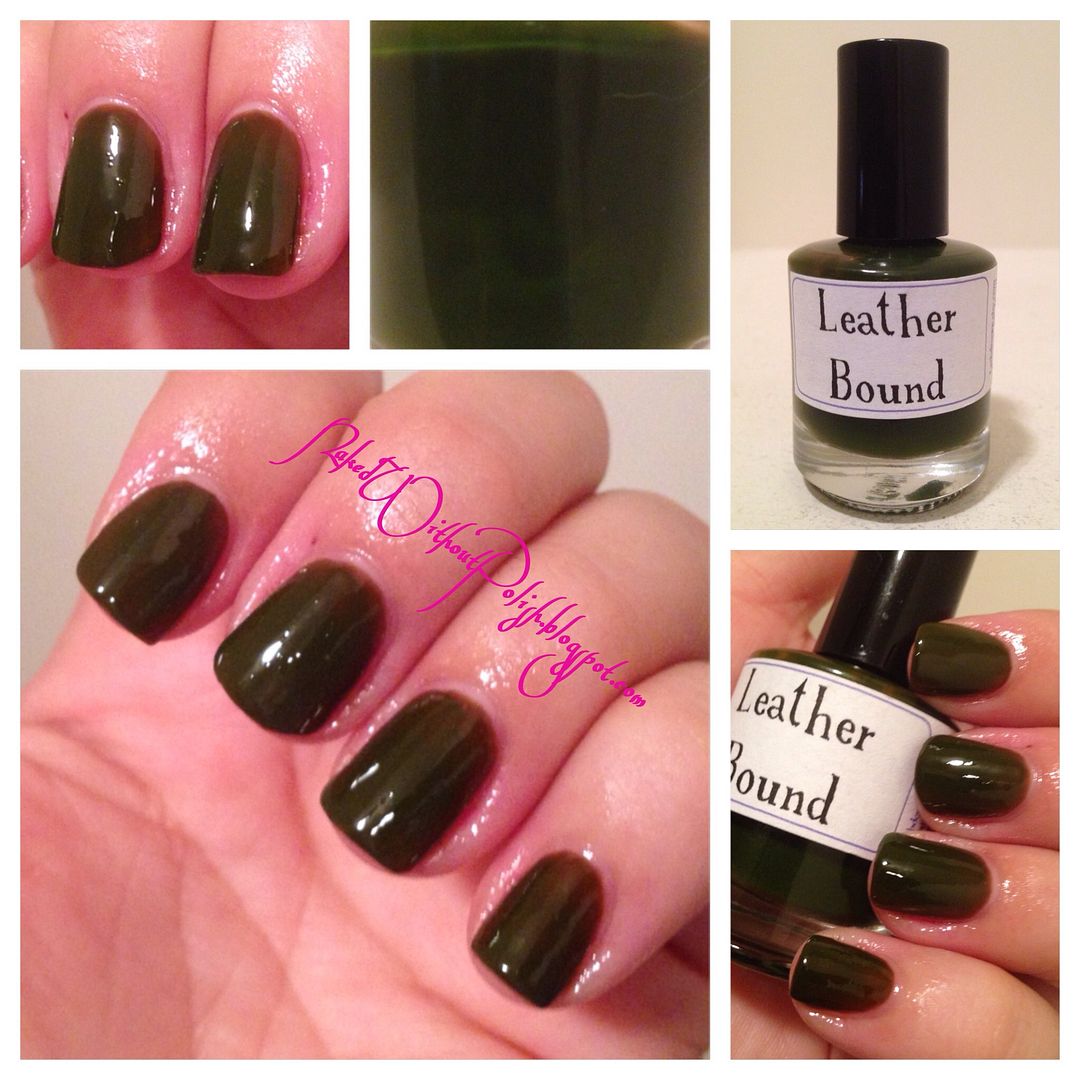 Leather Bound is inspired by old, beat up, leather bound (duh!) books. It's one of those off shades that can be green in some lights and brown in others. It's one of those colors that you look at and say "Man, that's ugly! But it's so pretty!" A lovely jelly that truly captured it's inspiration in a bottle. This is three coats for full opacity.
Like Blood or Berries is a juicy jelly polish that is a lovely shade of berry red. Between this and The Little Red Polish she pretty much has reds covered. Could possibly add a deep dark red, but no matter what shade of red you prefer, you've going to find something you love. This is three coats for full opacity.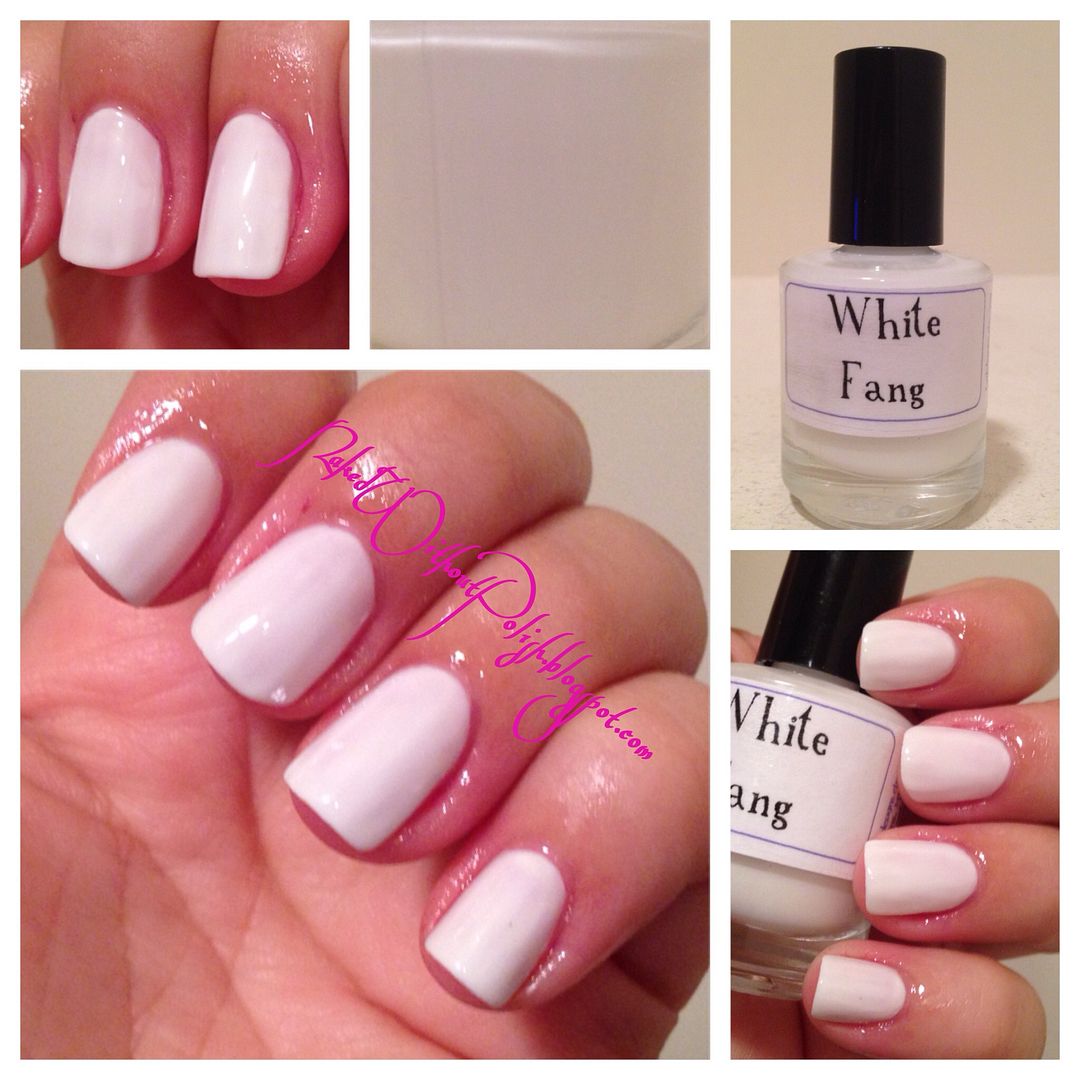 White Fang is a beautiful white crelly. Not as opaque as I originally thought it would be, but after three coats it was perfect! It's not a stark white so you're not blinded once it's on your nails. It's really quite a perfect white polish. It's not one you would want to use for stamping, but on it's own or for layering or as an undie.
All the polishes in this collection have wonderful formulas (as do all of LynBDesigns polishes). The only polish that was a bit streaky with application was It's The New Black, but after the third coat and the top coat all was well. Clean up was a breeze and no staining with any of the colors. You can grab any of the ten polishes in this collection on LynBDesigns' ETSY shop for $8 a bottle.
If you are looking for some good solids to add to your stash, you can end your hunt now. This collection is a must have!
LynBDesigns information:
Etsy shop - etsy.com/shop/lynbdesigns
Blog - lynbdesigns.com
Facebook - https://www.facebook.com/LynBDesigns
Twitter - https://twitter.com/JennalynMiller
Instagram - http://instagram.com/lynbdesigns
YouTube - http://www.youtube.com/lynbdesigns
My information:
Blog -
http://nakedwithoutpolish.blogspot.com/
Facebook -
https://www.facebook.com/LacquerLoversUnite
Twitter -
https://twitter.com/NkdWthoutPolish
Pinterest -
http://pinterest.com/nkdwthoutpolish/
Instagram -
http://instagram.com/nakedwithoutpolish/
Google+ -
https://plus.google.com/b/114788720640439091829/114788720640439091829/posts
**The products in this post were provided to me by the manufacturer and purchased by me with my own money for my honest review. All opinions are my own. I was not compensated.**
Happy Polishing!!
Becky :o)