SuperChic Lacquer Calico Cougar and Buddy Vampire
10:51 AM
**Press sample**

I've got two polishes from SuperChic Lacquer's Halloween collection to show you all today. I know it's late, but with the computer issues backing me up I wanted to make sure I was still posting things in the order they were received to make sure I remained fair to all.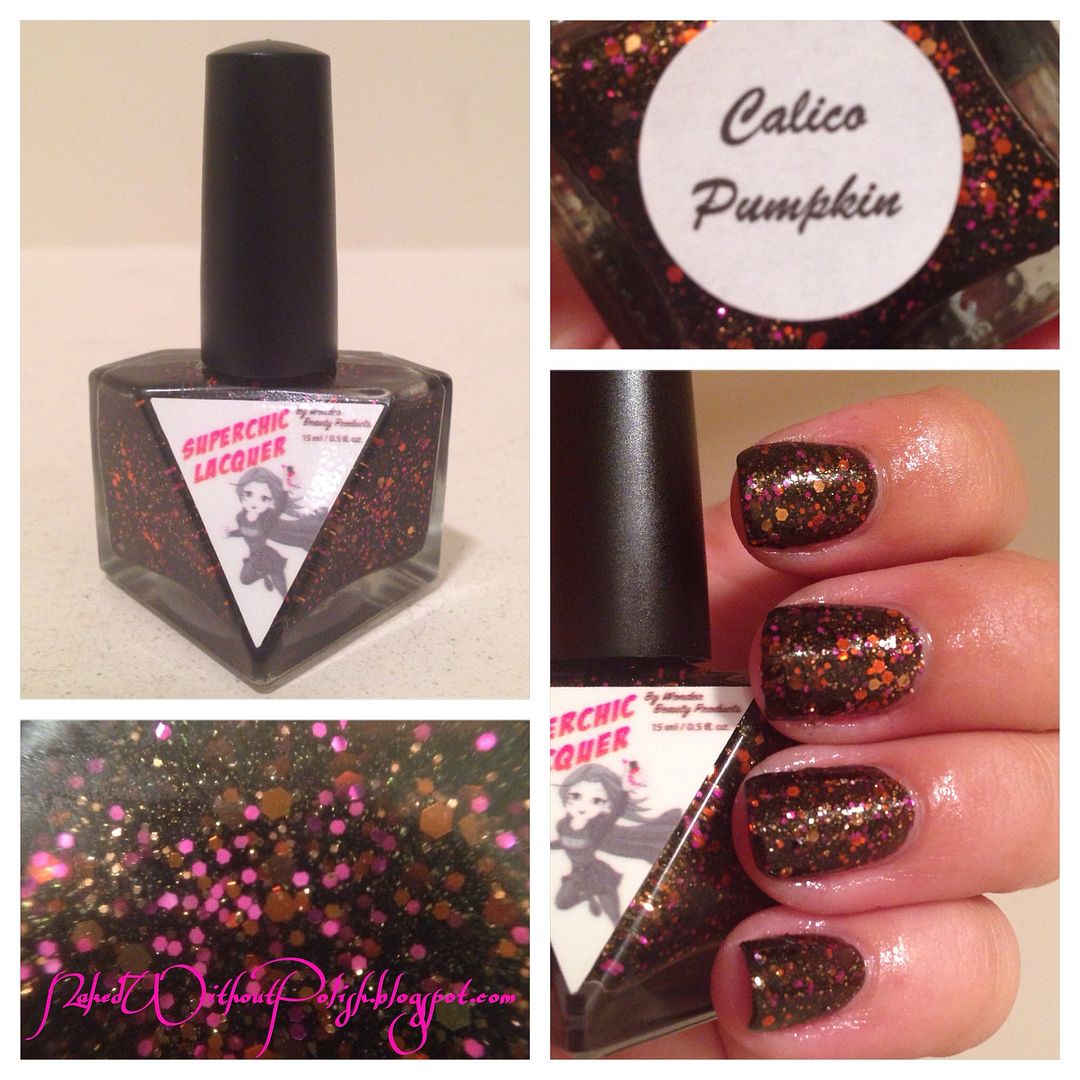 Calico Pumpkin is now named Calico Cougar. It is a "blackened base packed with a golden shimmer and filled with copper, gold and fuchsia glitter in multiple sizes and shapes".
This is three coats of Calico Cougar. Full opacity. This polish is black, but because of the color of all the glitter it gives off a deep, dark, chocolate brown shade. Not complaining. This is beautiful! The specks of fuchsia throughout are absolute perfection. This polish wouldn't be the same without them.
Buddy Vampire is a "blackened purple base filled with multiple sizes and shapes of red and purple glitter scattered with a shimmer".
This is three coats of Buddy Vampire. Full opacity. A stunning and playful glitter-filled polish. Buddy Vampire was inspired by an app that the owner of SuperChic Lacquer's son made for iTunes. If you visit the app the inspiration is so very noticeable. What a fun way to combine the family's hobbies. :o)
SuperChic Lacquers makes beautiful glitter polishes. The formula was the same as always and applied like a dream. Clean up was not an issue...as usual. I've never had a single problem with her polishes, they are always so much fun and so well made! Her upcoming collection is looking amazing as well! Keep your eyes open, ladies and gents!!
You can grab both Calico Cougar and Buddy Vampire on SuperChic Lacquer's ETSY shop for $10 a bottle. Their bottles are so much fun and worth every penny! Go get yours and check out some other's as well!!
Brand Information:
Etsy Shop - http://www.etsy.com/shop/wonderbeautyproducts
Facebook - https://www.facebook.com/WonderBeautyProducts
Twitter - https://twitter.com/WonderJenProd
Pinterest - http://pinterest.com/wonderbeautypro/
Instagram - http://instagram.com/wonderbeautyproducts

My information:
Blog - http://nakedwithoutpolish.blogspot.com/
Facebook - https://www.facebook.com/LacquerLoversUnite
Twitter - https://twitter.com/NkdWthoutPolish
Pinterest - http://pinterest.com/nkdwthoutpolish/
Instagram - http://instagram.com/nakedwithoutpolish/
Google+ - https://plus.google.com/b/114788720640439091829/114788720640439091829/posts
**The products in this post were provided to me by the manufacturer for my honest review. All opinions are my own. I was not compensated.**
Happy Polishing!!
Becky :o)