LynBDesigns Machiavellian Swatch and Review
12:53 PM
**This polish was gifted to me by a friend. All opinions are my own. I was not compensated.**

A while back, LynBDesigns put a few bottles in her shop that were duds. Well, one of those polishes wasn't a dud at all. In fact, it was in such high demand she had to create a whole batch of it. A lovely friend sent me a bottle of it, and I was blown away! The only thing stopping me from showing it off was having to get my polish room in order. Now, that it's said and done, you all get to see swatches of this purple beauty!
Shown is three thin coats of Machiavellian with B-Sticky and B-Shiny.
Machiavellian is a beautiful berry jelly filled with a stunning linear holo. An absolutely perfect formula wit a smooth application. Didn't have to do a single bit of clean up with this either. I'm so glad this lovely came out of the dud pile.
$10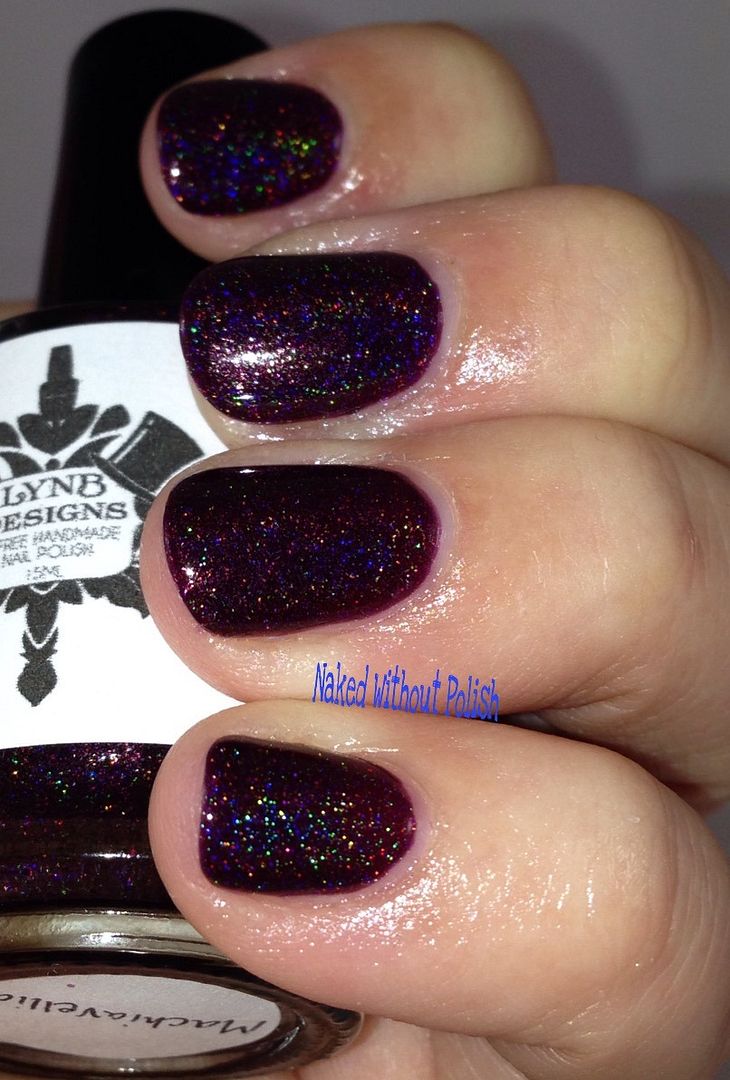 What do you all think about Machiavellian? I'm in love with her! She's dark and vampy, but so playful and fun at the same time. Trust me, you totally need a bottle!! Only $10 for this beauty! I can't wait to wear it again!

Just wait until next week when I get to show you guys the new collection from LynBDesigns. You should be excited about this one!!
LynBDesigns information:
Etsy shop - etsy.com/shop/lynbdesigns
Blog - lynbdesigns.com
Facebook - https://www.facebook.com/LynBDesigns
Fan Group -
https://www.facebook.com/groups/668581943227747/
Twitter -
https://twitter.com/JennalynMiller
Instagram -
http://instagram.com/lynbdesigns
YouTube -
http://www.youtube.com/lynbdesigns
My information:
Blog -
http://nakedwithoutpolish.blogspot.com/
Facebook -
https://www.facebook.com/LacquerLoversUnite
Twitter -
https://twitter.com/NkdWthoutPolish
Pinterest -
http://pinterest.com/nkdwthoutpolish/
Instagram -
http://instagram.com/nakedwithoutpolish/
Ello -
https://ello.co/nakedwithoutpolish
**This polish was gifted to me by a friend. All opinions are my own. I was not compensated.**
Happy Polishing!!
Becky :o)