Barielle Protect Plus Color Hidden Hideaway and Queen for the Day Swatch and Review
9:13 AM
**Press Samples**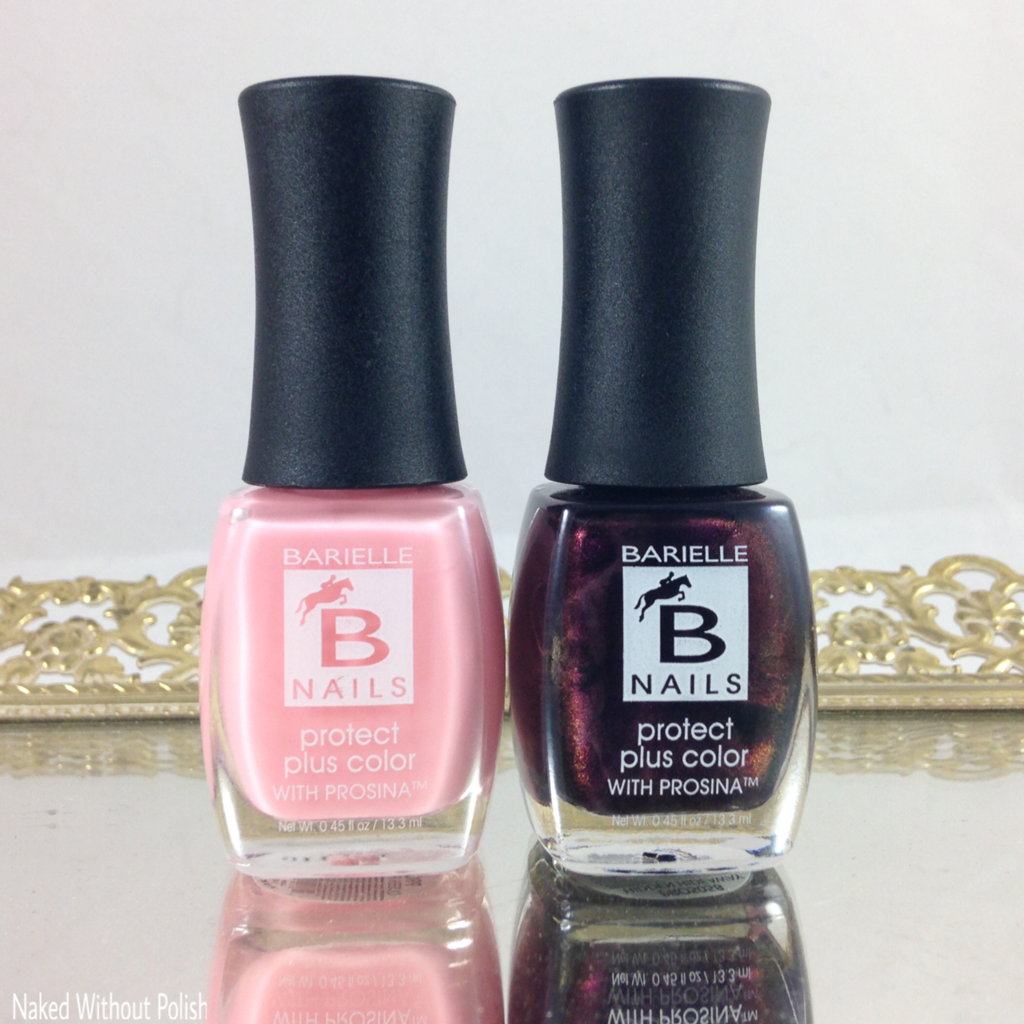 I've got two beauties from Barielle's Protect Plus Color with Prosina Signature Collection to show you all today. The Protect Plus Color line has the same formula you love from Barielle but infused with Prosina. Prosina is a specialized keratin that strengthens, conditions, and protects weak, thin, and brittle nails. A polish that does all that? Of course I'd want to try it!
Queen for the Day
Queen for the Day is described as "a soft sheer pink".
Shown is three coats of Queen for the Day with top coat.
Queen for the Day is very sheer, but quickly layers to become opaque. Three thin coats is all that you'd need. Unless you are wanting an extremely delicate look, then you could get away with 2 coats. Even one coat for a more natural look. A beautiful formula with a flawless application.
$9
Hidden Hideaway
Hidden Hideaway is described as "an exotic metallic purple".
Shown is two coats of Hidden Hideaway with top coat.
Hidden Hideaway is a gorgeous deep plum with an intense purple and gold shimmer. The shimmer comes to life in the right light. I did two coats because of how thin I apply to ensure a quick dry time. However, with a normal coat you could easily do one coat. I was blown away by how rich and beautiful this was. Perfect formula and minimal clean up was needed.
$9
This is only 2 of the 119 colors available with the Prosina infusion. The formula is spot on. If the others are as amazing as these two, you need them all. I only with the pictures on the website did the polishes justice. The polishes are so much more than what they show. I may have liked Barielle polishes before, but they went above and beyond with the Protect Plus Color line. Gorgeous colors, Prosina strengthening, and only for $9. Make sure you are following Barielle on all of their social media platforms (links below) to stay updated on news, sales, and releases.
What are your thoughts on these?
Barielle information:
Website -
http://www.barielle.com/
Facebook -
https://www.facebook.com/barielle
Twitter -
https://twitter.com/barielle
Pinterest -
http://www.pinterest.com/nailsbybarielle/
Instagram -
http://instagram.com/barielle
My information:
Blog -
http://nakedwithoutpolish.blogspot.com/
Facebook -
https://www.facebook.com/LacquerLoversUnite
Twitter -
https://twitter.com/NkdWthoutPolish
Pinterest -
http://pinterest.com/nkdwthoutpolish/
Instagram -
http://instagram.com/nakedwithoutpolish/
**The products in this post were provided to me by the manufacturer for my honest review. All opinions are my own. I was not compensated.**
Happy Polishing!!
Becky :o)