Glittering Elements Candy Love
12:36 AM
**The product in this post was provided to me by the manufacturer for my honest review. All opinions are my own. I was not compensated.**

Happy Monday, everyone!!! I hope you all had a wonderful holiday weekend!! I sure did, despite my getting a sunburn in a lovely shade of red. Hubby didn't get called into work, so it was all good in my eyes.
I've got another polish from Glittering Elements to show you all today. I love me some pastels, so I was really excited when I unwrapped Candy Love. Although, not nearly as excited as I was when I first saw 100's and 1000's, but a beautiful pastel pink should be enough to make anyone giddy!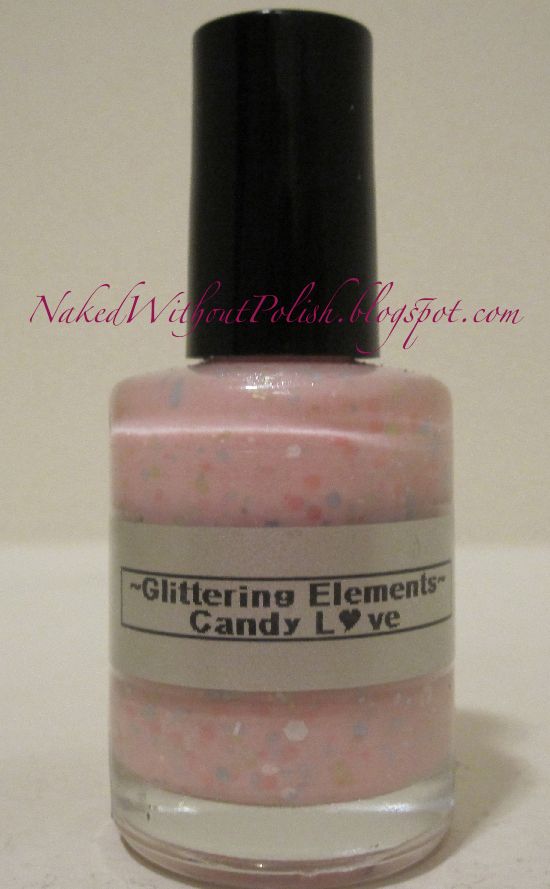 Candy Love is a soft pastel creme with blue, yellow and white glitter, pink metallic pink glitter and some white bar glitter.
This is three coats of Candy Love topped with Glisten & Glow HK Girl top coat. This polish applied a little on the thick side and ended up being a bit streaky. I did the 3rd coat because I wasn't sure if the top coat would even it out. It did, so I definitely should have stuck to two coats. That was my mistake.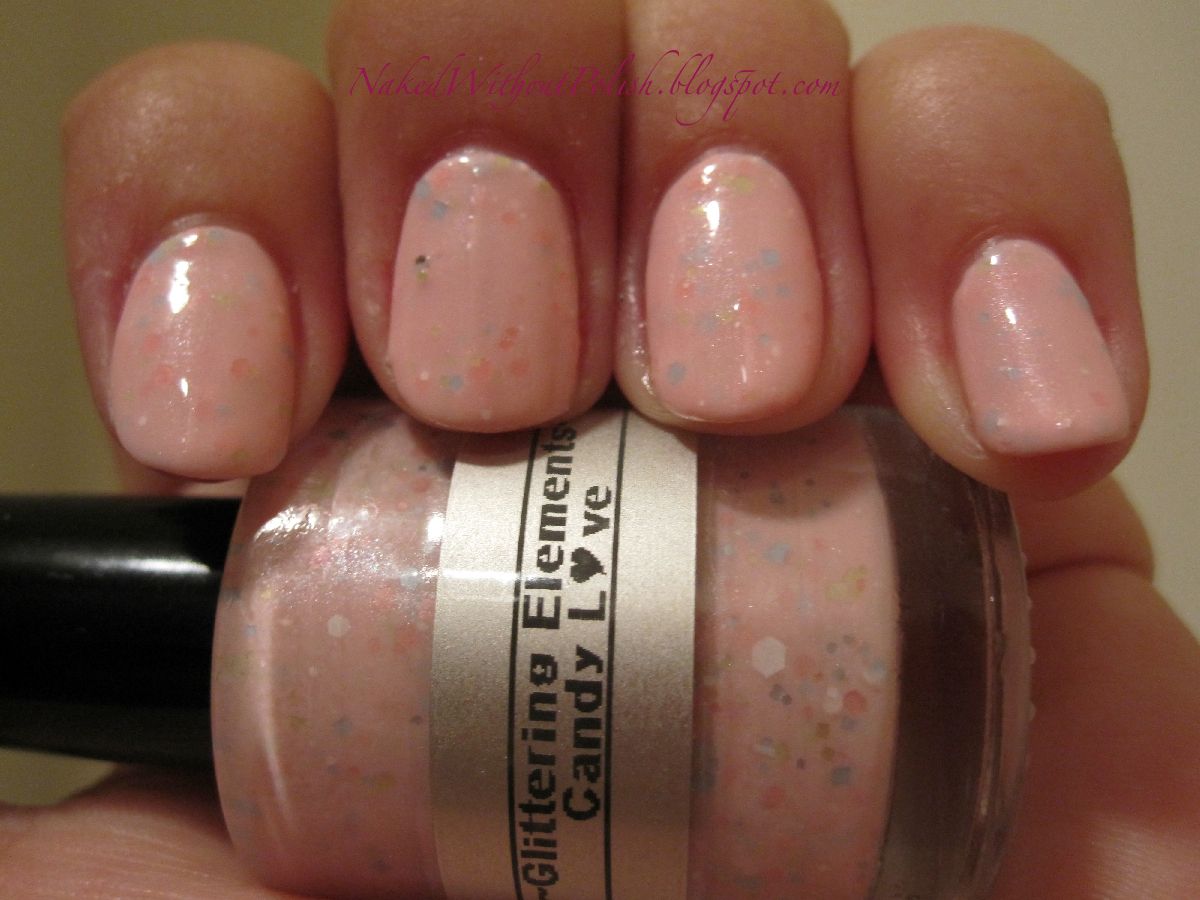 I couldn't tell what that is on my middle finger. It had a couple specks of dark glitter. I think they were accidentally mixed in. I found a couple strands of fiber in there too. I caught the others, but that one slipped by me. I have no idea how, because it's right there! So obvious!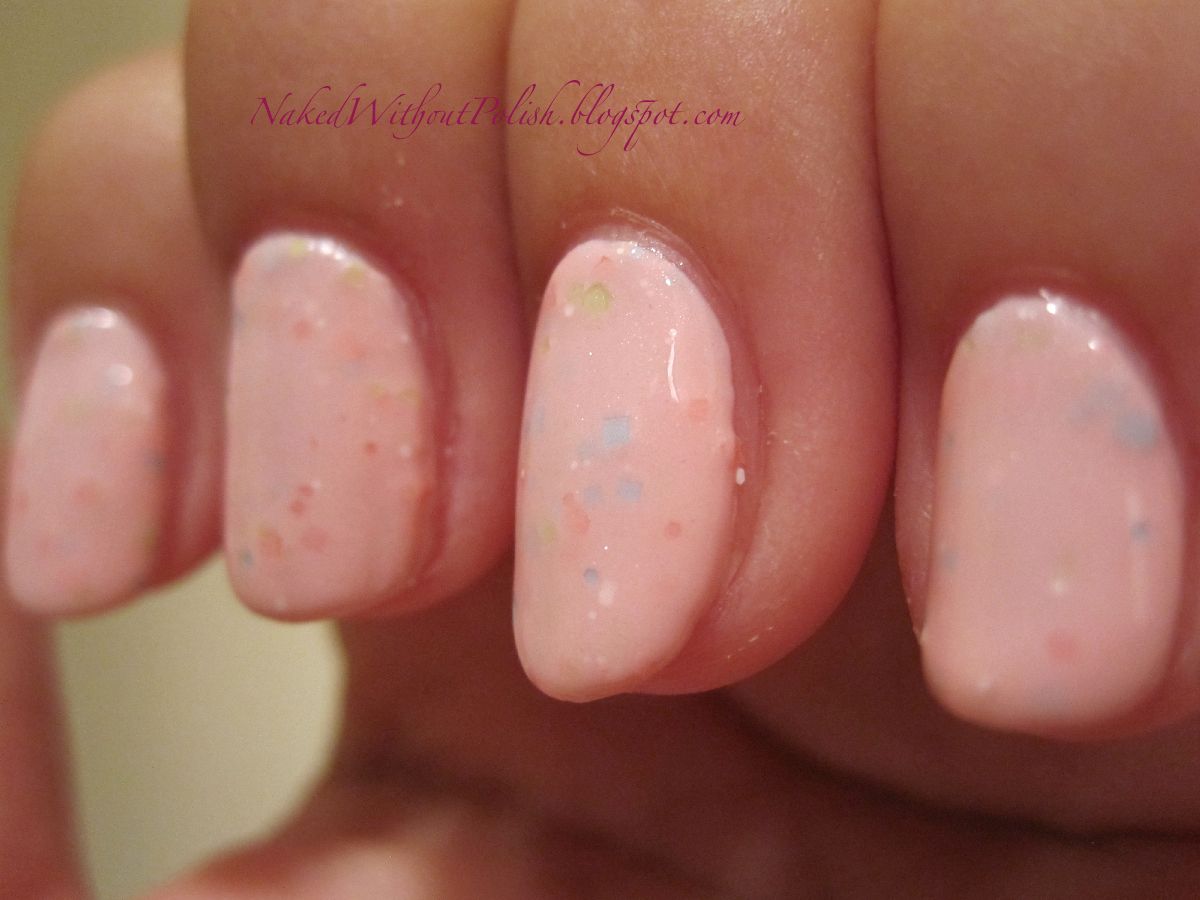 Despite the few hiccups, I'm still really enjoying Candy Love. I love pastels and I don't have anything else like this in my collection already. Next time, I know to only do 2 coats next time and I think I got all the stowaways out. My only other issue was that my brush was frayed. That made it difficult to control the placement of the polish and made me have a bit more to clean up than usual.
I think my bottle was an isolated instance. I haven't heard of any other issues with this one. I'm not going to be staying away from this bottle and neither should you! In fact, this polish has been discontinued and is currently on sale for only $6.52!! She also just released a GORGEOUS Final Fantasy collection that has some beautiful holos in it. You definitely want to go check out the Glittering Elements shop. Beautiful polishes that are well priced and made in Australia. I've still got 2 more to show you all so keep checking back!
Brand information:
Shop - http://www.etsy.com/shop/GlitteringElements
Facebook - https://www.facebook.com/GlitteringElements
My information:
Blog - http://nakedwithoutpolish.blogspot.com/
Facebook - https://www.facebook.com/LacquerLoversUnite
Twitter - https://twitter.com/NkdWthoutPolish
Pinterest - http://pinterest.com/nkdwthoutpolish/
Instagram - http://instagram.com/nakedwithoutpolish/
Google+ - https://plus.google.com/b/114788720640439091829/114788720640439091829/posts
**The product in this post was provided to me by the manufacturer for my honest review. All opinions are my own. I was not compensated.**
Happy Polishing!!
Becky :o)