My Indie Polish Into the Darkness Swatch and Review and Day 20 of 25 Days of Polish Giveaway
12:04 AM
**Purchased by me**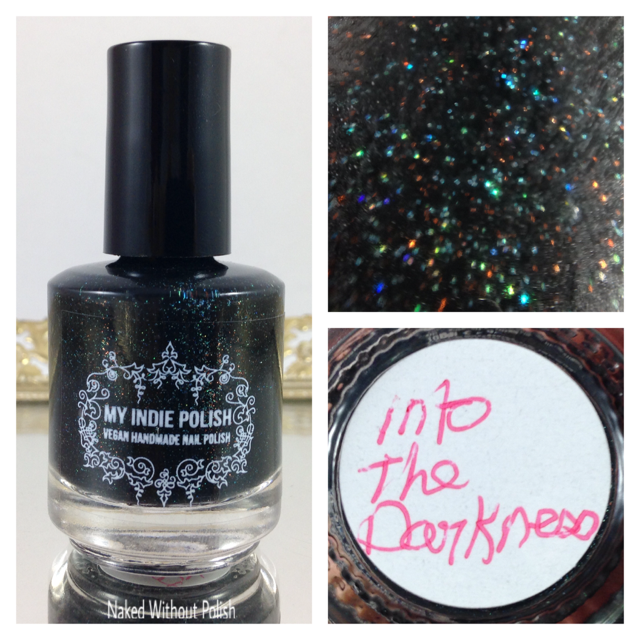 I'm really excited to be able to show off a new (to me) indie. Shortly after I announced my giveaway, the lady behind My Indie Polish said she wanted to be involved. Me, being me, I had to find something I could try. I don't like to promote or giveaway items from shops I haven't tried. (If I haven't tried something, how do I know if it's good enough for all of you?) There was enough time so I snagged a beauty to show off to you all. I had issues trying to narrow it down, so I called in a friend and her first choice for me was one of the ones I was going back and forth between. So, I did it. I bought my first Canadian polish. I'm kinda shocked how quickly it arrived too!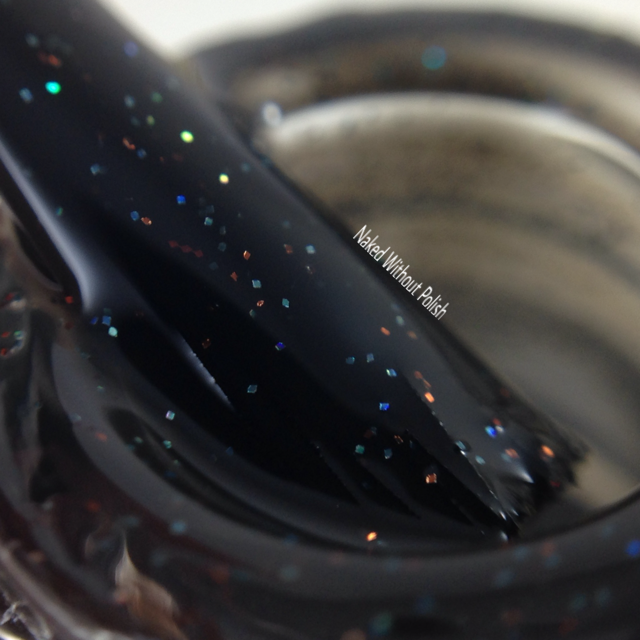 Into the Darkness is described as "a pewter jelly polish with heaps of teal and copper micro fine glitter".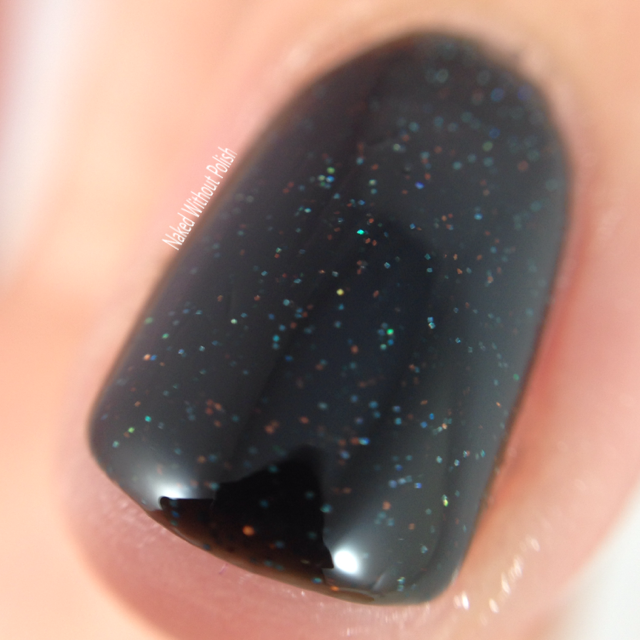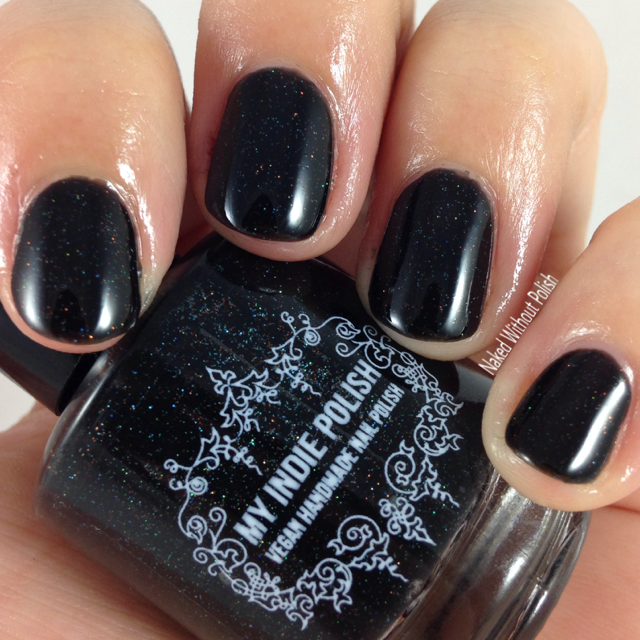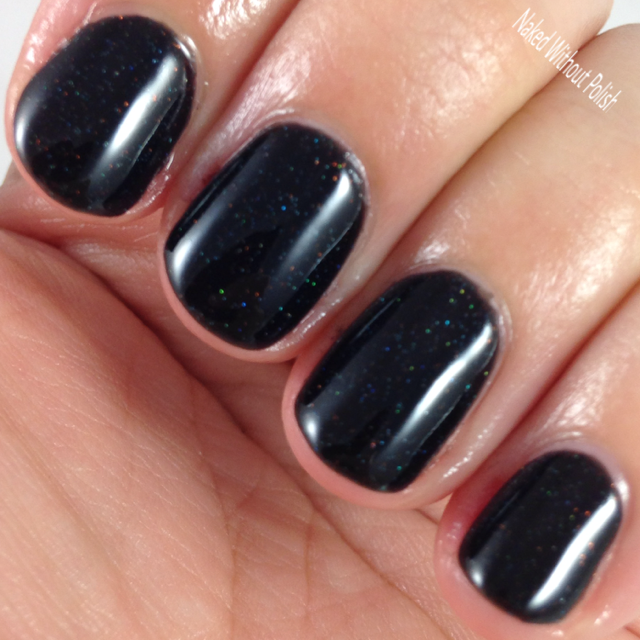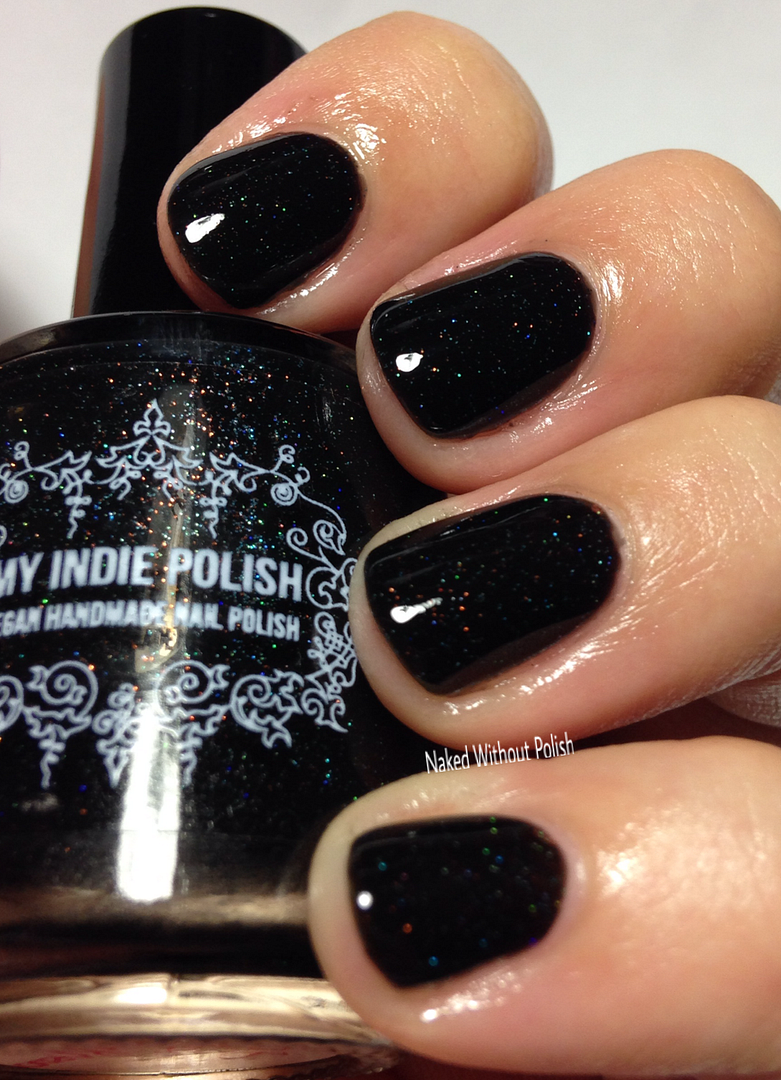 Into the Darkness is deep, dark, and mysterious. It applied beautifully and without any issues. So smooth. The shade of pewter is so dark it's practically black. The specks of glitter are a beautiful addition and give a wonderful added depth. It is available for $11 in My Indie Polish's shop. But first, you can try to win a gift card to grab this beauty (and some other stuff), or one of her many others, by entering today's giveaway! I will definitely be trying My Indie Polish again!
PLEASE READ CAREFULLY!
NOW, for the big news! How about a giveaway? How about 25 giveaways? Yes, I said 25. Let's think of it like an advent calendar of giveaways. We will have a different giveaway each day. Each giveaway will be open from 12 am EST and will run for 24 hours until 11:59 pm EST. All giveaways will be entered via Rafflecopter here on my blog. Each day the rafflecopter will be at the bottom of the daily posts (yes, I'll be posting every day...including weekends...for this giveaway). Each giveaway will have different rules. Some giveaways are international, some will require international entrants to pay shipping if they win, and some are US only. Please pay attention. All the prizes (except the one I purchased) were generously donated by each brand, and will be sent to the winners by each maker. Let's have fun! I'm hoping this is received well and can become an annual thing. If you have any questions, please email me at nakedwithoutpolish@gmail.com.
25 Days of Polish Giveaway
Day 20 - DazzleGlaze & My Indie Polish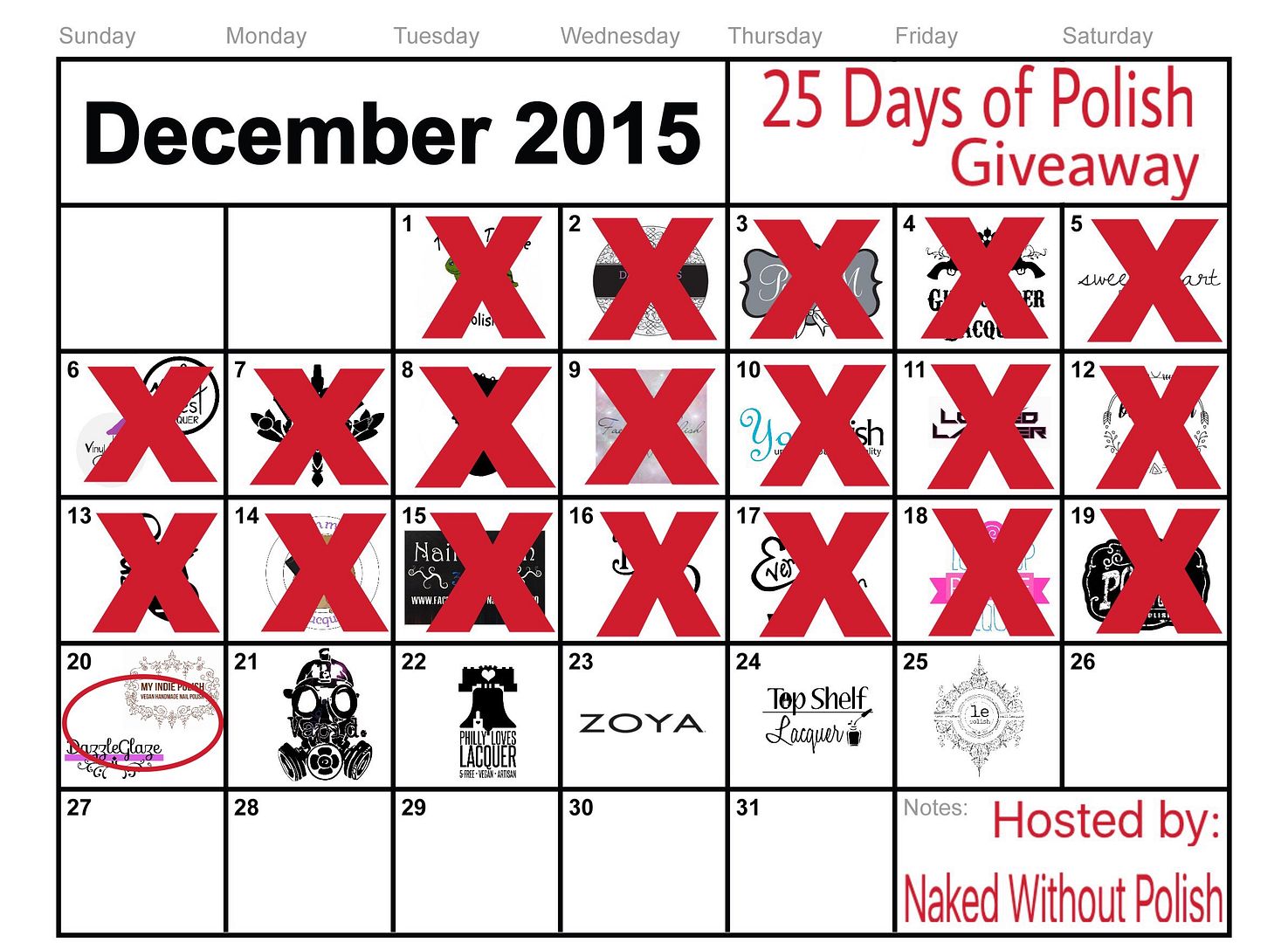 Rules:
1. All entrants must be 18 years of age or older.
2. Open to US and international entrants.
3. No giveaway accounts. You will be disqualified.
4. Giveaway will run from 12 am EST on 12/20/2015 through 11:59 pm EST on 12/20/2015.
5. There will be 1 winner. That winner will be notified via email provided in the first entry. The winner will have 48 hours after being notified to claim the prize. If the prize isn't claimed within 48 hours, another winner will be chosen.
6. Fraudulent entries will be disqualified.
7. Prize will be mailed directly from the provider within 1 week after prize is claimed.
8. This giveaway is not affiliated with any social media platform.
9. The prizes were donated by the manufacturers.
Prize: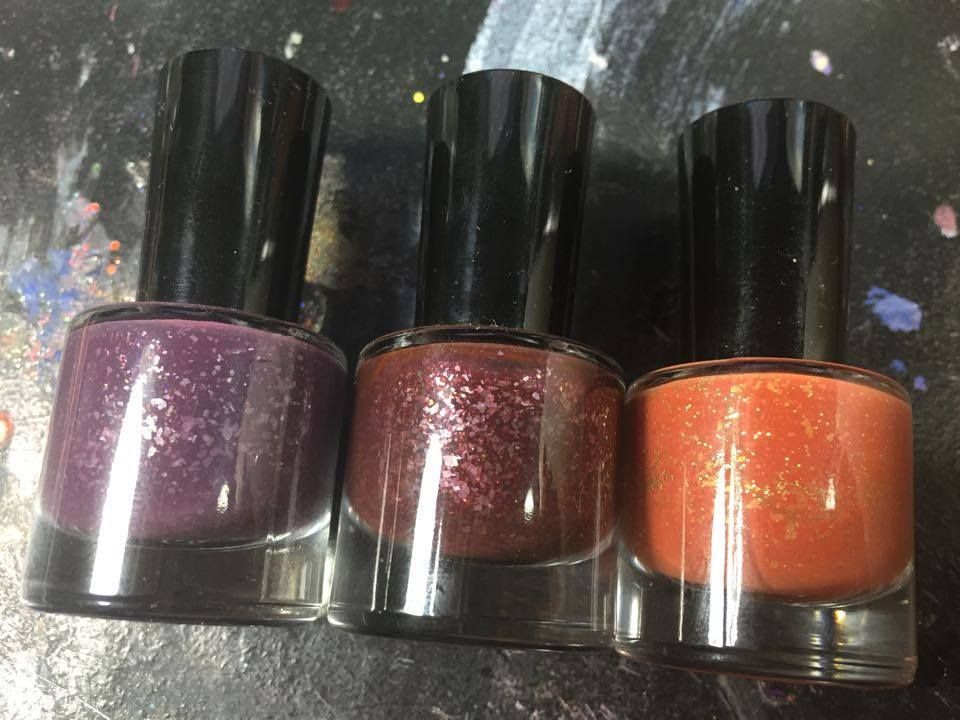 3 mini prototypes from DazzleGlaze (not actual polishes from picture)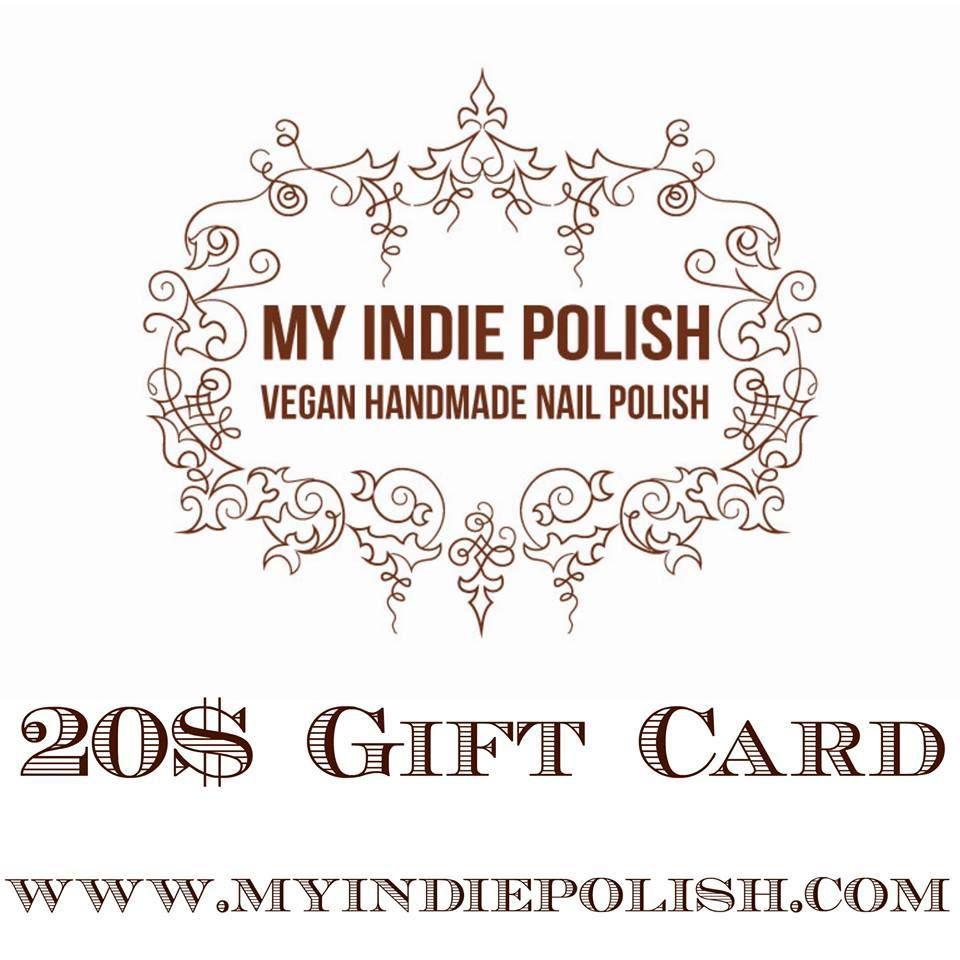 a Rafflecopter giveaway
My Indie Polish information:
Shop - http://www.myindiepolish.com
Facebook - https://www.facebook.com/IndiePolish/

Fan Group - https://www.facebook.com/groups/myindiepolish/
Twitter - https://twitter.com/indiepolish
Tumblr - http://myindiepolish.tumblr.com
Pinterest -
https://www.pinterest.com/MyIndiePolish/
My information:
Blog -
http://nakedwithoutpolish.blogspot.com/
Facebook -
https://www.facebook.com/LacquerLoversUnite
Twitter -
https://twitter.com/NkdWthoutPolish
Pinterest -
http://pinterest.com/nkdwthoutpolish/
Instagram -
http://instagram.com/nakedwithoutpolish/
**All opinions are my own. I was not compensated.**
Happy Polishing!!
Becky :o)