LE Polish Sharp as an Arrow Swatch and Review and Day 14 of 25 Days of Polish Giveaway
12:08 AM
**Nothing to Disclose**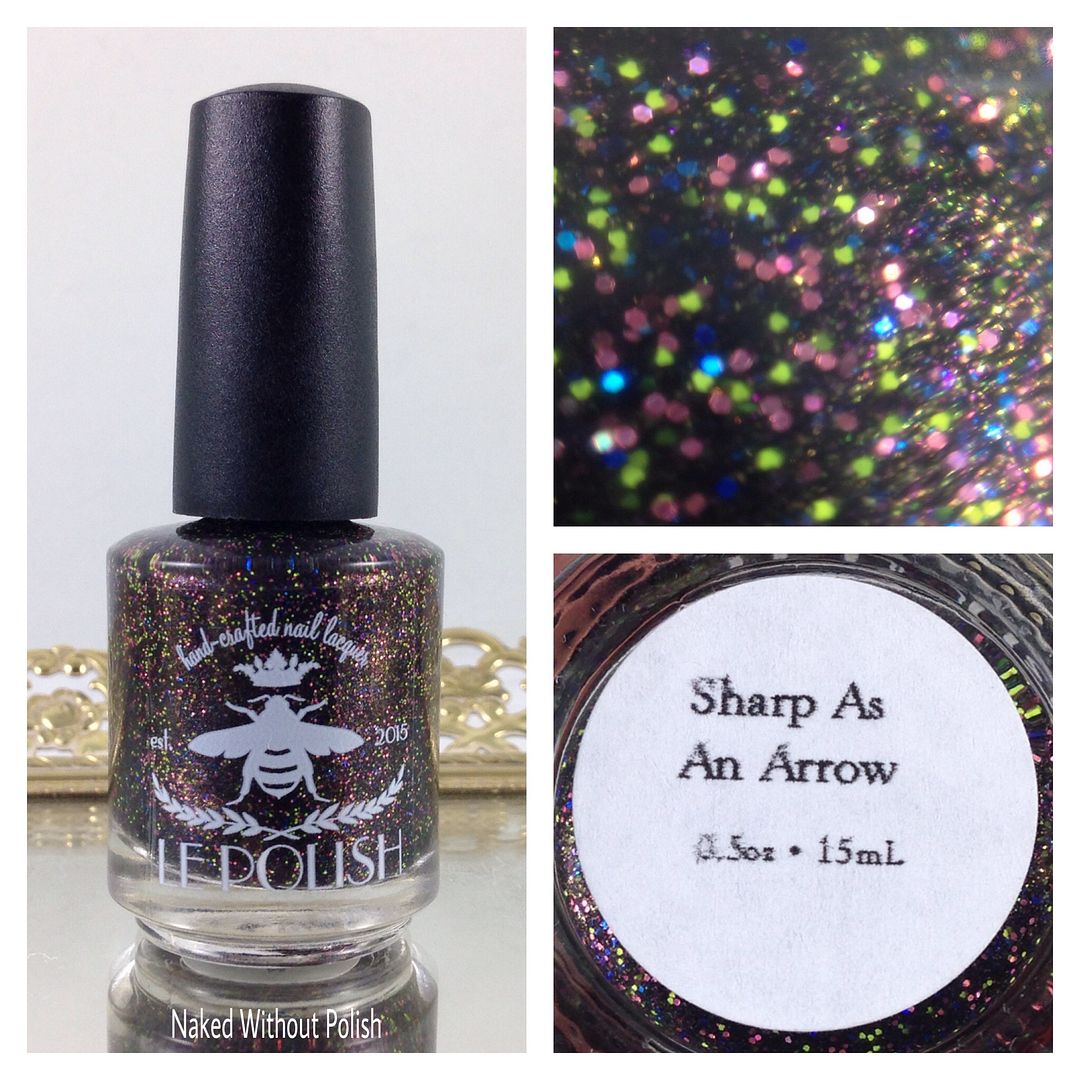 To you all today might be Wednesday, or even day 14 of my 25 Days of Polish Giveaway, but for me...today is my BIRTHDAY! Since the lovely Allison from LE Polish wanted to giveaway a bottle of the polish I created for her holiday collection, and I've already shown it off to you all HERE, I knew exactly what I had to do...I bought a bottle of her polish that celebrates Sagittarius. It was the obvious thing to do.
LE Polish has a Birthday Club series where she creates a polish for each astrological sign and releases them on the first day of that sign. If you're a member of her Facebook fan group you even get to help with the creative process. I'll explain more about it later, but it's a blast!
Sharp as an Arrow is described as "a blackened blue jelly with various micro glitters and micro flakies".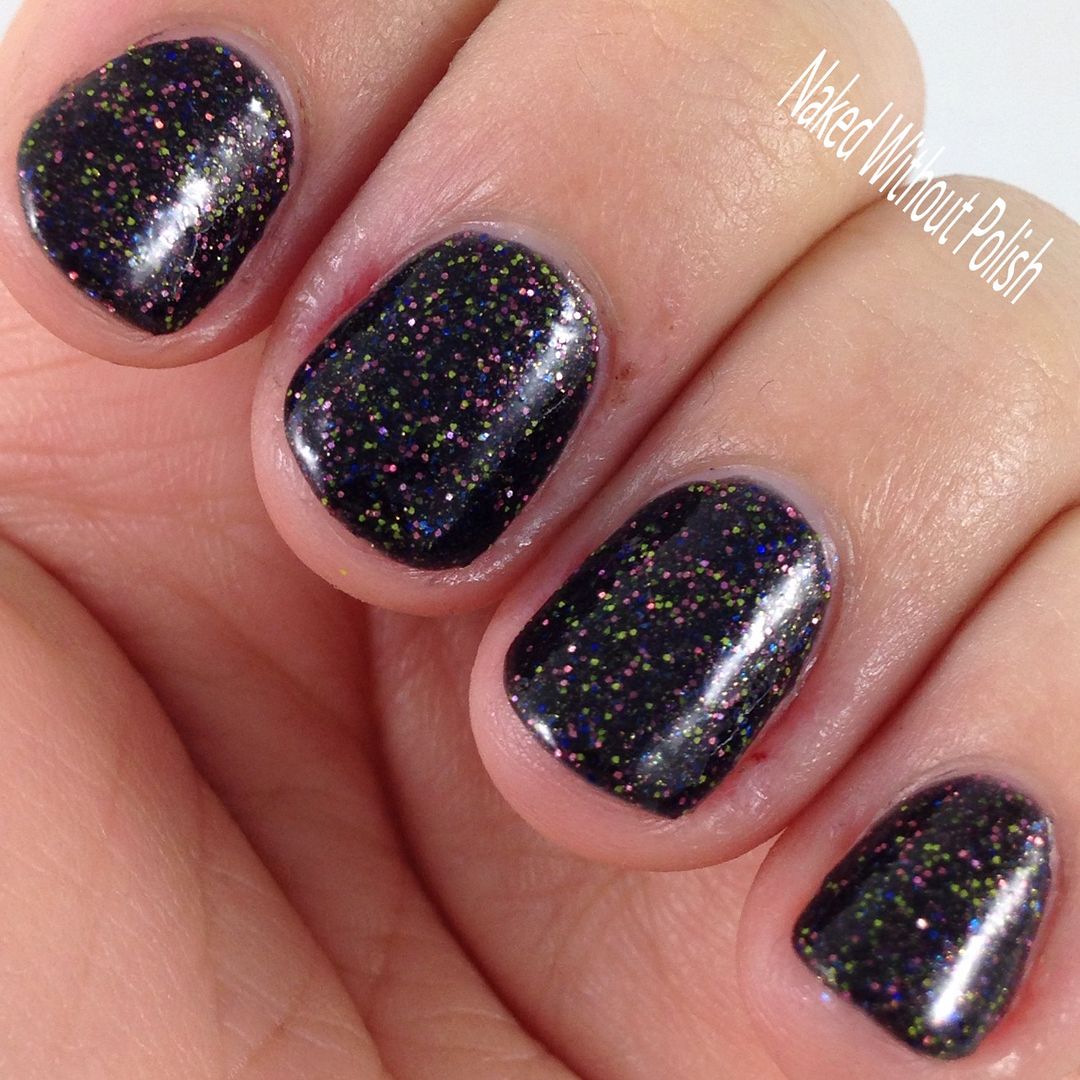 Sharp as an Arrow has an easy to use formula and a flawless application. As always, she did a beautiful job bringing the inspiration to life. Her choice of glitters was spot on! It is definitely more black than blue. That's ok with me, I adore a good black polish. Whether you're a Sagittarius or not, it can be yours for $10! Make sure you are following LE Polish on all of her social media platforms (links below) to stay updated on news, releases, restocks, and sales.
I told you I was going to tell you more about the Birthday Club series. If you're in the Facebook fan group, make sure you sign up for the Birthday Club. If you sign up and make at least a $10 purchase around your birthday, you'll receive your birthday sign's polish for free. A bit before the next sign begins, she lets the group vote on the picture the polish will be inspired by. She'll even ask for picture suggestions. It's a lot of fun!
Have you received/purchased any of her other Birthday Club series polishes? What do you think about this one?
PLEASE READ CAREFULLY!
NOW, for the big news! How about a giveaway? How about 25 giveaways? Yes, I'm doing my 25 Days of Polish Giveaway again!. It's like an advent calendar of giveaways. We will have a different giveaway each day. Each giveaway will be open from 12 am EST and will run for 24 hours until 11:59 pm EST. All giveaways will be entered via Rafflecopter here on my blog. Each day the Rafflecopter will be at the bottom of the daily posts (yes, I'll be posting every day this month...including weekends...for this giveaway). Each giveaway will have different rules. Some giveaways are international, some are US only. Please pay attention. All the prizes were generously donated by each brand, and will be sent to the winners by each maker (except for a couple that will come from me). Let's have fun!
If you have any questions, please email me at nakedwithoutpolish@gmail.com.
25 Days of Polish Giveaway
Rules:
1. All entrants must be 18 years of age or older.
2. Open to US entrants only. (Polish mules will be allowed for international ladies who would like to enter.)
3. No giveaway accounts. You will be disqualified.
4. Giveaway will run from 12 am EST on 12/14/2016 through 11:59 pm EST on 12/14/2016.
5. There will be 1 winner. That winner will be notified via email provided in the first entry. The winner will have 48 hours after being notified to claim the prize. If the prize isn't claimed within 48 hours, another winner will be chosen.
6. Fraudulent entries will be disqualified.
7. Prize will be mailed directly from the provider.
8. This giveaway is not affiliated with any social media platforms.
9. The prize was donated by the manufacturer.
Prize:
LE Polish information:
Big Cartel shop - http://lepolish.bigcartel.com/
Facebook - https://www.facebook.com/lepolishnailpolish
Fan Group - https://www.facebook.com/groups/770448343077320
Instagram - https://instagram.com/lepolish/
My information:
Blog -
www,nakedwithoutpolish.com
Facebook -
https://www.facebook.com/LacquerLoversUnite
Twitter -
https://twitter.com/NkdWthoutPolish
Pinterest -
http://pinterest.com/nkdwthoutpolish/
Instagram -
http://instagram.com/nakedwithoutpolish/
**The product in this post was purchased by me with my own money. All opinions are my own. I was not compensated.**
Happy Polishing!!
Becky :o)