Rescue Beauty Lounge - Aqua Lily
10:24 AM
I'm very excited to finally show this polish to you today! I've had it since November, but I've been keeping her to myself. A shame, I know, but I just needed some quality time with her before showing her off to you all.

I'm sure you've already seen swatches of her elsewhere, but I'm putting my two cents in. She's too pretty not to show off...no matter how many people's nails she's been on. (I sound like I've been talking about my gf who used to be a hooker. BAHAHAHAHA) No hooker here, just the gorgeous Aqua Lily from the wonderful Ji at Rescue Beauty Lounge!


I missed out on Aqua Lily during it's first run. I had yet to buy a polish from Rescue Beauty Lounge because the price tag is quite intimidating, even though deep down, I knew it'd be totally worth it. Ji posted about it running low, and I knew that was when I needed to have a difficult conversation with my husband. I needed him to know that not all polishes were near/under the $10 mark. That there were times that I was going to need to spend $20 on a polish. (Yes NEED!) I played the conversation out in my head several times. I was ready to have the conversation when he got home from work one day only to find it was gone. Sold out! When Ji announced that it would be re-released for the holidays, I knew I HAD to be on the preorder bandwagon. I did everything I needed to do, even had that conversation with the husband. I let him understand that when that preorder was open, I was on it and I was buying a couple polishes. Hitting the "complete order" button on my first Rescue Beauty Lounge was so exhilarating!



Aqua Lily is a beautiful soft turquoise creme haunted with a pink shimmer and hints of a purple shimmer. It reminds me of the reflection of a sunset on crystal clear water. You get this pure turquoise and it's scattered with colors of mystery. Absolutely beautiful. There are no words to properly describe Aqua Lily.
Another angle to show you more of the pink/purple shimmer in the bottle. You definitely see that the pink shimmer is there, but you don't realize exactly HOW much is there until it's tilted just right in the light. The purple shimmer just barely peeks it's head out. You catch glimpses of it in certain lights and angles.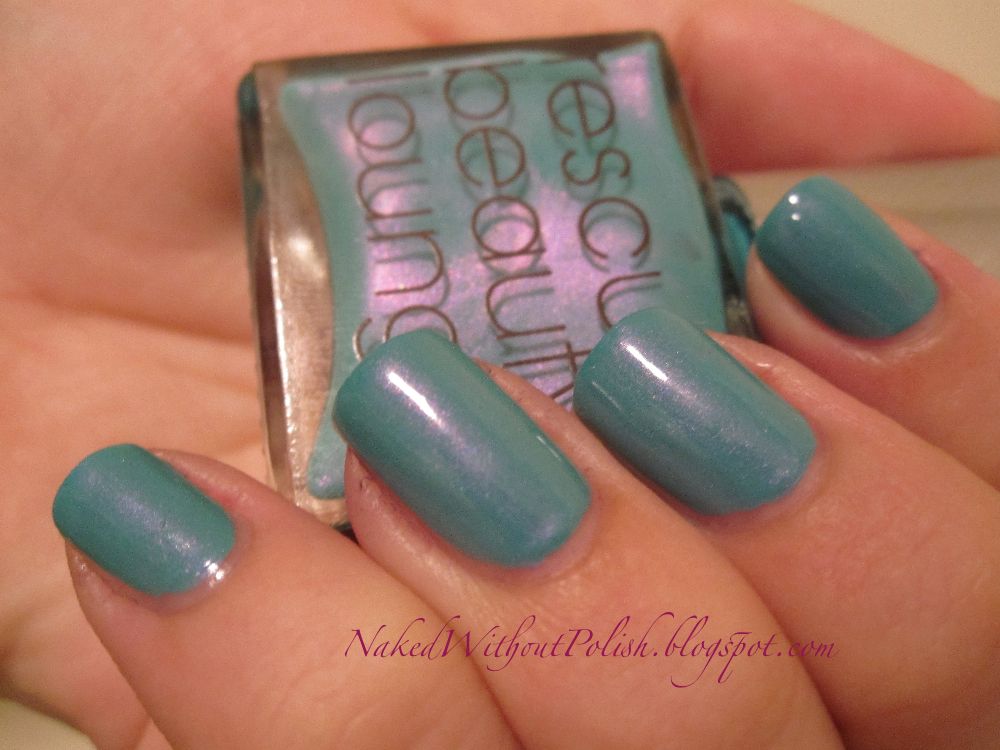 This is two coats of Aqua Lily over two coats of a tinted creamy base coat. No top coat was used. Yes, two coats of a base coat. I heard it stained and I wanted to protect my nails so I used Sinful Colors Basecoat and it seemed to do the job. Aqua Lily glided on my nails with no issues (as I expected it would with a $20 price tag.) I made sure I cleaned up with each coat to make sure no staining happened where polish wasn't needed. In the end, no staining after a day. I was so pleased! I'll push the two day mark next time.
You can get a hint of all three colors in this picture. Do you see what I mean about the pink shimmer being haunting? It's there, and you can kinda see it, feel it's presence...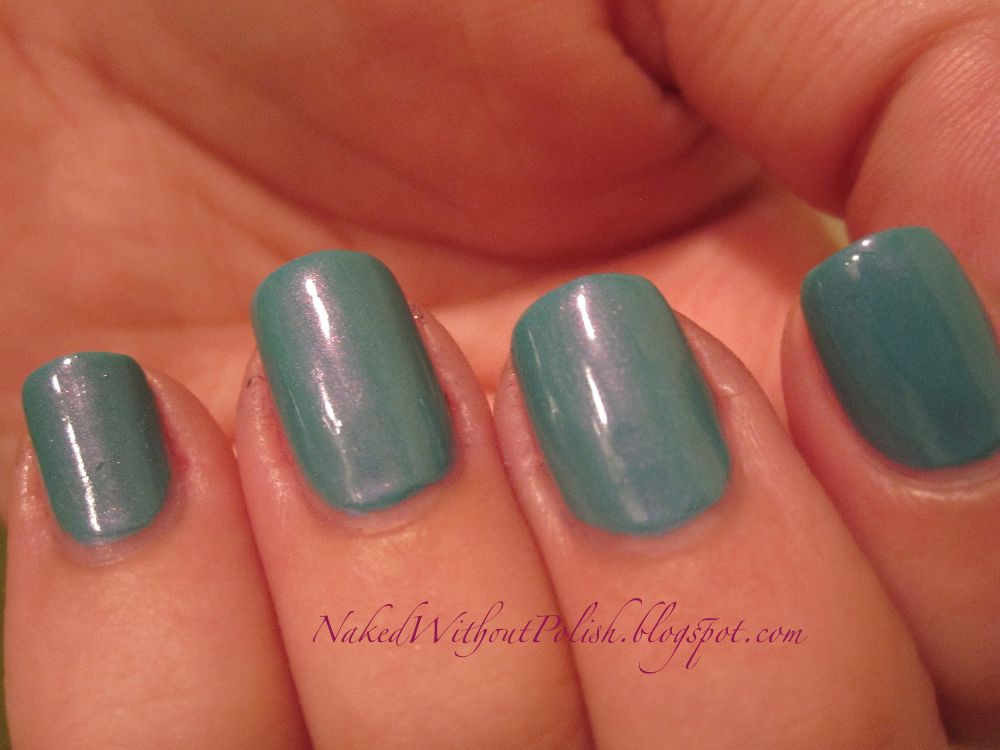 Then BAM! It's come out to play!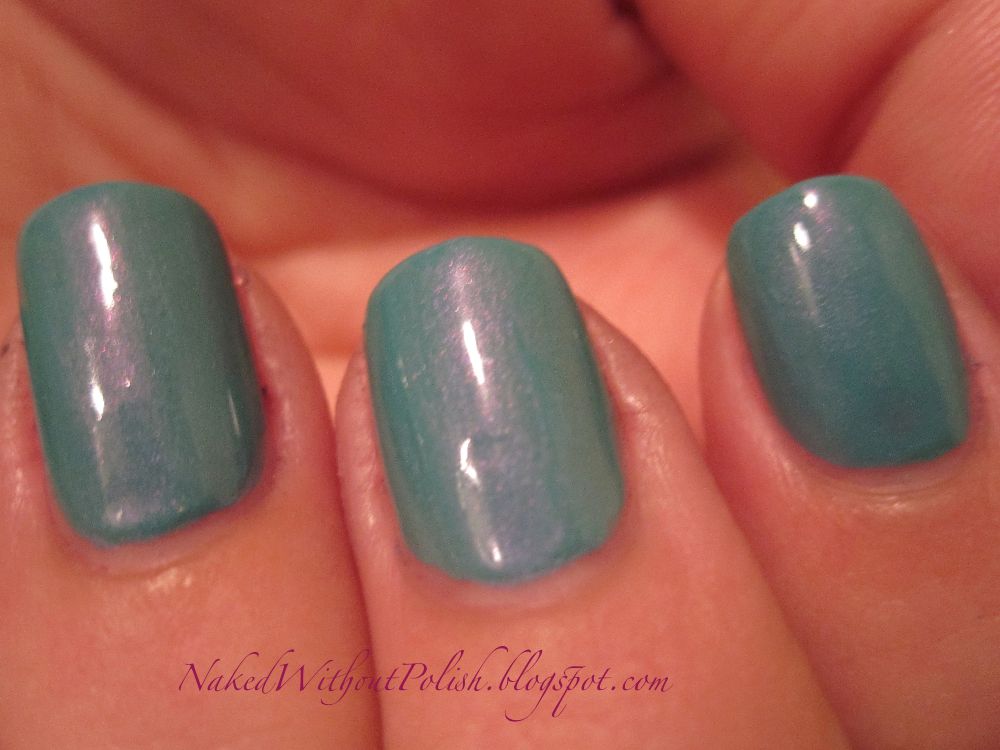 I wish I could have gotten the flashes of purple shimmer in a picture. I need a better light.
I love how bright Aqua Lily can be in some lights and then how dusty it seems in others.
There's a reason Aqua Lily has sold out twice now. If Ji ever decides to bring it back, you bet I will keep you all informed! Even though you can't buy Aqua Lily, make sure you check out the store and look at what IS available. Prices range from $18-$20 and they are so very worth it! I only have 4 and I'm in love with every single one. All her polishes are 5 free (meaning no dibutyl phthalate [DBP], formaldehyde, formaldehyde resin, toluene or animal testing). Ji takes great pride in her products and cares about what we put on our nails. It definitely shows!! Can't wait to see what 2013 has in store for Rescue Beauty Lounge!! Including their Fan 2.0 Collection (where I was one of the chosen fans!!!). Trust me, as I find out about new collections, you'll be the first to know. As of right now, I know she's planning on four collections this year!
Have you splurged on any RBL polishes yet?
Rescue Beauty Lounge information:
Shop - http://www.rescuebeauty.com/nail-polishs/nail-polish.html
Blog - http://blog.rescuebeauty.com/
Website - http://www.rescuebeauty.com/
Facebook page - https://www.facebook.com/RescueBeauty
Twitter - https://twitter.com/rescuebeauty
**This product was purchased by me. All opinions are my own.**
Happy Polishing!!
Becky :o)