My favorite polish of 2012
12:08 PM
As most of you know, my family decided to take a trip to Disney World right before Christmas. Well, the mani I did before we left just happened to have my 2 favorite polishes from this year. So, it's with a happy accident that this turned from a NOTD to a 2012 Favorite post.



Cult Nails - Nevermore and Lacquistry - Lake Placid on Acid
This is two coats of Nevermore with one coat of Lake Placid on Acid on two accent nails.
I know you've seen me post on Nevermore...time and time again. Well, there's a reason it's my favorite polish of 2012. It's a SUPER glossy deep black creme that is practically a one coater (I usually do two coats just to be safe). I originally bought Nevermore because I heard it was a wonderful black and I needed one for reviews. A good black will show off glitter like none other. Once I put it on my nails for the first time, MY MIND WAS BLOWN!!!! It almost gets a latex look to it. Here it is topped with Seche Vite, but it is that glossy on it's own. It doesn't stain, it goes on so buttery smooth. There is nothing to hate about this polish. I don't care if you don't like black polishes, you will LOVE Nevermore. It's a game changer (It's probably why I have 4 back ups already). A must have polish! Maria at Cult Nails really knew what she was doing with this one (well all her polishes are gorgeous, but this was just exceptional).
Lake Placid on Acid wasn't the first polish I got from Lacquistry. My first Lacquistry polish was Undertow. An amazing blue that sparkles like its life depends on it. But Lake Placid on Acid...there is something completely mesmerizing about it's simplicity. First of all, Jenna at Lacquistry, really knows her glitter. She mixes beautiful glitter bombs, each one more beautiful than the next. And her customer service is impecable. Back to Lake Placid on Aicd, It's the perfect combination of blue, green and gold. It goes on smoothly and isn't difficult to take off when the time comes. Yes, it's just blue green and gold, but you just can't stop staring at it when it's on your nails. It's not overly sparkly or filled with holos. It's just eye catching and you'll find yourself randomly staring at your own nails and just smiling. Her polishes have the ability to put you in a fantastic mood. It doesn't have to be Lake Placid on Acid, but everyone needs to own at least 1 bottle of Lacquistry polish. Her love in a bottle just needs to be experienced to really understand what people rave about.
A little blur to show off the glitter.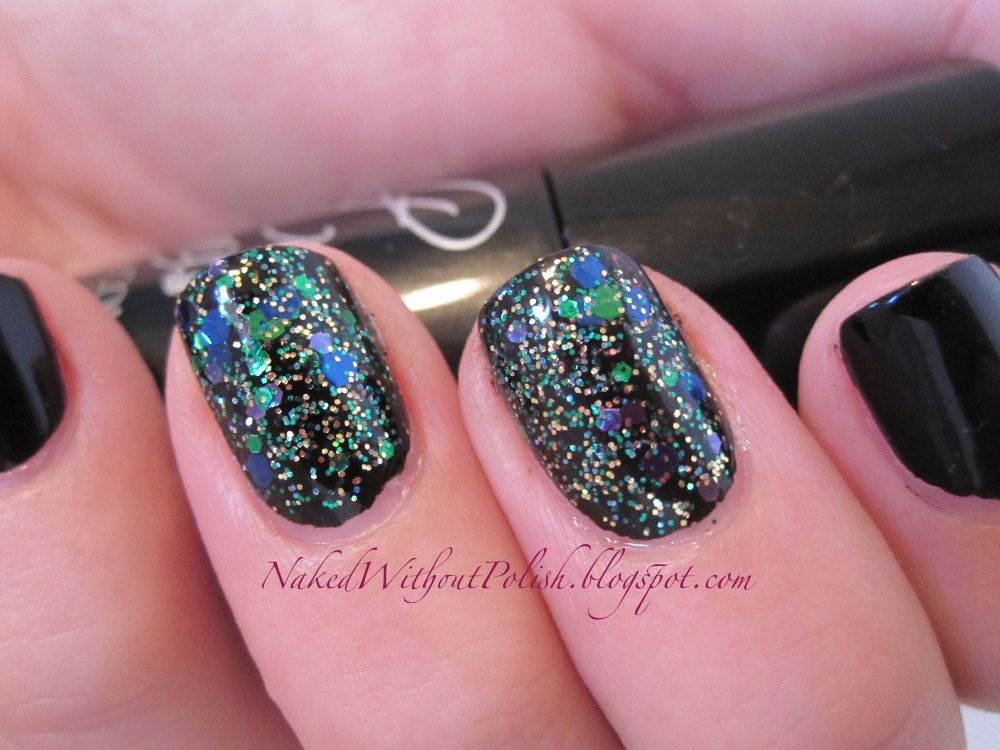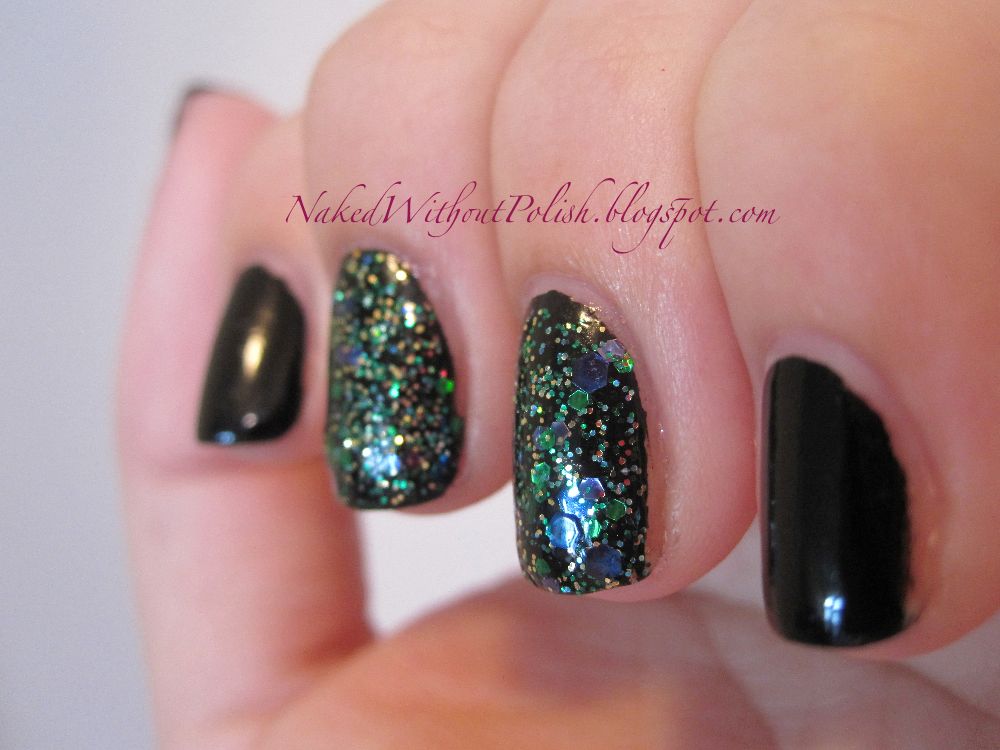 You can purchase Nevermore and other Cult Nails polishes on their website for $10 a bottle. Also follow them on Facebook for updates on new polishes, news and sales.
You can purchase Lacquistry polishes on her ETSY shop for $8.75 a bottle. And follow her on Facebook for reviews, news and sales.
I hope everyone has a safe and wonderful New Years Eve and I look forward to the future in polishland with you all!!
Happy Polishing!!
Becky :o)